Boxed 87-Piece Silver Canteen of Cutlery - 8 Place Settings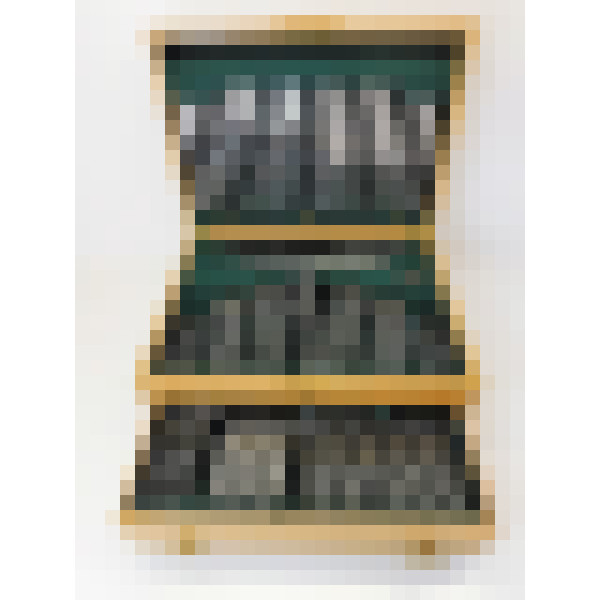 £3,995.00
87-piece Canteen (8 place settings); Boxed - Hallmark: Sheffield 1973-75 by Cooper Brothers & Sons
– Weight: 3100 grams (100 tr.oz.) + 19 knives - Ref. No.: HO/3330
Boxed 87-piece Silver Canteen of Cutlery, Sheffield 1973-75 by Cooper Brothers & Sons
The Service
We are pleased to be offering a great opportunity to own a complete boxed silver cutlery set in a very stylish pattern. This attractive service provides for ten pieces per 8 place settings with an assortment of serving and carving pieces.
All the pieces in this canteen were made by Cooper Brothers & Sons of Sheffield and bear appropriate Sterling silver hallmarks for Sheffield 1973-75 and the design registration number 857638. The knives have silver handles and are engraved "Cooper Bros & Sons stainless steel Sheffield England" to the stainless steel blades and the service is contained within its original wooden box. The label of the original retailer - Nathan & Co.(Birmingham) Ltd. - is still in place.
All the pieces in this service are original to the set and have a good solid feeling of high quality, making it a good, straight service that is ready to be used.
Components
This 87-piece service consists of the following:
| | |
| --- | --- |
| 8 Soup Spoons 17.2cm | 8 Fish Knives 19.4cm |
| 8 Table/dinner Forks 20.3cm | 8 Fish Forks 17cm |
| 8 Table Knives 24.5cm | 8 Teaspoons 12.8cm |
| 8 Dessert Forks 17.4cm | 8 Coffee Spoons 10.7cm |
| 8 Dessert Knives 22.2cm | 4 Table Spoons 20.3cm |
| 8 Dessert Spoons 17.6cm | 3 piece Carving Set |
Total weight of weighable silver 3100 grams (100 troy ounces) plus 16 silver handled knives and a three piece carving set,
Condition
The service is in excellent condition throughout with no engravings.
Presentation
This canteen is presented within a good quality wooden box and the key for locking is still present. There are some very minor scratches to the top of the box, but otherwise this is a beautifully presented service with very little use to the cutlery.
As with all the canteens available from our web-site, we are happy to send a sample place setting for approval, on receipt of a fully refundable surety payment, prior to purchasing this canteen.