Silver Hanoverian Shell Canteen, 1930 by Harrods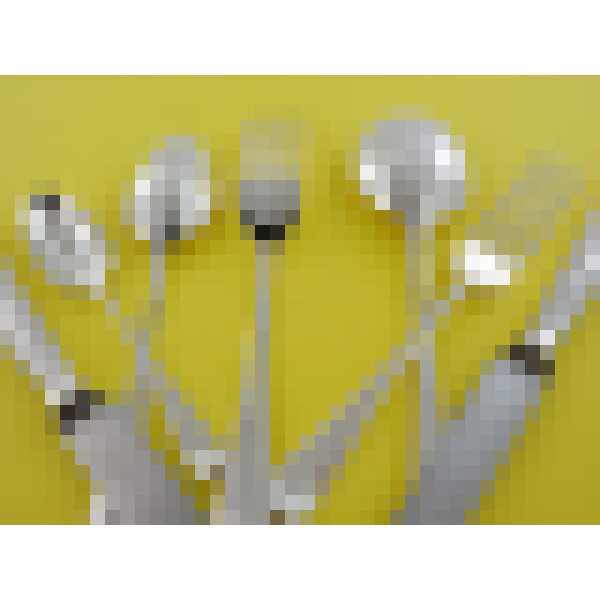 £4,650.00
104 piece Canteen - Hanoverian Shell Pattern (12 place settings) - Hallmark: London 1930/31 by Harrods; Weight: 3850 grams (123.8 troy ounces) plus 24 knives - Ref. No.: TD/9804
104 piece Hanoverian Shell Pattern Silver Canteen of Cutlery, London 1930/31 by Harrods
The Service
We are pleased to be offering an excellent 20th Century silver 12 place settings canteen in Hanoverian Shell Pattern. The service provides for the standard seven pieces required for a three course dinner for 12 people, with the addition of a good range of ancillary and serving items.
All the spoons, forks and servers are hallmarked for London 1930-31 and marked with the sponsor's mark of the prestigious Harrods department store ("RWB" for the managing director Richard W Burridge).
The table and dessert knives have thread & shell handles hallmarked for Sheffield 1973 and fitted with stainless steel blades.
The ancillary items include a useful set of cake or pastry forks and some egg spoons which could double up as tea or coffee spoons if required. The six large table spoons would prove very useful as servers and the huge soup ladle is quite magnificent!
Each piece in this canteen of cutlery benefits from being in excellent polished condition and has the bonus of bearing no personalised engravings. This is a very satisfying service!
Hanoverian Shell Pattern
The Hanoverian pattern was the major flatware design of the 18th century. It was first introduced with a rattail to the reverse of the spoon bowls circa 1710. By the 1730's, variations to the design of the heel on the reverse of the bowl became fashionable and the rococo style shell found on the reverse of these items was popular from the 1750's to the 1770's.
It is a pattern that we have rarely encountered as a full canteen and it was potentially a design exclusively retailed by Harrods.
Components
This 104-piece service consists of the following:
| | |
| --- | --- |
| 12 Table Knives 25cm | 5 Egg Spoons 11.8cm |
| 12Table/dinner Forks 19.4cm | 6 Pastry/Cake Forks 14cm |
| 12 SoupSpoons(round bowls)19.4cm | 6 Table/serving Spoons 20.3cm |
| 12 Dessert Knives 22.5cm | Soup Ladle 33cm |
| 12 Dessert Forks 17cm | 2 Sauce Ladles 17cm |
| 12 Dessert Spoons 17cm | Pickle Fork 16.3cm |
| 10 Teaspoons 12.5cm | Sugar tongs 11cm |
Total weight of weighable silver 3850 grams (123.8 troy ounces). Additional to this weight are the 24 silver handled knives.
Condition
Excellent polished condition.
Presentation
This canteen is offered within purple cutlery rolls – probably dating from the addition of the knives in the early 1970's. Conveniently, each roll contains a place setting, so you only need to undo the rolls equal to the number of diners (n.b. with there being only 10 teaspoons, there are currently two egg spoons taking the vacant slots). The other servers and ancillary items are all together in a single roll. The soup ladle is loose.
All our canteens are offered with a full money-back guarantee. We are also happy to send a sample place setting for approval, on receipt of a fully refundable surety payment - just phone or email your preferences. Alternatively, in-person viewings are welcome by appointment or via Zoom.