104-piece Grecian Pattern Silver Canteen of Cutlery, 1995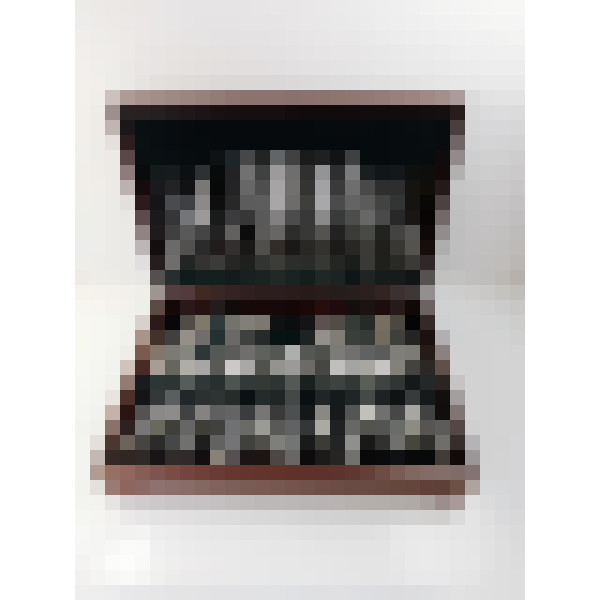 £4,995.00
104 piece Canteen – Grecian Pattern (8 place settings); Boxed - Sheffield 1995/7 by Carrs – 4260 grams (137 tr.oz.) - Ref. No.: HT/1440
104 piece Silver Grecian Pattern Canteen of Cutlery for 8 people, Sheffield 1995/97 by Carrs
The Service
We are pleased to be offering a great opportunity to own a boxed silver cutlery set in the very stylish Art Deco Grecian Pattern. This service provides for thirteen pieces per 8 place settings.
All the pieces in this canteen were made by Carrs of Sheffield and bear appropriate Sterling silver hallmarks for Sheffield 1995-97. The knives have silver handles and are engraved "Carrs" to the stainless steel blades and the service is contained within its original wooden box.
This is an extensive service offering great flexibility for all your dining needs. The addition of the smaller spoons and forks gives option for non fish-course starters, for use by small children or for small portion puddings (e.g. creme brulee).
Grecian Pattern has a lovely elegant shape with Art Deco streamlining and is one of the most desirable modern flatware patterns.
All the pieces in this service are original to the set, making it a good, straight service that is ready to be used.
Components
This 104-piece service consists of the following:
| | |
| --- | --- |
| 8 Fish Knives 21.2cm | 8 Dessert Spoons 18.2cm |
| 8 Fish Forks 18cm | 8 Small Forks 14.4cm |
| 8 Soup Spoons (round bowls) 17.6cm | 8 Small Spoons 15.4cm |
| 8 Table/dinner Forks 20.5cm | 8 Cake/pastry Forks 14.5cm |
| 8 Table Knives 24.5cm | 8 Teaspoons 14cm |
| 8 Dessert Forks 18.1cm | 8 Coffee Spoons 11.6cm |
| 8 Dessert Knives 21.8cm | |
Total weight of weighable silver 4260 grams (137 troy ounces) plus 16 silver handled knives
Condition
The service is in excellent, near mint condition throughout with no engravings.
Presentation
This canteen is presented within a good quality wooden box with knives slotted in to the inside of the lid.
All of our canteens are offered with a full money-back guarantee. We are also happy to send a sample place setting for approval, on receipt of a fully refundable surety payment - just phone or email your preferences. Alternatively, in-person viewings are welcome by appointment or via Zoom.