Boxed 128-piece Old English Pattern Silver Canteen of Cutlery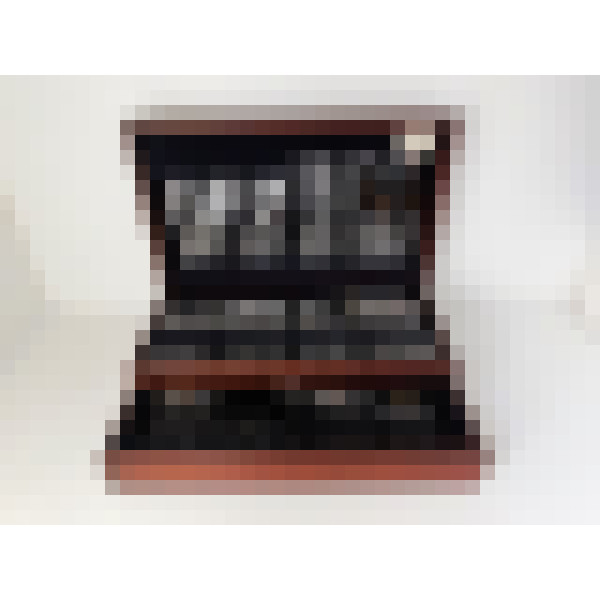 Sold
128 piece Canteen – Old English Pattern (12 place settings) - Hallmark: Sheffield 1994 /2000 by Carrs of Sheffield – Weight: 5260grams (169 tr.oz.) + 39 knives - Ref. No.: OC/2491
Boxed 128-piece Old English Pattern Silver Canteen of Cutlery, Sheffield 1994-2000 by Carrs
The Service
We are pleased to be offering an excellent late 20th Century silver 12 place settings canteen of cutlery in Old English Pattern. The service provides for a full formal service of nine pieces per 12 place settings with the addition of six pairs of fish eaters and an array of serving items.
In addition to the standard pieces found in a canteen, this service has the bonus of some smaller knives and forks that could either be used as starter, side or dessert pieces as required. The huge soup ladle is a nice addition, plus the extra pieces give all round flexibility for this set.
Every piece was made in Sheffield between 1994 and 2000 by Carrs and benefits from being in superb polished condition with no personalised engraving. As usual, the sets of table, dessert knives and tea knives, together with the bread knife, pie slice and cheese knife all have silver handles with stainless steel blades.
All the pieces are housed in a Carrs 2000 Silverware box with a hallmarked silver label affixed to the inside cover. The box has a rare cantilever mechanism with the forks on the top deck and all spoons and servers underneath. There is a compartment tucked away at the back of the lower deck for placing the soup ladle and serving knives.
Old English Pattern
Old English Pattern was first introduced circa 1770 and has always been a very favoured pattern due to its elegant and simple form. It has been produced continually to the present day with a resurgence of popularity during the 20th Century.
Components
This 128-piece service consists of the following:
| | |
| --- | --- |
| 12 Soup Spoons 17.6cm | 12 Teaspoons 13.8cm |
| 12 Table/dinner Forks 19.6cm | 6 Fish Forks 17cm |
| 12 Table/dinner Knives 24.5cm | 6 Fish Knives 21cm |
| 12 Dessert Forks 16.8cm | 4 Serving Spoons 22.3cm |
| 12 Dessert Knives 22cm | 1 Soup Ladle 30cm |
| 12 Dessert Spoons 18cm | 1 Bread Knife 36cm |
| 12 Side Forks 14.5cm | 1 Pie/Cake Slice 25.5cm |
| 12 Side/Tea Knives 18cm | 1 Cheese Knife 20.8cm |
Total weight of weighable silver 5260 grams (169 troy ounces) plus 39 silver handled knives.
Optional Extras
This service also came with a set of 12 silver handled steak knives that are kept within a separate cutlery roll. These are available at £600 extra for the dozen.
Condition
Excellent polished condition. Near mint.
Presentation
This canteen is attractively supplied in its original cantilever mahogany effect wooden box with each piece having its own slot to prevent scuffing with neighbours. There is some scratching to the top and front of the box
As with all the canteens available from our web-site, we are happy to send a sample place setting for approval, on receipt of a fully refundable surety payment, prior to purchasing this canteen.