188-piece Silver King's Pattern Canteen of Cutlery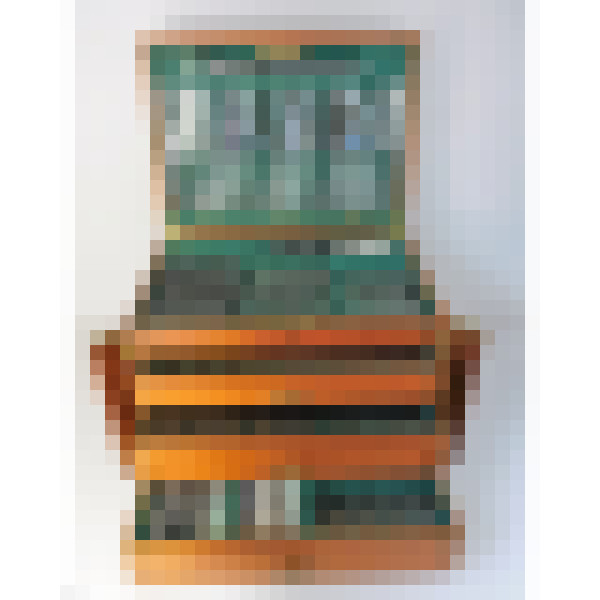 £8,750.00
188 piece Canteen – King's Pattern (12 place settings) - Hallmark: Sheffield 1974 by William Yates – Weight: 7500 grams (241 tr.oz.) - Ref. No.: SD/2813
Boxed 188-piece King's Pattern Canteen of Silver Cutlery, Sheffield 1974 by William Yates
We are pleased to be offering an excellent quality and extensive silver 12 place settings canteen in Kings Pattern that is beautifully presented within a 4-tier wooden box.
The service provides everything required for formal dining for up to 12 people, with ancillary pieces for use as and when required. In addition, there are ample serving spoons, ladles and a carving set.
All pieces bears a full set of English Sterling standard silver hallmarks for Sheffield 1974 and the maker's mark for William Yates (a specialist Sheffield cutler).
The table, dessert and tea knives, plus the five piece carving set are all fitted with stainless steel blades and have hallmarked silver handles. The carving set comprises a meat knife and fork, a poultry/game knife and fork and a sharpening steel. The forks both have guards to protect the user.
King's Pattern
King's Pattern is the most well known and popular decorative flatware pattern. It was based on an 18th century French design and became fashionable amongst the wealthy in the early years of the 19th Century. The design encompasses a shell to both sides of the handle terminal and reverse of the bowl, and there are scrolls down the handle shaft with a honeysuckle motif to the centre. The double-struck nature of the pattern (i.e. pattern on both sides) ensures that a good gauge of silver was used in manufacture.
Components
This 188-piece service consists of the following:
| | |
| --- | --- |
| 12 Fish Knives 21.7cm | 12 Cake forks 13cm |
| 12 Fish Forks 19.3cm | 12 Tea/butter Knives 19.2cm |
| 12 Soup Spoons 17.3cm | 12 Teaspoons 13.5cm |
| 12 Table/dinner Knives 25cm | 12 Coffee Spoons 11cm |
| 12 Table/dinner Forks 21cm | 12 Table/ Serving Spoons 22cm |
| 12 Dessert Spoons 18.5cm | Soup Ladle 28cm |
| 12 Dessert Knives 22.3cm | 2 Sauce Ladles 16cm |
| 12 Dessert Forks 17.7cm | 2 Carving Knives |
| 12 Fruit Spoons 13.5cm | 2 Carving Forks |
| 12 Grapefruit Spoons 14cm | Carving Steel |
Total weight of weighable silver 7500 grams (241.2 troy ounces). Additional to this weight are the forty-one silver handled knives and five carvers.
Condition
The silver is in excellent polished condition throughout. The spoons have full unworn bowls and the forks tines are full and equal lengths. There are no personalised engravings. The box is also in fine presentable condition (there is a slightly lighter patch/mark to the centre of the top).
Presentation
This canteen is presented within its original, well-made cabinet with hinged lid and gate leg sides for securing the drawers. The box measures 47.5cm wide x 35cm deep x 34cm high and has three pull-out drawers. All the pieces have their own slots, except the set of tea knives which sit loosely in a compartment at the back of the middle drawer. There is no key.
Please do not hesitate to contact me with any further questions. Good luck, Gary.
We offer a full money back guarantee, if you are not happy with the item, within fourteen days of receipt.