Harrods 12 Person Rattail Silver Canteen 131 piece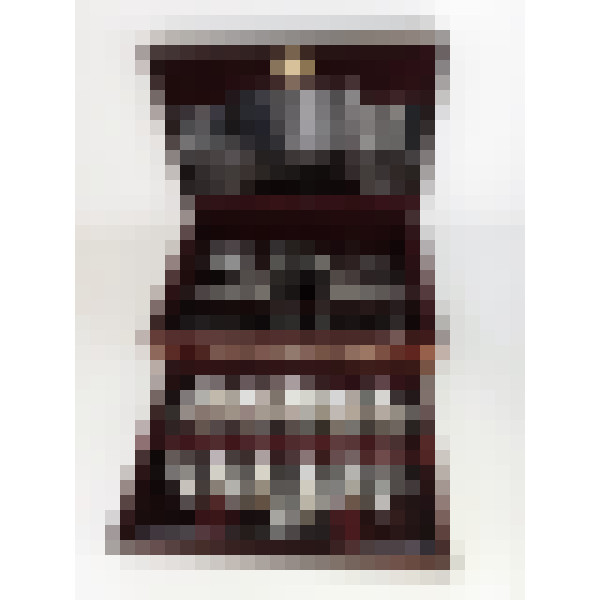 £6,495.00
131 piece Canteen – Hanoverian Rattail Pattern (12 place settings) - Hallmark: Sheffield 1998-2002 by Carrs – Weight: 4970 grams (160 tr.oz.) + 37 knives - Ref. No.: JT/5989
131 piece SILVER HANOVERIAN RATTAIL CANTEEN of CUTLERY,
Sheffield 1998/2002 by Carrs
The Service
We are pleased to be offering an excellent and extensive, boxed silver canteen of cutlery in the very popular Hanoverian Rattail pattern that was originally retailed by Harrods.
This service provides for nine pieces per 12 place settings with additional ancillary items and serving spoons. A bonus with this service is the extra set of 12 dessert knives and forks which would be perfect for a starter course, fish course or as side knives.
All pieces were made by Carrs of Sheffield and are appropriately hallmarked. The knives have hallmarked silver handles and stainless steel blades. All pieces benefit from being in near mint with no personalised engravings.
Hanoverian Rattail Pattern
Hanoverian Rattail was first in fashion between 1710 and 1730 and has been reproduced since the 1880's. It was the first flatware pattern in the UK to be used for complete canteens. Due to its elegant lines and proportions it has continued to enjoy great popularity and is probably the most sought after traditional pattern. The front of each piece has a distinctive central ridge, and the trademark rattail extension to the handle can be seen on the reverse side.
Components
This 131-piece service consists of the following:
| | |
| --- | --- |
| 12 Starter/Side Knives 22cm | 12 Dessert Spoons 18cm |
| 12 Starter Forks 17.8cm | 12 Teaspoons 13.2cm |
| 12 Table Knives 24cm | 6 Coffee Spoons 11.8cm |
| 12 Table Forks 19.5cm | 6 Grapefruit Spoons 14cm |
| 12 Soup Spoons 17.5cm | 6 Cake Forks 14.2cm |
| 12 Dessert Knives 22cm | Cake/Pie Slice 25cm |
| 12 Dessert Forks 17.8cm | 4 Table/serving Spoons 22.2cm |
Total weight of weighable silver 4970 grams (160 troy ounces) plus 37 silver handled knives.
Condition
Excellent polished condition throughout with full length fork tines and unworn spoon bowls. The service appears to have been very rarely used and most pieces are in mint condition.
Presentation
This canteen is presented within its original wooden box. The extra set of dessert knives are currently inserted in to the slots, but ideally these should be in a cutlery roll and will be supplied thus to give you the option. The box has a hallmarked silver plaque to the inside with the engraved name "Harrods Knightsbridge" for the prestigious London retailer. Carrs were a major supplier of silver to Harrods.
As with all the canteens available from our web-site, we are happy to send a sample place setting for approval, on receipt of a fully refundable surety payment.