120 piece Silver Canteen of Cutlery by Elkington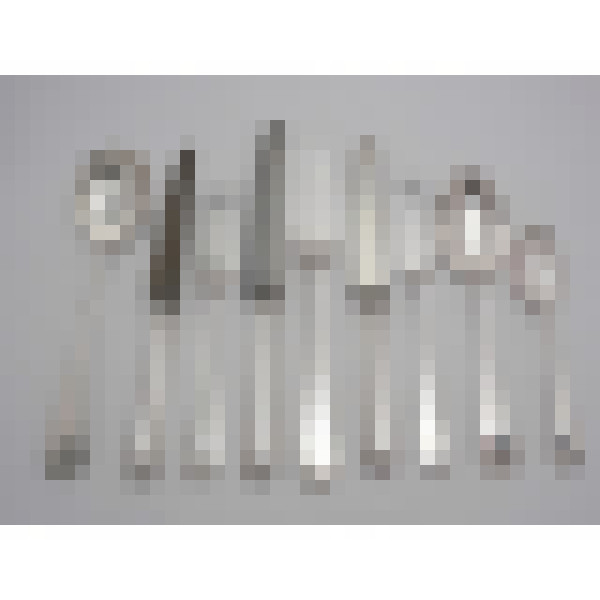 £6,450.00
120 piece Canteen – Old English Pattern (12 place settings) - Hallmark: Birmingham 1895 -1910 by Elkington & Company – Weight: 5235 grams (168.3 tr.oz.) + 36 silver handled knives - Ref. No.: OECB/7034
120-piece Old English Pattern Silver Canteen of Cutlery for 12 sittings, Birmingham 1895-1910 by Elkington & Company
The Service
We are pleased to be offering a fabulous quality and comprehensive 12 place settings silver cutlery service in Old English Pattern and made by the famous firm of Elkington & Co.
A major bonus with this service, is that in addition to the standard 84 pieces there is an extra set of small knives and forks (dessert-sized) which are perfectly suitable for a starter course and therefore giving the service greater flexibility. The good array of large serving pieces is a major benefit too.
All the spoons and forks were made by one of the most important firms in the history of silver – Elkington & Company. The pieces are matched together in runs from different years, but other than close inspection of the hallmarks are identical in appearance. The dates span the late Victorian and Edwardian periods.
The silver handled knives have stainless steel blades and are hallmarked Sheffield 1972, with the additional set of starter knives hallmarked for London 1934 by Sebastian Garrard. Antique knives rarely survive in good condition (they had steel blades that tend to rust and discolour) and these knives complement the set well.
The presence of round-bowled soup spoons in a service of this date are especially welcome and are particularly early in date. The serving pieces include a large and satisfyingly hefty soup ladle, a pair of 12" long basting spoons that are also ideal for serving, a pair of useful sauce ladles and a butter knife and six adaptable table spoons for all manner of serving purposes.
With its plain and stylish appearance, this is a beautifully elegant service that has been professionally cleaned and polished and has all the necessary pieces for modern dining. It is truly a superb canteen of silver cutlery.
Old English Pattern
Old English Pattern was first introduced circa 1770 and has always been a very favoured pattern due to its elegant and simple form. It has been produced continually to the present day with a resurgence of popularity in the late 19th and early 20th Centuries.
The Maker
The service was made by Elkington & Co. who one of the most important British silversmithing companies. They made prestigious civic and royal pieces and were the inventors of electo-plating. Their work is always highly regarded and this canteen is testament to their reputation.
Components
This 120-piece service consists of the following:
| | |
| --- | --- |
| 12 Soup Spoons 20.2cm | 12 Dessert Spoons 18cm |
| 12 Starter/side Knives 22cm | 12 Teaspoons 14cm |
| 12 Starter Forks 17cm | 6 Table Spoons 22.7cm |
| 12 Table/dinner Knives 23.5cm | Soup Ladle 35cm |
| 12 Table/dinner Forks 21cm | 2 Basting/Serving Spoons 31cm |
| 12 Dessert Knives 21.5cm | 2 Sauce Ladles 18.5cm |
| 12 Dessert Forks 17cm | Butter Knife 15.8cm |
Total weight of weighable silver 5235 grams (168 troy ounces).
Optional Extras
We have a large stock of Old English Pattern items by Elkington & Co in stock and can add to the above with dining pieces or other serving pieces.
Condition
Excellent polished condition with full length tines and unworn spoon bowls. No personalised engravings.
Presentation
This canteen is presented within ten new anti-tarnish cutlery rolls. The soup ladle and basting spoons are stored in a matching blue cloth bag with drawstring tie.
All of our canteens are offered with a full money-back guarantee. We are also happy to send a sample place setting for approval, on receipt of a fully refundable surety payment - just phone or email your preferences. Alternatively, in-person viewings are welcome by appointment.