Boxed 12 Person Queen's Pattern Canteen, 1896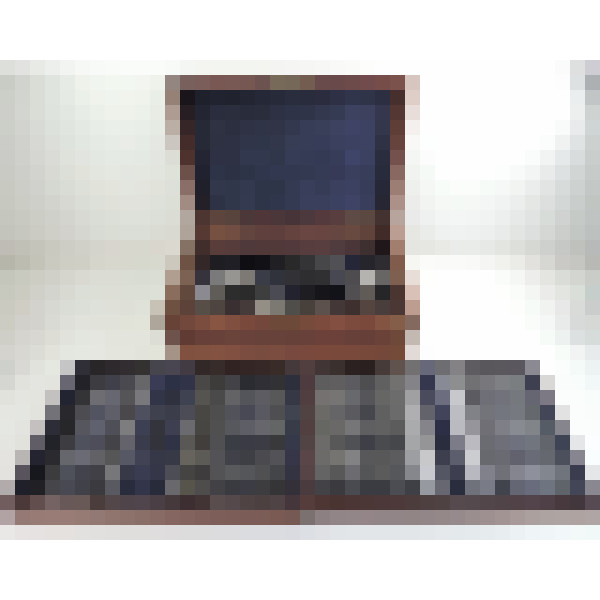 Sold
Boxed 61 piece Canteen - Queen's Pattern (12 place settings) - Sheffield 1896 by John Round - Weight: 4870grams (156.6 tr.oz.) - Ref. No.: YT/8012
61 piece Boxed Queen's Pattern Canteen of Silver Cutlery, Sheffield 1896 by John Round
This is a fantastic boxed silver canteen in the highly sought after Queen's Pattern. The service provides for 12 place settings with a good range of large serving items.
This is a straight service with all the pieces being hallmarked for Sheffield 1896, made by John Round and housed in their original wooden box. Each piece bears an engraved crest featuring an eagle with wings aloft to the front terminal.
The large table spoons could be used as traditional soup spoons or alternatively would be ideal for serving purposes. Among the servers is a fantastic large soup ladle and basting spoon and the four sauce ladles could prove very useful.
Queen's Pattern
Queen's Pattern was first in fashion in the 1820's and has similarities in shape to King's Pattern but has more ornate decoration and an anthemion motif to the reverse of the bowls. It was named in honour of Queen Caroline of Brunswick (King George IV's wife). The highly ornate decoration found on Queen's Pattern demands that each piece is made with a thick gauge of silver and thus makes it one of the most prestigious of all flatware patterns.
Components
This 61-piece service consists of the following:
| | |
| --- | --- |
| 12 Table/dinner Forks 21cm | 4 Sauce ladles 19.5cm |
| 12 Dessert Forks 18.2cm | Soup Ladle 35cm |
| 12 Dessert Spoons 19cm | Basting Spoon 33.5cm |
| 12 Teaspoons 15cm | Sugar Tongs 12cm |
| 6 Table/serving Spoons 23cm | |
| | |
Total weight of weighable silver 4870 grams (156.6 troy ounces).
Condition
Excellent original condition. The forks tines are full length and the spoon bowls remain unworn. The Queen's Pattern decoration remains crisp throughout.
Presentation
This canteen is presented within an attractive, blue-baize lined wooden box with central brass shield to the top. Each piece has an individual slot to prevent scuffing with a neighbour. There are some marks to the exterior, but the overall condition is excellent. There is no key. The box measures 47cm wide x 32cm deep x 17.5cm high.
As with all our canteens, we are happy to send a sample place setting on receipt of a surety payment.