12 Person Queen's Pattern Canteen, London 1844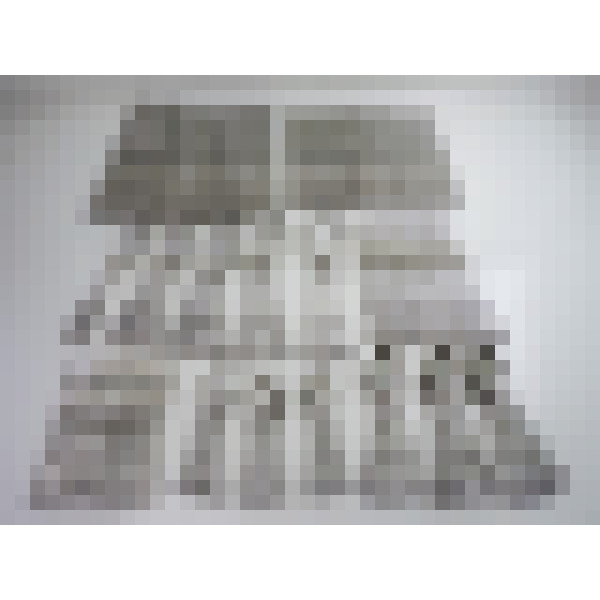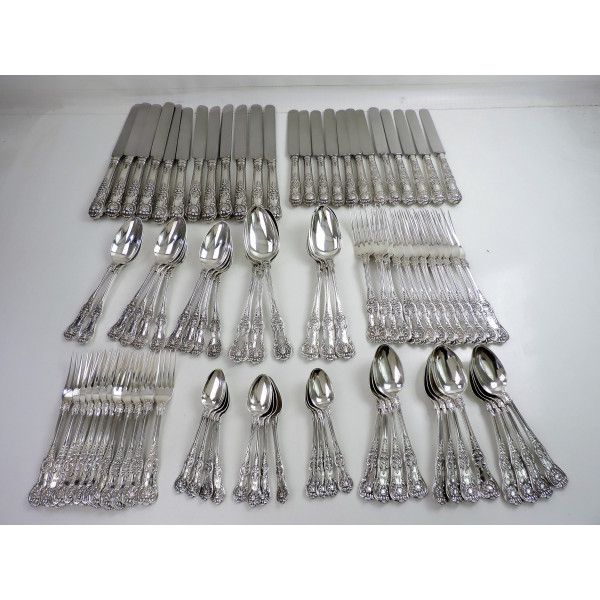 Sold
88 piece Canteen Queen's Pattern (12 place settings) - Hallmark: London 1844 by William Eaton (& others) – Weight: 4575grams (147 tr.oz.) + 24 silver handled knives - Ref. No.: LK/8864
88 Piece QUEEN'S PATTERN CANTEEN of SILVER CUTLERY,
London 1844 by William Eaton
The Service
This is a fantastic early Victorian silver canteen in the highly sought after Queen's Pattern. The service provides for seven pieces per 12 place settings.
All the flatware was hand-wrought in the traditional fashion of the London silversmiths and has double-struck decoration in high relief. All the spoons and forks bear the same engraved crest and were made by the best flatware makers of the Victorian period, mostly William Eaton in 1844.
Of the sixty four pieces of flatware (spoons and forks), forty six of them are hallmarked for London 1844 by William Eaton, eight forks are London 1890 by Wakely & Wheeler and all ten soup spoons are London 1897 by Gibson & Langman. All are engraved with the same crest and without inspection of the hallmarks, it looks like a straight service.
A major bonus for this service are the fabulous knives that were mostly made by in London Mary Chawner in 1837; five were made later by Garrard & Company. These early Victorian knives are fitted with stainless steel blades and are in wonderful condition. They do not bear any crests.
The soup spoons are in the oval bowled table spoon form and although there are only ten, if necessary two of the table spoons could be used instead to make up the full complement.
Queen's Pattern
Queen's Pattern was first in fashion in the 1820's and has similarities in shape to King's Pattern, but with more ornate decoration and an anthemion motif to the reverse of the bowls. It was named in honour of Queen Caroline of Brunswick (King George IV's wife). The highly ornate decoration found on Queen's Pattern demands that each piece is made with a thick gauge of silver and thus makes it one of the most prestigious of all flatware patterns.
Components
This 88-piece service consists of the following:-
| | |
| --- | --- |
| 12 Table/dinner Knives 26.2cm | 12 Dessert Spoons 17.6cm |
| 12 Table/dinner Forks 21.1cm | 12 Dessert Forks 17.8cm |
| 10 Soup Spoons (oval bowls) 19.7cm | 12 Teaspoons 14.5cm |
| 12 Dessert Knives 22.3cm | 6 Table/serving Spoons 22.6cm |
Total weight of weighable silver 4575 grams (147 troy ounces).
Optional Extras
We have a huge range of Queen's Pattern in stock and will be happy to quote for any additional pieces that may be required to suit your needs. We can augment the size of the service or supply appropriate serving pieces – N.B. they will not be engraved with the same crest.
Condition
Excellent original condition. The bowls are unworn and the tines are full and equal in length. The double struck decoration remains crisp. Each piece has a lovely hand-cleaned patina.
Presentation
This canteen is supplied in purple anti-tarnish cutlery rolls. Each roll has individual pockets to hold 12 items per roll.
As with all the canteens available from our web-site, we are happy to send a sample place setting for approval, on receipt of a fully refundable surety payment, prior to purchasing this canteen.