Georgian Boxed Trailing Vine Canteen, 1827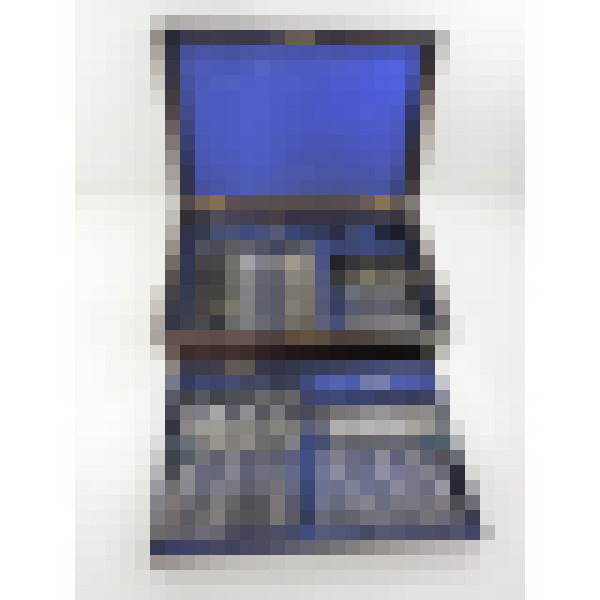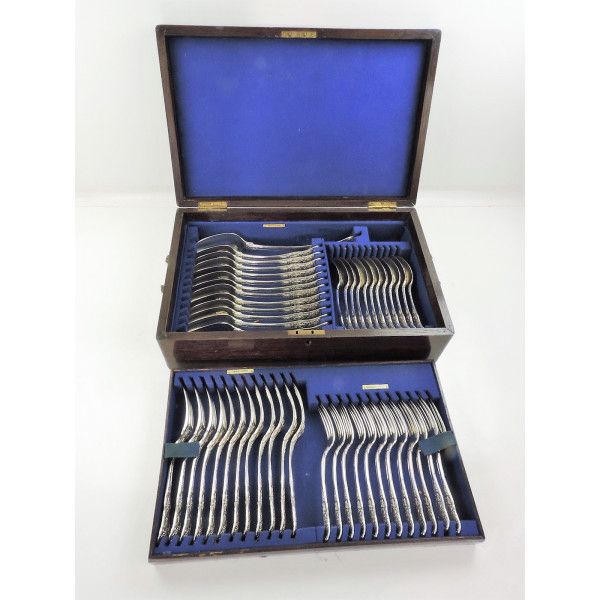 Sold
49 piece Canteen (boxed) - Trailing Vine Pattern (12 place settings) - London 1827 by Jonathan Hayne - Weight: 4690 grams (150.8 tr.oz.) - Ref: FH/5018
Boxed 49 Piece TRAILING VINE PATTERN
CANTEEN of SILVER CUTLERY,
London 1827 by Jonathan Hayne
The Service
This is an extremely rare Georgian period silver service in the fabulous Trailing Vine Pattern with the added bonus of being presented in a wooden box.
The canteen provides for four pieces per 12 place settings with an additional 12" long gravy spoon (also known as a serving or basting spoon).
All the flatware was hand-wrought in the traditional fashion of the London silversmiths and has double-struck decoration in high relief. This is a straight service with all pieces bearing the same hallmark for London 1827 by Jonathan Hayne. Each piece is engraved "A" in script to the front terminal.
Each piece in this service is made from a thick gauge of silver, giving the whole set a satisfying hefty feeling of the very best quality. Flatware service with their table spoons and table forks weighing around 100 grams each are considered best quality – in this set they weigh consistently 120g+ and 115g+ respectively!
Trailing Vine Pattern
Made exclusively by the specialist flatware maker Jonathan Hayne, Trailing Vine Pattern was produced during the final few years of King George IV's reign and with rare exceptions, pieces almost always date between 1827 and 1830 .
The pattern has a very pleasing appearance with the same shape to the handle as the King's & Queen's group of flatware patterns, and a very attractive raised in relief combination of vine leaves and grapes trailing down both sides of the handle and further bunches of grapes to the reverse of the bowls/tines. It is an extremely rare pattern with very few pieces appearing on the market and this is the only time we have ever encountered a service of any form – furthermore there are no missing pieces!
Components
This 49-piece service consists of the following:-
| | |
| --- | --- |
| 12 Table/Soup Spoons (oval bowls) 23cm | 12 Dessert Spoons 18cm |
| 12 Table/dinner Forks 20.5cm | 12 Dessert/luncheon Forks 17.5cm |
| | Gravy Spoon 30cm |
Total weight of weighable silver 4690 grams (150.8 troy ounces).
Condition
Excellent original condition. The spoon bowls retain their original thick bowl and the fork tines are full and virtually equal in length (very tiny amount of wear to some tines). The double struck decoration remains crisp throughout.
Presentation
This canteen is supplied in a bespoke wooden box. The paucity of complete and straight Georgian service is in no small part due the fact that they were generally not housed in wooden boxes. It was not until the latter part of the 19th century, that this became normal practice and this box will date from around that date. The box is in generally good condition although there is a very small amount of wear to the blue baize at the base of the box.
As with all the canteens available from our web-site, we are happy to send a sample place setting for approval, on receipt of a fully refundable surety payment, prior to purchasing this canteen.