Silversmithing can be re-classified into sub-sections such as small worker, case maker, buckle maker and of relevance to us, the spoon maker.
This page gives an introduction as to how spoon making was structured during the 18th and 19th centuries and includes a selection of spoon maker biographies including the Bateman family, Paul Storr & Chawner & Co
Spoon Maker
These are the people that matter in the life of a spoon – they made them. Actually this is not strictly true; some maker's marks do belong to those of a solitary silversmith or partnership, some are the names of owners of workshops who employed craftsmen (& women), others belong to companies who may or may not manufacture silver.
Confused?
Lone Spoon Maker
Well let's start with the one-man band, for example John Smith (yes there really was such a spoon maker in the late 17th Century), he would have made a few spoons in his time, mostly Trefids, and would have made most of them by himself. However, he may well have employed an apprentice or two, he would probably have out-sourced any chasing or engraving for those splendid lace-backs and flame-backs, and he may well have out-sourced the final process to those unsung heroes – the metal polishers. Generally however a spoon with John Smith's mark on it would have been crafted with his own fair hands.
Companies
Let's move on 150 years to George Adams running his family business of Chawner & Co. for more than four decades, but the chances that he made any of the thousands of spoons bearing his mark are very remote – or he was super quick with the muscles of Atlas.
Chawner & Co. employed many silversmiths, including specialist spoon makers, plus a host of apprentices, chasers, engravers, metal polishers and employees carrying out the less skilled jobs should as filing, stamping, drawing, casting etc. For more information on makers of canteens please click here.
Sponsors marks
During the 20th century, the term "maker's mark" was replaced by the all encompassing "sponsor's mark". This allowed companies that did not actually make silver, enter their own mark and have it stamped on silver made by others. These may be wholesalers, retailers or even manufacturers buying in from others.
This means that the maker's mark on a spoon does not necessarily imply that the owner of that mark made the spoon! Below is a brief history of some of the more important spoon makers (& Paul De Lamerie does not even get a mention!):-
Journeymen
The majority of silversmiths never actually register their own mark. They are employed by companies or are used as out-workers. The work they part or wholly produce is marked under somebody else's name.
Nowadays these people are paid a set wage, but in the past they were paid piecemeal i.e. they were only paid for the work they did.
Each silversmith, within a workshop, would have his own mark – usually a single letter. On completion of an item he would stamp his mark. This served several purposes:-
(1) to determine which pieces each person needs to be paid for; and
(2) to know the culprit in the case of sub-standard work.
Journeymen, along with metal polishers, are really the unsung heroes of spoon-making and all that remains are the stamps.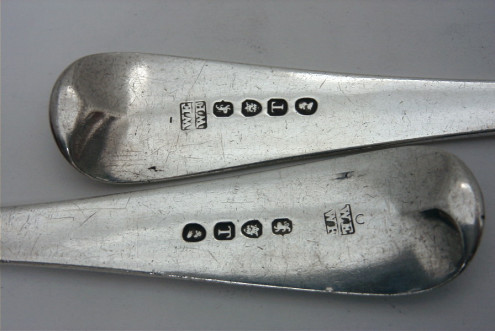 The photograph shows two apparently identical Old English pattern spoons, both from the Eley & Fearn workshop, London 1814. However, you will note two different journeyman marks above the WE/WF maker's mark:
- a straight line (possibly representing an "I" or "1")
- and a "C"
Therefore, these two spoons were made by different hands!
Many spoons are marked with these journeymen symbols and letters - an area very much under researched...
SPOON MAKER BIOGRAPHIES
Smith/Crossley/Fearn/Eley & Sumner
The most important dynasty of English spoon makers began in the mid-18th Century with Thomas Chawner. This group of silversmiths, along with the Bateman family, dominated spoon production in the late 18th & early 19th Centuries.
The dynasty is rather confusing with the combination of names, as although the silversmiths involved excelled at spoon making, they were not very inspiring with naming their eldest sons, hence there are two George Smiths, two William Eley's and two William Sumner's (who may not have been related to each other - William Sumner II forms no part in this dynasty), plus two unrelated Chawners. There are two other Chawners that have not been included: William Chawner I (brother to Thomas) and Henry Chawner (son of Thomas). William Eley I had a chance to use his imagination when he christened his two other sons Charles and Henry who both play a small role at the end of our story. Adding to the confusion is the number of London silversmiths called George Smith in the 18th Century. Our George Smith's were father and son, and are generally referred to as George Smith III and IV, and were unrelated to I, II, V & VI.
The line of the dynasty can be further followed through William Chawner II; the Chawner & Co. family tree can be found elsewhere on this page.
| | |
| --- | --- |
| | |
| Duty Dodger marks for Thomas & William Chawner, circa 1765 | Charles & Thomas Barker, 1804 |
| | |
| George Smith III, 1784 | Richard Crossley & George Smith IV, 1809 |
| | |
| Richard Crossley, 1790 | William Eley & William Fearn, 1814 |
| | |
| William Sumner, 1792 | Thomas Barker, 1815 |
As I am yet to find a textbook that has unravelled the dynasty in a simple manner, I have decided to do it myself, by making clear the apprentice/master relationships and the dates of the marks/partnerships involved.
Thomas Chawner apprenticed to Ebenezer Coker in 1754
William Fearn apprenticed to Thomas Chawner in 1762
William Sumner I apprenticed to Thomas Chawner in 1763
George Smith III apprenticed to Thomas Chawner in 1765
William Eley I apprenticed to William Fearn in 1770
Richard Crossley served no apprenticeship
George Smith IV apprenticed to William Fearn in 1786
Thomas Barker apprenticed to William Fearn in 1787
William Chawner II apprenticed to William Fearn in 1797
Mary Sumner no record of apprenticeship, widow to William Sumner I.
Elizabeth Sumner no record of apprenticeship, daughter to William Sumner I.
William Eley II apprenticed to William Eley I in 1808
Charles Eley apprenticed to William Eley I in 1811
Henry Eley apprenticed to William Eley I in 1814.
| | | |
| --- | --- | --- |
| | Mark used | Dates |
| Thomas Chawner & William Chawner I | T/W.C/C, T.C/W.C &W/TC/C | 1759 - 1773 |
| William Fearn | W+F, WF | 1769 – 1777 (bankrupt) |
| Thomas Chawner | T.C & TC | 1773 - 1785 |
| George Smith III | GS | 1774 - 1786 |
| Wm Sumner I & Richard Crossley | WS/RC | 1775 - 1782 |
| Wm Eley I & Geo. Pierrepont | W.E/G.P | 1777 - 1778 |
| Wm Eley I | WE | 1778 - 1797 |
| Richard Crossley | RC | 1782 - 1807 |
| William Sumner I | WS & W.S | 1782 - 1807 |
| Geo Smith III & Wm Fearn | GS/WF & G.S/W.F | 1786 - 1797 |
| Wm Eley I & Wm Fearn | WE/WF | 1797 - 1808 |
| George Smith IV | GS | 1799 - 1807 |
| Thomas Barker (in partnership with his father Christopher) | CB/TB | 1800 - 1805 |
| Thomas Barker | TB | 1805 - 1820? |
| Richard Crossley & Geo Smith IV | RC/GS | 1807 - 1812 |
| Mary Sumner | MS | 1807 - 1809 |
| Wm Eley 1, Wm Fearn & Wm Chawner II | WE/WF/WC | 1808 - 1814 |
| Mary Sumner & Eliz. Sumner | MS/ES & M.S/E.S | 1809 - 1810 |
| Richard Crossley | RC | 1812 - 1815 |
| George Smith IV | GS | 1812 - ? |
| Wm Eley I & Wm Fearn | WE/WF | 1814 - 1824 |
| Wm Eley II & Wm Fearn | WE/WF | 1824 - 1824 |
| Wm Eley II, Charles Eley & Henry Eley | WE/CE/HE | 1824 - 1825 |
| Wm Eley II | WE | 1825 – 1826? |
| Charles Eley | CE | 1825 – 1828? |
Bateman Family
This is probably the most famous dynasties of silversmiths, beginning with the "Queen of English Silversmiths", Hester Bateman.
Hester Bateman took over her husband's business upon his death in 1760, and not only continued to produce but actually expanded the business, which for a woman of 52 years of age in the late 18thCentury was no mean achievement. Silver stamped with her mark tends to fetch a far higher price than those of her contemporaries. The quality of her work tends to be fairly average in terms of weight, however the premium for her items stems from two factors; the quality of design and the romantic aura that her story conjures up (and the fact that a good book has been written about her!).
Hester Bateman was one of the innovators of the Classical style in English silver. Her use of form combined with beautiful decoration (especially piercing and bright cut engraving) was second to none. She was one of the first silversmiths to employ steam powered machinery allowing her to use a thinner gauge of silver than was typical earlier in the Century (the quantity of silver used was a significant determiner of retail price), this meant that her items were accessible to the wider population. A large and willing market lead to good sales. The Bateman workshop became very successful and was able to produce, for an 18th Century workshop, a prolific quantity of items.
No wonder Hester Bateman is know regarded in such high esteem - to be a woman in the 18th Century who starts running a business, uses her design and marketing skills, becomes successful, and all at a time in life that most people would be thinking of retiring!
Caution needs to be taken not to mistake the script HB mark of Hester Bateman, with that of Henry Bailey, which tends not to be quite so flowing in appearance.

Hester Bateman 1784


Peter & Jonathan Bateman 1790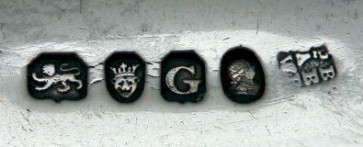 Peter, William & Ann Bateman 1802
Upon Hester's retirement in 1790, she handed over the family business to her two sons Peter and Jonathan. Items bearing the marks of this partnership are the holy grail for collectors of Bateman silver as they were only used from 7th December 1790 until 2nd May 1791. Jonathan died of cancer on April 19th 1791. Hester died in 1794.
Please click here to see a range of Hester Bateman and her family silver items for sale.
Following Jonathan's death, his widow, Ann, went into partnership with Peter. Both of Jonathan and Ann's two sons, Jonathan II and William I, worked within the company as apprentices and in 1800 William I joined the partnership. Ann retired in 1805, and Peter left William I in sole charge of the company upon his retirement in 1815.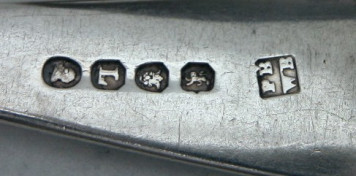 Peter & Wm Bateman 1806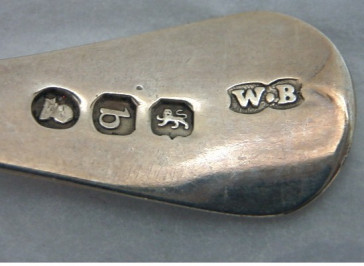 William Bateman I 1816
William I produced some of the finest Bateman family pieces and had three sons apprenticed to him: William II, Henry and Josiah. William II appears not to have got on very well with his father and set up on his own in 1827, but took over the running of the Bateman family company in partnership with Daniel Ball in 1839.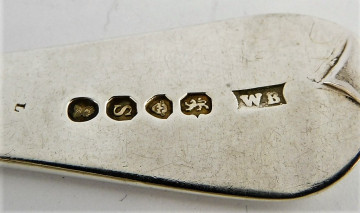 William Bateman II 1833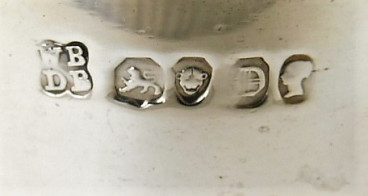 William Bateman II and Daniel Ball 1839
| | | |
| --- | --- | --- |
| | Marks Used | Dates |
| Hester Bateman | HB | 1761 - 1790 |
| Peter & Jonathan Bateman | PB/IB | 1790 - 1791 |
| Peter & Ann Bateman | PB/AB | 1791 - 1800 |
| Peter, Ann & William I Bateman | PB/AB/WB | 1800 - 1805 |
| Peter & William I Bateman | PB/WB | 1805 - 1815 |
| William Bateman I | W.B | 1815 - 39 |
| William Bateman II | WB | 1827 - 39 |
| William Bateman II & Daniel Ball | WB/DB | 1839 - ? |
Paul Storr
Marks used: PS

The master silversmith of the early 19th Century produced a good number of spoons in many different patterns. Perhaps his most famous are the fabulous Hunt patterns that include Boar Hunt and Mask, Fox Hunt and Stag Hunt - the latter being the most commonly found today. Storr designed and made several ornate patterns, such as Bacchanalian, but also produced more familiar designs such as King's and Fiddle pattern. The outstanding features of Storrs' flatware are the heavy gauge of silver used and the quality of decoration.
Storr was born in 1771 and entered his first mark at Goldsmith's Hall in 1792 in partnership with William Frisbee, and his own mark the following year. His major breakthrough came in 1807, when he was approached by arguably the most prestigious silver retailers in London, Rundell, Bridge & Rundell, to take over the manufacturing section of the company. This he did, and in 1811 became a partner of the business. Storr left the company in 1819 to set up on his own, and in 1822 opened a retail outlet in partnership with John Mortimer, the firm now being called "Storr & Mortimer". The company almost became bankrupt in 1826 and so took on a third partner to help out - John Samuel Hunt. Storr retired in 1838 and died in 1844. The PS mark was used on all his wares from 1793 to 1838. On his retirement the company subsequently became "Mortimer & Hunt", "John Samuel Hunt" and finally "Hunt & Roskell" before being sold in 1889 to JW Benson.
Despite his prolific output, items by Paul Storr are surprisingly difficult to find and therefore usually come at a premium.
Please click here to see a range of Paul Storr silver items currently in stock.
Chawner & Co.
William Chawner II is unrelated through bloodlines with Thomas and William Chawner of the mid 18th Century. However, they are connected via William Fearn who was apprenticed to Thomas Chawner and in turn was master to William II from 1797 and later, along with William Eley, went into partnership with him – see above.
In 1815, William Chawner II set up his own family business of Chawner & Co., this silver workshop became the most dominant force in silver flatware production through the 19th century.
The seven year spoon-making apprenticeship for William Chawner II, was with the partnership of William Eley and William Fearn from 1797. He became the third partner of this company in 1808. The experience from this top quality partnership provided him with the knowledge to set up his own workshop at 16 Hosier Lane, London to produce some of the finest quality silver spoons and forks of the period.
William and his wife Mary, had a son William III, who undertook his apprenticeship with his father, and a daughter Mary Ann - they were not very adventurous with names! On his death in 1834 his widow Mary (also a spoonmaker) took over the business in readiness for her son William III to take over. However, in 1838, after completing his apprenticeship he opted out of spoon making and instead entered the church.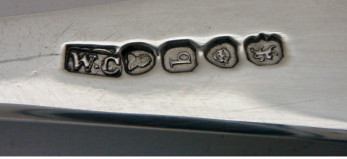 William Chawner London 1831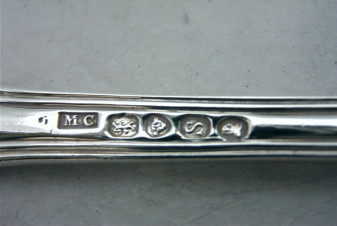 Mary Chawner, London 1833

George Adams, London 1846
The family business therefore was left to the husband of Mary Ann to go into partnership with Mary Chawner from 3rd August 1840 until 23rd November of the same year - this man was called George Adams.
Under the leadership of George Adams the company flourished and became the most prolific producer of the very best quality silver flatware in a huge variety of patterns. The Chawner & Co. pattern book of circa 1875 is the basis for naming many of the more obscure patterns of the period. Illustrations from the pattern book can be found in Silver Flatware by Ian Pickford.
Chawner and company continued trading until the 1880's using the initials of the owner as its maker's mark. It was sold to Holland, Aldwinckle & Slater in 1883, and this new line can be carried forward in to the 21st Century via Francis Higgins Ltd.
| | | |
| --- | --- | --- |
| | Marks Used | Dates |
| Wm Eley, Wm Fearn & Wm Chawner | WE/WF/WC | 1808 - 1815 |
| William Chawner | WC & W.C | 1815 - 1834 |
| Mary Chawner | MC | 1834 - 1840 |
| Mary Chawner & George Adams | MC/GA | 1840 |
| George Adams | GA | 1840 - 1883 |
Click here for canteens for sale by Chawner & Co/ George Adams.
Eatons
Marks used: WE, EE and EE/JE.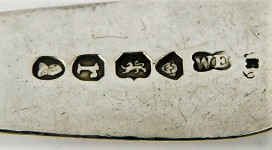 William Eaton first entered his mark at Goldsmiths Hall in May 1813 and began a five decade long family business spanning the most important, inventive and prolific period of silver flatware making in British history. Eatons made top quality flatware in mostly the Fiddle, Old English, King's and Queen's patterns, and occasionally in others too.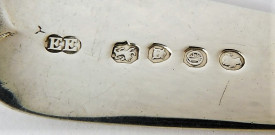 William Eaton died in 1845 and was succeeded in business by his widow Elizabeth who continued the practice of producing top quality silver spoons and forks. The name of the firm changed in 1854 to Elizabeth Eaton and Son, and the mark adapted accordingly in 1858 to include John (EE/JE). The business was purchased by Henry Holland & Son in 1865.
Wallis/Hayne/Cater
Marks used:- TW (script), TW/JH, JH (script), SH.DC, SH/DC
The partnership of Samuel Hayne and Dudley Cater with makers mark "SH" over "DC" entered their first mark at Goldsmiths Hall in 1836. The origins of the firm extended back to 1758 when Thomas Wallis first opened his workshop and they finally closed in 1865.
Thomas Wallis I was apprenticed to William Jones in 1749 and entered his first mark as a largeworker in 1758. His son, Thomas Wallis II was apprenticed to him in 1771 and entered his own mark in 1778. From the number of surviving pieces, we know that at this time the main output from the workshop was now spoons.
In 1796, Jonathan Hayne became an apprentice to Thomas Wallis II and after his freedom in 1804, his brother Samuel followed suit. Jonathan first entered a solo mark in 1808 before later going in to partnership with his former master between 1810 and 1817 and then on his own account until his retirement in 1836. According to AG Grimwade in "London Goldsmiths: 1697-1837", "the number of marks registered and range of sizes indicate an extensive and flourishing business which is further suggested that from 1822 to 1827 Hayne took at least six apprentices". One of these apprentices was Dudley Cater.
| | |
| --- | --- |
| | |
| Thomas Wallis, 1799 | Thomas Wallis & Jonathan Hayne, 1810 |
| | |
| Jonathan Hayne, 1835 | Samuel Hayne & Dudley Cater, 1854 |
Care must be taken with Jonathan Hayne's script JH mark. When looked at upside down (as shown in the photo below for London 1832), the mark is superficially similar to the famous script HB stamp of Hester Bateman. However, Hester Bateman was working forty years earlier and the lack of a crown on the lion's head mark is the giveaway feature.
Following the retirement of Jonathan Hayne in 1836, his son Samuel took over the running of the business in partnership with Dudley Cater. The workshop produced a large range of wares, but with the major output being flatware. Unlike many other spoonmakers of the period who followed the standard patterns, Haynes & Cater were comparable with the Chawner & Company in their innovativeness and production of new patterns, many of which were exclusively made by them. Some of the most popular patterns produced by Haynes & Cater include Queen's Oyster, King's Honeysuckle, Old England, Victoria & Albert.
Francis Higgins & Son
One of the most esteemed names in silver spoon making was the family business of Francis Higgins. The company mark is generally to be found on fine quality items from canteens, however it is for their range of caddy spoons from the Victorian period that they are most well known. The Mussel shell, Limpet and Wild Anenome caddy spoon designs are amongst the most sought after.
The company entered it's first mark in 1817 under the name of Francis Higgins (2), although it was his grandfather that first appears in silversmithing archives and his father Francis (1) who was the first to take a silversmithing apprenticeship. The company continued under a succession of Francis Higgins's until 1940 when the company was closed down. During this time it acquired Holland, Aldwinckle & Slater in 1922 - thus bringing together the remains of the two finest spoon makers of the Victorian period (i.e. Chawner & Co. being the other).
Lias Family
In the late 18th century, there were two silversmiths by the name of John Lias: one specialised in bucklemaking, whilst another entered his mark in 1799 as plateworker. This second John Lias entered further marks as "plateworker", until 1810 when his main specialism changed to "spoonmaker" and for the majority of the 19th century, he and his descendants became a force to be reckoned with in silver flatware production.
After his eldest son Henry John completed his apprenticeship and joined the family business, the company name was changed and a new mark entered in 1818 with Henry John then driving the company forward for the next sixty years. Henry's younger brother Charles was a junior partner within the business between 1823 and 1837, before setting up on his own account.
| | |
| --- | --- |
| | |
| John Lias & Son, 1820 | John Lias & Sons, 1832 |
| | |
| Charles Lias, 1837 | Henry John Lias & Son, 1851 |
Whether through retirement or death, by 1848 John Lias had left the business and the firm entered a new mark in 1850 to account for the addition of Henry's namesake son to the management and there now being a Henry John Lias I and Henry John Lias II.
In 1878 the senior Henry left the business, followed quickly by the arrival of new blood in 1879 when James Wakely when in to partnership with Henry John Lias II. Fresh ideas meant that the output of the firm during this period expanded to include more elaborate and exciting flatware designs, for example both the Stag Hunt and Bacchanalian patterns were produced in quantity for leading London retailers such as the Goldsmiths Alliance.
By the mid-1880's the firm's ownership changed once again with the final Lias retiring from the business and his former apprentice Frank Clarke Wheeler taking up the mantle as partner to James Wakely. Wakely & Wheeler flourished in producing all types of silver and became one of the leading general silver manufacturers of the 20th century.
| | | | |
| --- | --- | --- | --- |
| Firm Name | Marks used | Mark owners | Dates |
| John Lias | IL | John Lias | 1799-1818 |
| John Lias & Son | IL/HL | John Lias & Henry John Lias I | 1818-1823 |
| John Lias & Sons | IL/HL/CL | John Lias, Henry John Lias I & Charles Lias | 1823-1837 |
| John Lias & Son | IL/HL | John Lias & Henry John Lias I | 1837-1850 |
| Charles Lias | CL | Charles Lias | 1837-1847 |
| Henry John Lias & Son | HL/HL | Henry John Lias I & Henry John Lias II | 1850- 1878 |
| Henry John Lias | HJL | Henry John Lias II | 1878-1879 |
| Lias & Wakely | HJL/JW | Henry John Lias II & James Wakely | 1879-1884 |
| Wakely & Wheeler | &/WW | James Wakely & Frank Clarke Wheeler | 1884-present day |
Wm Scarlett

William Scarlett was apprenticed to Simon Scott, & entered his first mark in 1697 and his final mark in 1725. His Sc and WS marks are quite commonly seen, as he was one of the most prolific spoon makers of the period, furthermore they are generally a sign of quality. His son, Richard Scarlett, carried on the family trade, being apprenticed to William from 1710 and entering his own mark in 1719 and his final mark in 1723.