An assay office undertakes the job of testing all articles of silver, gold and platinum, to ensure that they meet the minimum standard of purity.
In the case of silver there are two standards, Sterling (92.5%) and Britannia (95.8%). Today, the metal purity is tested, by taking a scrape from each article and subjecting the scrape to an electronic analysis. In the past, several other methods were used. The earliest method was by the touch (rubbing the metal on a touch-stone and comparing those rubbings with a sample of known pure silver), a later alternative was by crucible which involves the melting away of all impurities and comparing the resultant weight of pure silver with the weight of the original sample.
Once the purity of the article has been proven, the assay office stamps the Sterling mark (lion passant in England, thistle or lion rampant in Scotland, and the harp crowned in Ireland) or less commonly the Britannia mark (a seated figure of Britannia holding a spear and shield) on the article, plus the symbol representing the assay office, and a date letter. The maker's mark was formerly struck by the maker, prior to sending to assay, which is why this mark often appear upside down or set apart from the other marks. Nowadays, the assay office usually strikes this mark as well. Other marks have been used, including the duty mark from 1784-1890, and commemorative marks for events such as Coronations and Jubilees.
Today there are four assay offices in Great Britain: Birmingham, Edinburgh, London and Sheffield. There is also an assay office in Dublin, which until 1923 was recognised as a having approved British hallmarks and continues to mark articles in a similar manner.
ENGLAND
London
The most commonly found town mark on silver spoons is the leopard's head of London. This leopard is in fact a lion. The lion passant guardant in heraldic terms is called the leopart. Anyway, we'll ignore big cat identification and called it a leopard. Introduced in about 1300 by King Edward I to identify silver of the required standard. The leopard has mostly worn a crown (1478-1821), however prior to 1478 and since 1821 he has been uncrowned. For Britannia marked articles the leopards head mark is substituted by a leopards' head erased, this is basically the profile of a leopards' head and neck (although this one is always known as a lion!), with its tongue poking out. This is the sole London mark used between 1697 and 1719 when only the Britannia standard was allowed.


Leopard's Head crowned


Leopard's Head un-crowned


Lion's head erased
Birmingham
The anchor of Birmingham is very common on English silver, but not so common on spoons, with the exception of small spoons such as caddy spoons. Considering that Birmingham is miles away from any sea it would seem inappropriate for the anchor to be its assay office symbol. There is however, a good reason for this: the group of men including Matthew Boulton, who were instrumental in setting up the assay offices in both Birmingham and Sheffield, in 1773, used to meet in The Crown and Anchor public house; Sheffield got the crown and the Brummies the anchor.
Click this link for Birmingham marked items.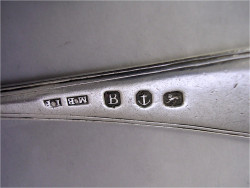 Birmingham 1774 by Boulton & Fothergill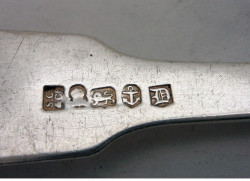 Birmingham 1827 by Spooner, Clowes & Co.
Sheffield
Sheffield has been the centre of the steel industry in Britain since the 18th Century, thus the establishment of the cutlery industry was a natural progression. Existing alongside the cutlery industry was the small but flourishing silversmithing trade, it was here in the mid-18th Century that Thomas Bolsover discovered the technique of fuse plating, later known as Sheffield Plate. The silver industry sent its wares to either York or London, but with the joint representation with Birmingham, the Sheffield Assay Office opened its doors in 1773. The vast majority of Sheffield marked flatware dates from the late 19th century onwards, and is a result of mass production in conjunction with the cutlery trade. However, small numbers of interesting pieces prior to this mass production do exist and are highly collectable

Click this link for Sheffield marked items.
Exeter
This city has an interesting history with spoons dating from the 16th Century, although the assay office was not officially opened until 1700 when a date letter system was initiated. The town mark (a castle with three turrets) looks very similar to that of Edinburgh, but can be differentiated by the existence of the lion passant. Spoons of all the major forms and patterns are to be found, 19th Century production was dominated by the mass production of the William's family company based in Bristol. The assay office closed down in 1883, soon after Josiah Williams retirement in 1879.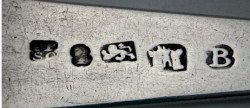 Click this link for Exeter marked items.
Chester
The city arms mark of Chester is highly sought after, being rare on pre 1890 silver. As with Exeter and Newcastle Assay Offices, Chester silver had been made and marked for some centuries previous but an Act of Parliament in 1700 granted Chester with its own assay office. Little flatware is to be found with Chester hallmarks, although several makers from the 1820-40's produced some fairly ordinary pieces. Chester marked flatware from the 18th Century and earlier is highly sought after. The assay office closed down in 1962.
Click this link for Chester marked items.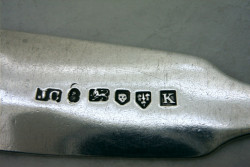 Chester 1828 by John Coakley
Newcastle
This north of England city has had a long established silversmithing tradition, with items attributed from the 16th Century. It was granted its status as an official Assay Office by an Act of Parliament in 1700 and it was in this year that an official date lettering system commenced. Newcastle Assay office was represented by a mark depicting three castles, two on top and one below. From 1721 an additional mark, the leopard's head crowned, was added. Newcastle marked flatware is fairly common (less common than Exeter, but more common than Chester and York) and has its own loyal following. The assay office closed down in 1884 due to lack of demand and competition from Sheffield.
Click this link for Newcastle marked items.
York
The history of the York assay office is rather different from the others as it has three distinct periods. Due to the importance of York as a provincial city spoons have been made here from the early 15th Century, and an assay office with a date lettering system was established in 1559. The town mark during this period was half fleur-de-lys and half leopard head. The first assay office was closed down at the enforced introduction of Britannia as the minimum standard in 1697, only to be re-opened by Act of Parliament in 1701. This new assay office had a new symbol, that of St. George's cross charged with five lions passant, and in line with London used the Britannia standard mark and the lion's head erased mark, however it was not too last long as it closed down again in 1716.

Largely due to the output of the local silversmiths, Hampston and Prince, and the opening of the two new assay offices in Birmingham and Sheffield the York Assay Office re-opened for a second time in 1776. The St. George's cross charged with five lions passant mark was revived, this mark together with the lion passant, leopard's head (for some reason borrowed from London), date letter, maker's mark and from 1784 the duty mark leads to a very crowded spoon terminal with a possible six marks. However, in the 19th Century the splendid York mark is often omitted. The assay office closed down in 1858, following the end of the York manufacturing dynasty that began in 1770 with Hampston and Prince and ended with the death of James Barber.
Click this link for York marked items.
Other English Provincial
This title covers all the towns an cities which have had some form of marking system on silver before the Act of 1700 which set up the provincial assay offices in Chester, Exeter, Newcastle and York.
The affluent areas of England such as East Anglia, the South of England (Wessex) and the West Country had a good number of silversmithing centres, the most prominent being Norwich which like York had an intermittent date lettering system until the Act of 1697 forced its silversmiths to send their articles to London in the newly enforced Britannia standard, however Norwich was not granted an assay office in the Act of 1700. Other important centres included Barnstaple, Bristol, King's Lynn, Salisbury and Southampton.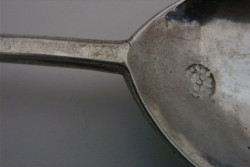 Salisbury circa 1610
Silver from the Midlands and North of England is much scarcer, with the cities of Hull and Leeds being the most likely to occur.
The hallmarks do not follow the standard pattern of London marks and usually are marked with a town mark (often the city's arms) and a makers' mark.
Click this link for Other English Provincial items.
RELEVANT LITERATURE:
"English Goldsmiths and their Marks" by Sir Charles Jackson
"East Anglia Silver 1550-1750" by Christopher Hartop
"West Country Silver Spoons and Their Makers, 1550-1750" by Tim Kent
"Salisbury Silver & Its Makers 1550-1700" by Tim Kent
SCOTLAND
Edinburgh
The largest, and today the only, assay office in Scotland has been marking silver from the late 15th century. The numbers of extant pieces do not come close to rivalling those of London, but the variety of items marked is great. Edinburgh marks, prior to 1759, are interesting as they have an additional Assay Masters Mark (or Deacon's mark) that should not be confused with the maker's mark, but in the absence of a date letter can help to date a piece. The thistle replaced the Assay Masters' mark in 1759; this was the Scottish equivalent of the lion passant denoting Sterling standard silver. Edinburgh's town mark is a castle with three turrets, which can be confused with the similar mark of the Exeter Assay Office. Occasionally, as in the picture for Edinburgh 1822, two maker's marks are to be found; one is the retailer - in this case M&S for Marshall & Son (not Marks & Spencers!).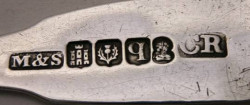 Click this link for Edinburgh marked items.
Glasgow
The Glasgow assay office opened its doors for the first time in 1819, and was largely due to one silversmithing company, Robert Gray & Son. Items had been produced in Glasgow since the 17th Century and marked in a similar manner to those in other Scottish Provincial towns. The town mark is a tree, a fish and a bell, but it looks more like a tree on a plinth with bits hanging from it! How did they expect all that detail to be seen in small punched marks? Flatware can be found in good numbers both before and after the opening of the assay office. The assay office closed down in 1964.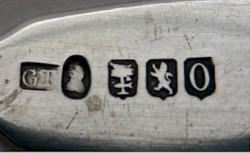 Click this link for Glasgow marked items.
Scottish Provincial
The price of silver made in the provincial centres of Scotland has risen astronomically over the past few years.
However, the beauty of these pieces is the potential for a bargain. The non-conformist methods of marking these items means that they are often discarded, by the untrained eye, as electroplate or "foreign" and they can be picked up (with a lot of luck) for peanuts. The truth is however that they are not very common and a lot of rummaging in boxes of junk is required. Spoons are generally marked with a maker's mark, a town mark and occasionally a spurious date letter. Their existence can be attributed to their distance from the "not quite long enough arm of the law", and so rather than sending items to be legally marked and tested in Edinburgh or Glasgow, pieces would be sold locally with marks similar to those used elsewhere. The practice diminished through the 19th Century as communication links improved, so that little true Scottish Provincial exists beyond 1860. During the 20th Century the Hebridean island of Iona has a tradition of stamping locally made items, but this is in addition to the hallmarks of a major assay office (usually Edinburgh or Birmingham).
The value of these spoons is dependent upon the rarity and condition of the hallmark as opposed to just the quality of the piece (which is often quite poor). Spoons from the less rare Scottish provincial centres can still be bought very reasonably, but items marked at the rarest centres can be extortionate. Items made in Glasgow, prior to the opening of its assay office in 1819, are considered as Scottish Provincial. Many unascribed Scottish provincial spoons are to be found and with some research could in the future be of great value. The tip really is to keep your eyes open and take a gamble if the price is right.
Marks in the above picture from left to right are:- Arbroath, Inverness, Perth, Banff, Dumfries, Aberdeen & Cork (Irish provincial).
| | | |
| --- | --- | --- |
| Scarce | Rare | Very Rare |
| Aberdeen | Arbroath | Cupar |
| Dumfries | Ballater | Ellon |
| Dundee | Banff | Fochabers |
| Glasgow | Canongate | Forres |
| Inverness | Elgin | Keith |
| Perth | Greenock | Nairn |
| | Iona | Peterhead |
| | Montrose | St. Andrews |
| | Paisley | Stonehaven |
| | | Tain |
| | | Wick |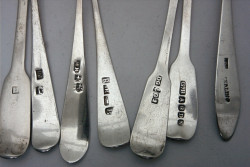 RELEVANT LITERATURE:
"A Directory of Scottish Provincial Silversmiths & Their Marks" by Richard W. Turner
IRELAND
Dublin
Up until 1923 Dublin Assay Office was subjected to the same laws governing silver production in England and Scotland, and thus marked its wares in a similar manner. The formation of the Irish Free State in 1922 meant that the laws were made and governed from Dublin, but the system of hallmarking has largely stayed the same. The symbol used in Ireland since 1637 for silver of 925 standard is a crowned harp. The seated figure of Hibernia mark was originally introduced in 1731 to denote that duty had been paid, and unlike its English and Scottish counterparts, the sovereign's head duty mark was not used until 1807, the Hibernia mark continued to be used after this date to represent the Dublin Assay Office. Early 19th Century Dublin silver is often marked with both a maker's and a retailer's stamp, in the above picture for Dublin 1817, the retailers' name is Law.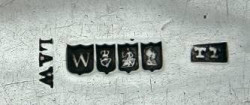 Click this link for Dublin marked items for sale.
Irish Provincial
In many ways there are similarities between Irish and Scottish provincial silver, particularly regarding their history, quality and the current high prices achieved. One significant difference with the marks is the addition of the word "STERLING" or an abbreviated or derived form. Cork is undoubtedly the most common of the Irish provincial centres, much of which during the 19th Century is Dublin marked, followed by Limerick. Other centres include Belfast, Galway, Kinsale, and Youghal, all of which are extremely rare.


John Warner, Cork c.1790
Click this link for Irish Provincial items for sale.
WALES
I bet you didn't expect to see this Principality included! It has never had an assay office, but it does have one proven mark for the South Wales town of Carmarthen, plus a possible mark for Newport. The obvious reason for the absence of a silversmithing history in Wales is the lack of demand due to the economic situation, plus the proximity of Chester to North Wales. Although silver spoons have been made in Wales, they do not bear marks that relate to Wales (i.e. they are hallmarked in one of the major UK assay offices). I would therefore advise against beginning a collection of Welsh marked spoons - you will probably never find one!