Engraving is a highly skilled aspect of silversmithing. Most silversmiths have a basic ability for the art, but will generally send items to an out-working engraver. A specialist engraver will have dozens of engraving tools, chisel-like objects called gravers, that are hand-carved into the silver at a 45 degree angle to reflect the light in the most attractive way. The vast majority of engravers are unrecognised today. In fact, I only know the name of one - William Hogarth from the early 18th Century.
Modern methods of engraving (e.g. laser and pantograph) are much quicker and therefore cheaper to undertake. As a result, they have caused a huge decrease in the number of specialist hand-engravers. However, these methods work at a 90 degree angle and are far less effective at reflecting the light. This is fine for everyday items, such as plaques or dog tags, however, in my opinion, a good piece of silver deserves the best and that is undoubtedly by hand.
Spoons are engraved for one of two purposes; for decoration or ownership.
Engraved Decoration
Engraved decoration has adorned silver spoons from the early 17th century, e.g. the famous group of East Anglian spoons circa 1600-1640. Dating from the late 1600's, Flameback Trefids and other all over engraved examples of Trefid spoons are highly desirable. In the late 18th century, the practice of bright-cut engraving was prominent in embellishing Old English Pattern spoons. All of these subjects are discussed elsewhere within the web-site.
This page pertains to the practice of personalising a spoon with engraved monograms, initials or crests.
Why were spoons personalised?
Prior to circa 1890 it was general practice to engrave silver flatware to identify ownership. This was as a security measure, a matter of pride or as a presentation feature.
Security - silver with personalised engraving such as a monogram (usually the first letter of the surname), initials or a family crest would readily identify the owner of the piece, thus preventing quick fingered staff or even guests from stealing pieces from the canteen.
Pride - if you have gone to the expense of buying a canteen of cutlery, what better way to show it off than with your own initials or even better you family crest.
Presentation - if a spoon was bought as a gift to celebrate a Christening or wedding. what better way to personalise the article but to engrave it with the recipients initials.
Where is the engraving to be found on flatware?
Pre-1660 - the engraving was to be found on the back of the bowl or, if it existed, on a flat disc at the spoon's terminal (i.e. apostle tops and seal tops).
c.1660 to c.1770 - the engraving was generally placed on the stem end of the reverse side (Trefid, Dog nose and Hanoverian patterns). Flatware during this period was generally laid bowl and tines facing down.
c.1770-c.1830 - spoons were engraved to the front terminals (Old English, Fiddle and King's patterns). Forks continued to be laid facing down. During the 1820's and 30's the two of the standard patterns of the period (Old English & Fiddle) were made with their terminals facing down - thus allowing the engraving to be uppermost when a fork was laid tines down.
Post c.1830 - spoons and forks are engraved to the front terminals. Forks are now laid with tines pointing up. The practice of having down-turned terminals on forks was discontinued and engraving was sometimes placed on the reverse side.
Post c.1890 - anything goes! Engraving is added to spoons and forks wherever the owner wishes, including the inside bowls for certain presentation purposes. Machine made flatware is now widely available and less expensive. The additional cost of having engraved initials is often deemed a luxury too far.
Spoons & forks are frequently encountered that do not follow the above guidelines. This can be for several reasons; the spoon has been later engraved in the fashion of the period e.g. script initials added in 1780 to the front of a 1750 Hanoverian spoon or the article has been made to match an existing set e.g. an 1880 fork with crest to the reverse of the stem.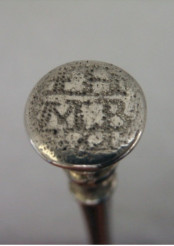 Dot-pricked wedding initials on Seal Top Spoon, Circa 1621.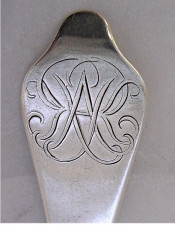 Contemporary cipher on a Dog Nose spoon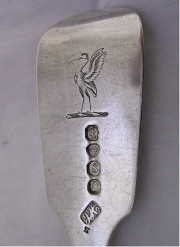 Crest on the reverse side of a fork. London 1833.
Presentation Engraving
Silver spoons have traditionally been given to the children of the well heeled as Christening or baptismal presents ("born with a silver spoon....") and to married couples as wedding presents.
The engraving on a spoon made before circa 1730 will almost certainly point to one of the above. Until circa 1770 the practice of engraving sets of spoons/forks was still in it's infancy and only affordable to the very rich. From the 1770's silver became more accessible to a growing and more wealthy "industrial age" middle class. Canteens became more widespread and the practice of engraving initials and crests to silverware was fashionable.
The following are examples of the types of engraving to be found:-
Initials in block or dot pricked - often given as a birth, Christening or baptismal spoon. Occasionally found with an engraved date. Pre-1770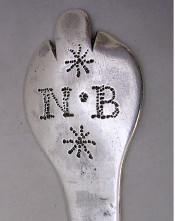 Dot-pricked initials - birth related circa 1680
Two pairs of initials - the earlier form of wedding related engraving (i.e. initials before the marriage) and often found with an engraved date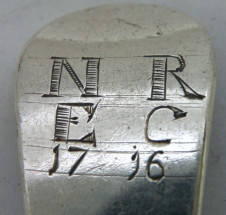 A late example of two pairs of initials - probably related to a wedding. 1716.
Three initials in block or dot pricked in a triangle - often given as wedding presents, the letter uppermost being the surname and the other being the two Christian names.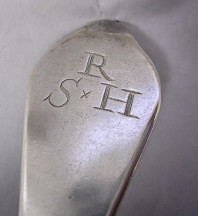 Roman Block wedding initials as a betrothal triangle - surname of the couple begins with "R", circa 1710.
Single letter - generally the surname of the owner.
Initials - when engraved in script, gothic or other styles (i.e. post c.1770), are the Christian, middle (if applicable) and surname of the owner (generally the man) and the item would probably have been part of a set or canteen..
Crest - the crest taken from the family's coat-of-arms.
Styles of Engraving
As flatware patterns evolved according to production methods and fashion, so did engraving styles. Below is a list of the major styles of engraving.
Dot Picked - the earliest and simplest form where a series of dots form a letter.
Roman Block - the most commonly found form during the mid-18th century (on Hanoverian pattern)
Script - introduced circa 1770 with the advent of Old English Pattern. This flowing form can sometimes be found with an elaborate display of flourishes.
Gothic - became a fashionable style from circa 1825.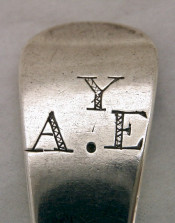 Roman Block (part-shaded) wedding initials circa 1740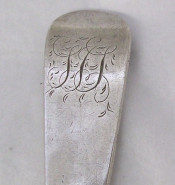 Script initials - three letters with additional flourishes, circa 1800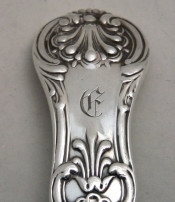 Gothic monogram - Letter "E", circa 1820
Armorials
A full display of a family's coat-of-arms with armorials is relatively rare on silver. The most likely objects upon which they will be found are large articles such as trays.
Coats-of-Arms
Coats-of-arms are rarely found on spoons, the lack of space usually prohibits their display and therefore the crest is used instead. However they do appear on occasion. Spoons with engraved coat-of-arms displayed generally date from the early 18th Century. This date coincides with the introduction of providing eating utensils to guests and the improvement in engraving techniques. At this period a method of colouring engraved coats-of-arms was introduced e.g. horizontal shading represented azure (blue), vertical shading to gules (red) etc...
Crests
A crest is the uppermost section of an armorial and was originally displayed by a knight on the crest of his helmet to signify to whose loyalty he belonged. The important difference between a crest and a coat-of-arms is that a crest can be used by up to 20 families, whereas a coat-of-arms can be traced back to a particular individual or family.
A crest is sometimes accompanied by a motto. On English made spoons this motto should be found below the crest, whereas on Scottish spoons the motto is uppermost. Mottoes are generally in Latin, but can also be found in English and French.
The best reference book on the market for identifying crests is Fairbairns "Book Of Crests of the Families of Great Britain & Ireland". This book is still used by the engraving trade today.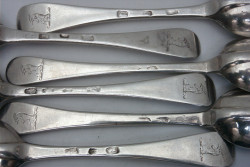 An early set of six crested table spoons. London 1721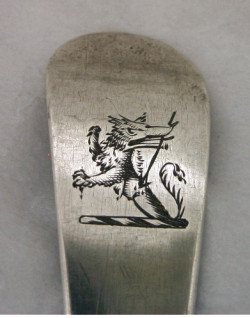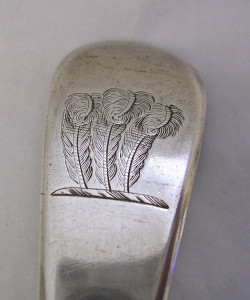 How does engraving affect value?
Collectors spoons - Collectors are generally unconcerned about engravings as they can add interest and history to a spoon. A spoon with a coat-of-arms is deemed more desirable than one without. Crests and personalised engraving pre-1770 style are interesting and it is down to personal preferences as to whether this improves it's worthiness or not.
Canteen spoons/forks - Spoons and forks that are to be used (as against collectors items) with engraved initials or monograms are less saleable/desirable than those that are without. They are therefore deemed less valuable, especially on King's pattern where successful engraving removal is extremely difficult. These engravings can be erased and the saleability and inevitably the value will go up accordingly. BUT it must be done properly – badly erased inscriptions will decrease the value further (i.e. the potential has been lost!).
Items without inscriptions will match up to each other far better than a multitude of different engravings, plus many people do not want somebody else's initials on their flatware. Remember virtually every item of flatware, pre-1860 would originally have been adorned with personal engraving, so an item that is without today, has probably had a removed inscription at some stage – yesterday, 10 years or 100 years ago!
Many people are happy with engraved crests, depending upon what is depicted, they can increase value.
In reality, the value of a spoon is entirely subjective and down to the pocket of the buyer and the buyer's own particular preferences.