Queen's Pattern Boxed 12 person Canteen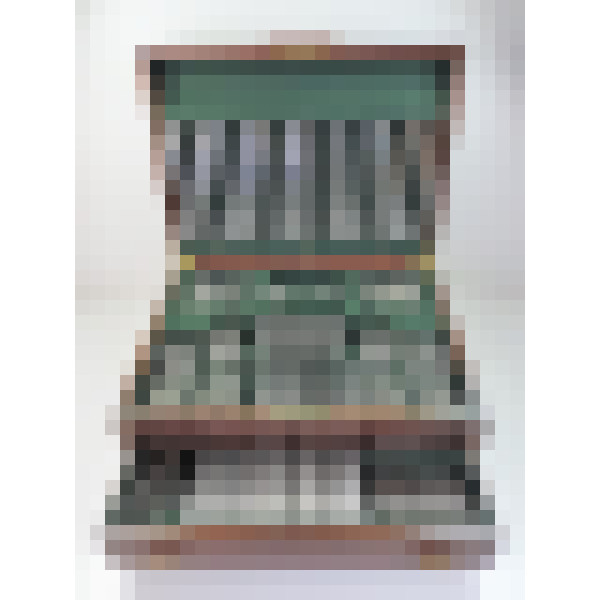 Reserved
126 piece Canteen (boxed) - Queen's Pattern - Sheffield 1973/4 by Roberts & Belk - Weight: 6930g (222.8 tr.oz.) + 24 knives - Ref: LP/9882
126 piece Queen's Pattern Canteen of Silver Cutlery, Sheffield 1973/4 by Roberts & Belk
This is a fantastic silver canteen in the highly sought after Queen's Pattern. The service provides for ten pieces per 12 place settings with a handy range of serving items.
All pieces have double-struck decoration in high relief and benefit from having no personalise engravings. Each piece bears a Sheffield hallmark with the R&B maker's mark, plus the table and dessert knives are fitted with stainless steel blades with the Roberts & Belk name engraved to them. Interestingly, the year date letter for 1973 is a copy of that used in the first year of opening for the Sheffield assay office in 1773 and was replicated to celebrate their bicentenary.
A major bonus of this service is something for every occasion, so whether you are planning to start dinner with soup or fish, the requisite piece is available. Likewise, the service accommodates a dessert course and after dinner tea and/or coffee.
Queen's Pattern
Queen's Pattern was first in fashion in the 1820's and has similarities in shape to King's Pattern but has more ornate decoration and an anthemion motif to the reverse of the bowls. It was named in honour of Queen Caroline of Brunswick (King George IV's wife). The highly ornate decoration found on Queen's Pattern demands that each piece is made with a thick gauge of silver and thus makes it one of the most prestigious of all flatware patterns.
Components
This 126-piece service consists of the following:
| | |
| --- | --- |
| 12 Soup Spoons (18.2cm) | 12 Dessert Forks (18.3cm) |
| 12 Fish Knives (21.2cm) | 12 Dessert Spoons (19.2cm) |
| 12 Fish Forks (19.4cm) | 12 Teaspoons (13.5cm) |
| 12 Table/dinner Knives (25.5cm) | 12 Coffee Spoons (11.5cm) |
| 12 Table/dinner Forks (21.4cm) | 4 Table Spoons (23.5cm) |
| 12 Dessert Knives (22.7cm) | 2 Sauce Ladles (16.6cm) |
Total weight of weighable silver 6930 grams (222.8 troy ounces). Additional to this weight are the 24 silver handled knives with stainless steel blades.
Condition
Excellent polished condition throughout – near mint. There are no personalised engravings, nor have any been erased. The box has some minor scuffs and scratches to the exterior.
Presentation
This canteen is nicely presented within a wooden box with the table knives slotted in to the lid. Each piece has its own slot to prevent scuffing with its neighbour.
As with all our canteens, we are happy to send a sample place setting on receipt of a surety payment.