143-piece Wellington Pattern Canteen, 1855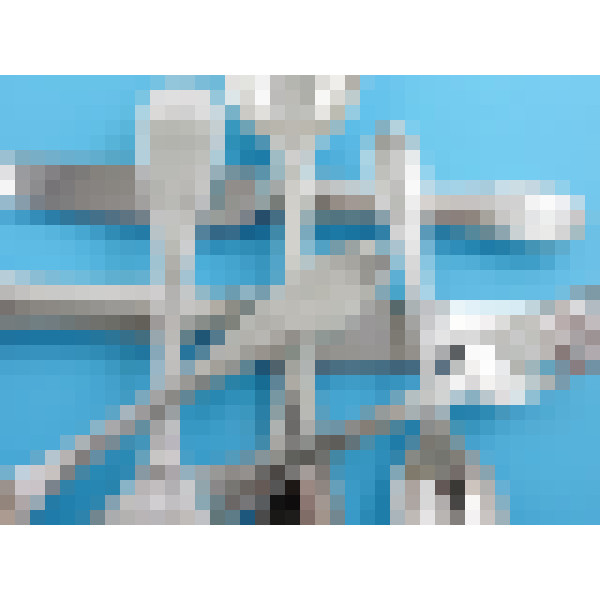 Reserved
143 piece Canteen - Wellington pattern (12 place settings) - London 1855 by George Adams - Weight: 7940g (255.3oz) - Ref: KH/9009
143-piece Silver Canteen of Cutlery, London 1855 by George Adams
The Service
We are pleased to be offering a truly fantastic quality 12-place settings silver Victorian period canteen in the sought after Wellington Pattern.
This service has the bonus of extra sets of table forks, dessert knives, forks and spoons. This gives the owner greater flexibility with laying the table; the spare sets being available for a starter and/or cheese course. In addition, there is a good array of serving pieces including a fabulous soup ladle and stunning pair of 12" long serving spoons (aka basting or gravy spoons).
All the spoons, forks and servers were hand-wrought in London by the very best flatware makers of the Victorian period – Chawner & Company and bear the GA makers mark of the owner, George Adams. All pieces (with the exception of a single dessert and tea spoon from 1892 - they are exact matches) were made in 1855, which was soon after the pattern was first designed in 1848 – each piece is stamped with an 1848 design registration kite mark to the lower end of the reverse stem.
All the spoons, forks and servers are engraved with an engraved crest that features a lion rampant wielding a cutlass. In the traditional manner, the spoons are engraved to the front terminals and the forks to the reverse.
As antique knives rarely survive, the silver handled knives with stainless steel blades complementing this service date from the late 20th century and were made in Sheffield 1971 by James Dixon & Son and the blades are engraved with the name of the Chester retailers, Lowe & Sons. These are not engraved with a crest.
All pieces benefit from being in excellent polished condition with crisp decoration. A high quality set!
Wellington Pattern
Wellington Pattern was first produced by Chawner & Company in 1848 in readiness for the Great Exhibition at the Crystal Palace. It was named in honour of Arthur Wellesley, 1st Duke of Wellington and hero of the Battle of Waterloo and is a much sought after flatware pattern today. The best examples, as in the case of this service, have the decoration displayed on both sides of the stem ("double-struck") and so a good thick gauge of silver was required for its production.
The Maker
All the spoons and forks in this service were hand wrought in London by the most important company of silver flatware makers of the period – Chawner & Company – under the leadership of George W Adams (working period 1840 to 1882) and bear his "GA" makers mark.
Components
This 143-piece service consists of the following:
| | |
| --- | --- |
| 12 Table/Soup Spoons 22.3cm | 12 Teaspoons 15cm |
| 12 Table/dinner Knives 25cm | 4 Egg Spoons 12cm |
| 24 Table/dinner Forks 20.5cm | 1 Soup Ladle 34cm |
| 24 Dessert Knives 22.3cm | 2 Basting Spoons 30.5cm |
| 24 Dessert Forks 17.6cm | 2 Sauce Ladles 18cm |
| 24 Dessert Spoons 18.2cm | 2 Butter Knives 20cm |
Total weight of weighable silver 7940 grams (255.3 troy ounces). Additional to this weight are the 36 silver handled knives.
Condition
This service is in excellent condition throughout with crisp decoration, full length fork tines and unworn spoon bowls. To find a Victorian service in this pattern and in this fabulous condition is quite a coup.
Presentation
This canteen is supplied in twelve second-hand cutlery rolls. These purple rolls have individual pockets and hold 12 items per roll. They presumably date from the 1970's, when the knives were supplied, and although perfectly practicable, we are happy to exchange them for new, navy blue, cloth rolls if preferred. The large serving items are supplied loose.
As with all the canteens available from our web-site, we are happy to send a sample place setting for approval, on receipt of a fully refundable surety payment, prior to purchasing this canteen.