12 Person Silver Lily Pattern Canteen, 1903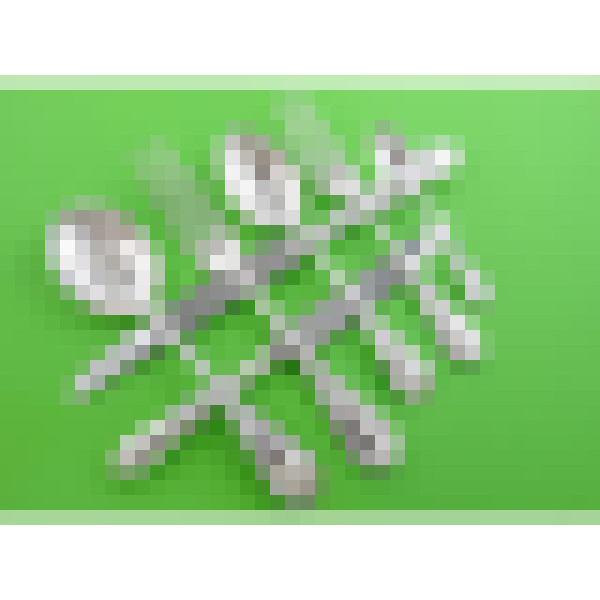 Sold
93 piece Canteen - Lily pattern (12 place settings) - Sheffield 1902 by Joseph Rodgers - Weight: 4370g (140.5oz) - Ref: NP/7108
93 Piece Antique Silver Lily Pattern Canteen of Cutlery, Sheffield 1903 by Joseph Rodgers (Knives Sheffield 1994)
The Service
We are pleased to be offering a beautiful 12 sittings canteen in the highly desirable Lily Pattern. This Edwardian service provides for seven pieces per 12 place settings, plus six serving spoons and other useful servers.
All the pieces were made in Sheffield with the spoons and forks made by Joseph Rodgers in 1903 and the knives by Nat Leslie Ltd in 1994. The round bowled soup spoons are an especially welcome component to this table service - this type of spoon was first introduced circa 1900, so these are particularly early examples.
All the pieces benefit from having no personalised engravings and are all in excellent polished condition.
Lily Pattern
Lily Pattern was first produced by Elkington & Company in 1850 in readiness for the Great Exhibition at the Crystal Palace. The design is a good example of Victorian naturalism, however it is often commented how the flowing lines are very Art Nouveau in style, although that movement was to follow 50 years later and is the period from which this service dates.
The beauty of his pattern has ensured its long lasting appeal and it remains one of the most sought after flatware patterns.
Components
This 93-piece service consists of the following:
| | |
| --- | --- |
| 12 Soup Spoons 19.8cm | 12 Dessert Forks 17.8cm |
| 12 Table/dinner Knives 25.2cm | 12 Coffee Spoons 11.4cm |
| 12 Table/dinner Forks 21.1cm | 6 Table/Serving Spoons 22.4cm |
| 12 Dessert Knives 22.2cm | Cheese Knife 20.5cm |
| 12 Dessert Spoons 17.8cm | 2 Pie/Cake Lifters 17cm & 25.5cm |
Total weight of weighable silver 4370 grams (140.5 troy ounces). Additional to this weight are the 27 silver handled knives.
Condition
Excellent polished condition throughout. This table service is extremely well preserved for its antique age.
Presentation
This canteen is supplied in eight new anti-tarnish cutlery rolls.
As with all the canteens available from our web-site, we are happy to send a sample place setting for approval, on receipt of a fully refundable surety payment, prior to purchasing this canteen.