126 piece Fiddle & Thread Canteen by GA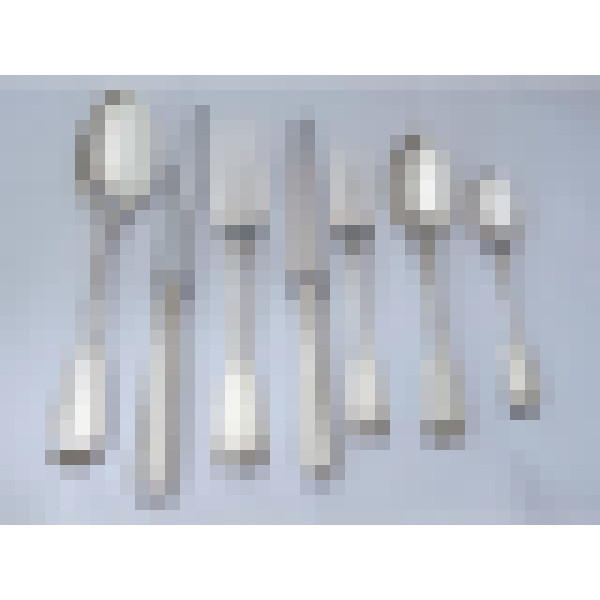 Sold
126 piece Canteen; Fiddle & Thread Pattern (18 place settings) - Hallmark: London 1856-75 by George Adams; Weight: 5630 grams (181 tr.oz.) + 36 knives; Ref. No.: FF/9043
126 Piece Silver Fiddle & Thread Pattern Canteen of Cutlery,
London 1856-75 by George Adams
The Service
We are pleased to be offering an excellent Victorian period silver 18 place settings canteen in the very popular Fiddle & Thread Pattern. The service provides for seven pieces per 18 place settings.
All the spoons and forks were hand wrought in London during the 1850's/60's & 70's by the most important company of silver flatware makers of the period – Chawner & Company – under the leadership of George W Adams (working period 1840 to 1882). All pieces bear his "GA" makers mark. Each piece has a good hefty weight in the hand.
A huge bonus with this 19th century canteen is that every piece is free from any engravings and the condition throughout is first class.
The thirty six silver handled knives were made in Sheffield 1989/90 by Terry Shaverin, have a good weight and are fitted with stainless steel blades. N.B. these can be removed from the service if not required with an appropriate reduction in price.
Fiddle & Thread Pattern
Fiddle Pattern was the dominant flatware pattern of 19th Century Britain, however it stemmed from the same shaped French pattern that had a thread design running around the border. In the UK this became known as Fiddle & Thread. It is a very popular pattern as it treads the fine line between a completely plain design and an ornate design.
Components
This 126-piece service consists of the following:
| | |
| --- | --- |
| 18 Table/dinner knives 25cm | 18 Dessert Forks 17.3cm |
| 18 Table/dinner Forks 20.6cm | 18 Dessert Spoons 18.1cm |
| 18 Table/soup Spoons 22.2cm | 18 Teaspoons 14.5cm |
| 18 Dessert Knives 22.2cm | |
Total weight of weighable silver 5630 grams (181 troy ounces).
Condition
Excellent original condition throughout with crisp decoration.
Presentation
This canteen is supplied in eleven new anti-tarnish cutlery rolls.
As with all the canteens available from our web-site, we are happy to send a sample place setting for approval, on receipt of a fully refundable surety payment, prior to purchasing this canteen.