Rundell, Bridge & Rundell Cup, 1806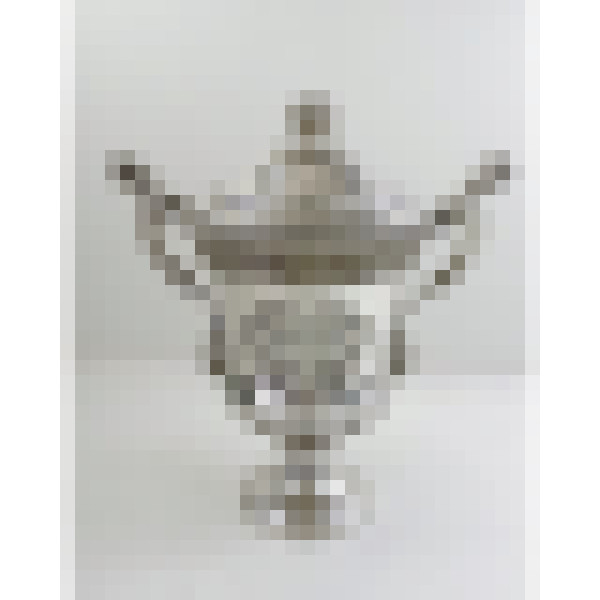 Sold
Cup - 2 cast handles & lift-off cover - London 1806 by Digby Scott & Benjamin Smith - 35cm high; 32.2cm wide handle to handle; 22cm diameter rim; 3290g gross weight (inc, loaded foot) - EF/9839
This is an outstanding silver 2-handled cup with cover made by the most important retailers of the Regency period and goldsmiths to King George IV - Rundell, Bridge & Rundell. The custom of presenting a lavish piece of silver as a mark of gratitude to military officers reached its peak during the patriotic age of the late 18th and early 19th centuries, with most of these orders going to Rundell's. This cup is of the very high quality that you would expect from this establishment, plus it was made by one of their favoured suppliers, Digby Scott & Benjamin Smith.
This is a large silver cup that could equally well be used as a wine cooler, as shown in the photograph. It was originally given as a presentation cup and bears the engraved inscription within an applied laurel leaf cartouche: 'The Eastern Troop of Herts Yeomanry Cavalry, to their Captain John Calvert Esqr. as a mark of their Esteem & Regard. October 3rd 1806' to one side and the coat-of-arms for John Calvert to the opposite side. See below for further information.
The body of the cup is decorated around the top rim with a tongue and dart overlapping rim and a band of fruiting vine and to the lower body with applied sprays of acorns between stiff leaves. The two magnificent, ornate cast handles feature a bust of Mercury with the lower junctions modelled as ram masks.
The cup stands on a loaded pedestal foot which bears both the hallmarks and the stamped legend 'Rundell Bridge et Rundell Aurifices Regis et Principis Walliæ Londini Fecerunt'. This is Latin for "Made in London by Rundell Bridge et Rundell Goldsmiths to the King and Prince of Wales'. The removable cover has a pod finial on a leaf calyx and bears appropriate matching hallmarks to the main cup.
The condition is superb with nothing negative to report and a lovely all over patina.
With an overall gross weight in excess of 106 troy ounces and simply sumptuous decoration, this antique cup just exudes the very highest quality.
Provenance
John Calvert (1758-1844) was the eldest son and heir of John Calvert (1726-1804) of Albury Hall, Hertfordshire by Elizabeth Hulse (born 1732) the daughter of Sir Edward Hulse (1682-1759), 1st Baronet of Breamore Hants. and physician to George II. Calvert was an MP and secretary to the Lord Chamberlain. He was a captain of the East Hertfordshire Yeomanry from 1794. His father John Calvert (1726-1804) was also an MP but the family wealth was gained from the brewing industry, with breweries at Aldbury and in London that were created by his father Felix Calvert.