105 tr.oz Silver Lady Justice Cup, 1839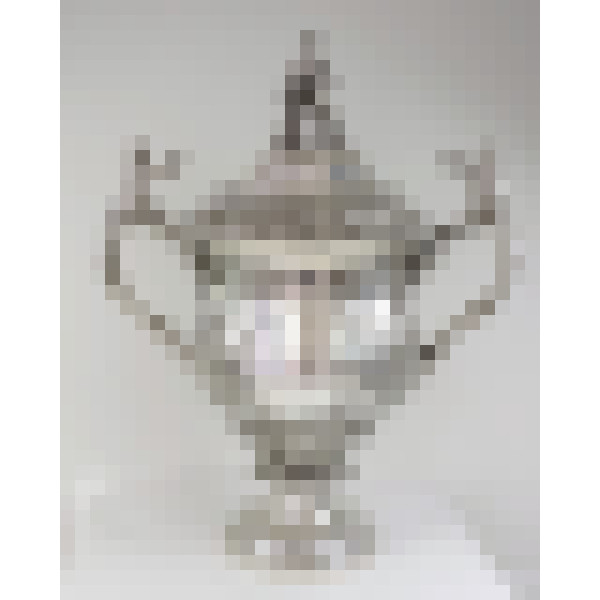 £7,495.00
2-handled Cup - Campana-Shaped with Chased Decoration and Lady Justice finial - London 1839 by Barnards - 46cm high x 38cm wide; 3290g - JC/9611
This magnificent antique silver 2-handled cup features a fabulous model of Lady Justice to the removable cover and would make an excellent champagne or wine cooler.
The cup is exquisitely chased all over the campana-shaped body with ferns and grasses and flower heads to the foot. The handles are beautifully modelled as entwined tendrils and each topped with a cherub holding a laurel wreath in his outstretched arm. The acanthus leaf decoration around the foot and lower base is repeated to the lift-over cover.
The cup is of the very highest quality and has a very hefty weight. Unusually for a presentation cup such as this, there are no engraved inscriptions and no signs of any being removed. The condition is superb with crisp decoration and no dings, damage nor repairs. The hallmarks for the premier silversmithing company of Barnards are located under the foot with complementing marks to the cover.
Lady Justice is in a seated position with the sword of retribution in her left hand and in the right a set of scales for weighing the cases of the support and opposition. The attention to detail is quite phenomenal. Lady Justice is based on the Roman goddess Iustitia and stands proud as a 22-ton statue atop the Old Bailey (the Central Criminal Court of England & Wales) in London. She represents the moral force in the judicial system.