Paul Storr Tureen, 1837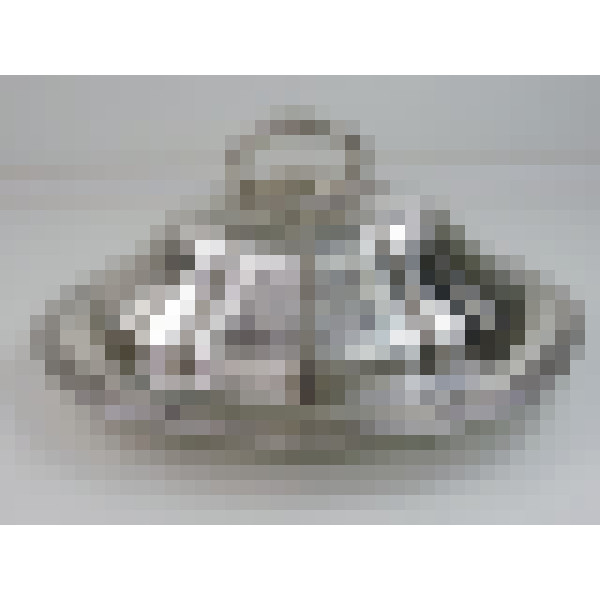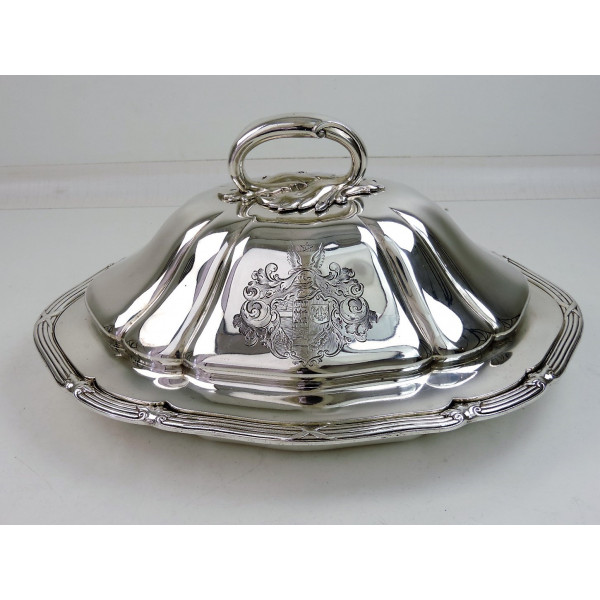 Sold
Entree Dish - Ovoid Base with Domed Cover - London 1837 by Paul Storr - 32.8cm x 24.6cm oval; 17cm high to top of handle; 1710g - JF/8533
With its high domed removable cover, this majestic silver tureen or entree dish would make an impressive sight on any dining table and has a remarkable provenance of a marriage that united the family owning Barings Bank with a French Prime Minister's daughter.
Bearing the marks of Paul Storr and stamped to the underside with the name of his retail partnership with John Mortimer - Storr & Mortimer - this high quality piece of silver was made for someone wealthy enough to have their full coat-of-arms engraved to both sides of the cover and the crest to the interior of the base (see below).
Of shaped oval form with a reed and ribbon mount interspersed with leaves, this serving dish has a very appealing look and has a stylish handle modelled as leaves to the top of the cover. The dish remains in excellent condition with some typical scratch marks to the base and no dents, damage nor repairs. A very fine piece.
The coat-of-arms and crest on this tureen have been identified as being the marital arms of Baring and Maret and commemorate the marriage of Francis Baring (1800-1868) and Hortense Eugenie Claire Maret (1812-82) in 1832. He was the second son of the 1st Baron Ashburton, whilst his wife was the daughter of the 1st Duke of Bassano. Francis served as MP for Thetford in Norfolk and succeeded his elder brother as the 3rd Baron Ashburton. The family owned Barings Bank and Francis became a quarter share partner in 1823.
Hugues-Bernard Maret (1763-1839), father of Hortense, played an important role in the French Revolution where he was often perceived as a steadying influence. He later became a Secretary of State under Emperor Napoleon I and Minister of Foreign Affairs in 1811. He was highly respected by the Emperor and was created the 1st Duc De Bassano in 1809. After a period in exile following the end of the Napoleonic wars, Maret returned to France and briefly served as Prime Minister in 1834.
Until its demise in 1995, Barings Bank having been formed in 1762 was the second oldest merchant bank in the world.
A full report detailing the arms on this tureen is available to the purchaser.