Pair of Wakelin & Taylor Silver Sauce Tureens, 1786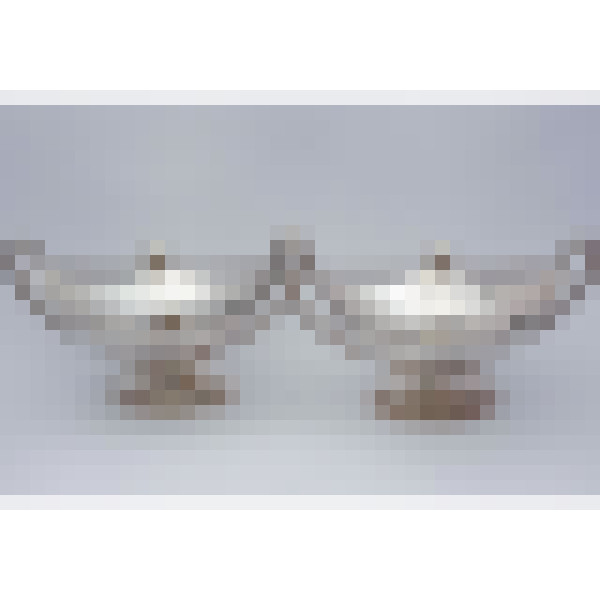 £2,495.00
Sauce Tureens (pair) - 2-handled, Oval on Pedestal Foot with Removable Covers - London 1786 by John Wakelin & William Taylor - 21.5cm long; 11cm wide; 12cm high; 1165g combined weight - JA/3995
This is a very fine pair of Georgian silver sauce tureens by the important London firm of Wakelin & Taylor. These classical urn shaped, oval tureens stand on a on pedestal foot, have twin handles and are complete with original covers topped with spherical finials. The pair of non-original silver sauce ladles (London 1796 by George Smith with a different crest) shown in the final photo are an optional extra.
The bodies and covers are all engraved with the same coat-of-arms within a shield to one side and a corresponding griffin crest to the other giving the pair an even greater feeling of high quality. The condition is excellent throughout with a lovely antique patina and neither damage nor repair.
John Wakelin & William Taylor were important late 18th century makers and were a major link in a dynasty of Royal silversmiths that began with George Wickes in the early 18th century and continues today in the guise of Garrard & Company. For the duration of this period, the workshop in Panton Street maintained its "by appointment" status to various members of the British Royal family and items bearing the marks of any of these makers is a sure sign of high quality.