Mary Chawner Double Canteen of Crested Silver Cutlery, 1837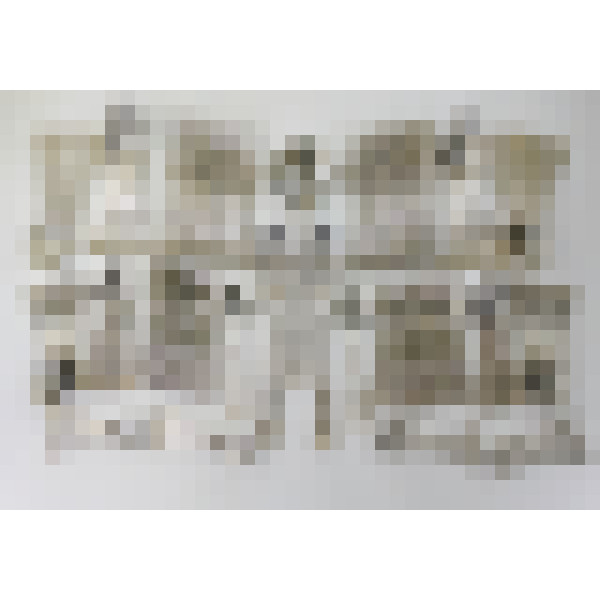 £13,500.00
111 piece Canteen – 24 place settings - Hallmark: London 1836 by Mary Chawner – Weight: 9280 grams (298.4 tr.oz.) + - Ref. No.: PI/1514b
111 Piece Silver Double Canteen, London 1836 by Mary Chawner
The Service
We are pleased to be offering a phenomenal late Georgian period silver 24 place settings canteen in an extremely rare pattern, with all items made by the best maker of the period, all crested to match and all in wonderful condition.
This is a high quality, "straight" service of spoons, forks and servers made by Mary Chawner in 1836. The service caters for up to 24 people and has a range of large serving items.
All pieces bear hallmarks for London 1836 and were hand-wrought in the traditional manner by London's premier silver flatware maker of the 19th century – Chawner & Company. Each piece bears a lovely engraved double crest with one featuring a "demi-bear rampant, muzzled and lined", whilst the other features "on a mount a falcon close".
In addition to the dining pieces, there is a large soup ladle, a good 12" long pair of basting spoons (aka stuffing, gravy or serving spoons) and a pair of sauce ladles.
This is an extraordinarily good set of silver cutlery!
Pattern
The design of this pattern is based on the King's pattern and as this service is the only one we have ever encountered, is likely to have been a special commission.
The Maker
Chawner & Company was founded in 1815 by William Chawner, on the solid grounding of an apprenticeship and later partnership within the most important line of specialist spoon and forks makers dating back to the mid-18th century.
Chawner & Company became the largest and most important specialist silver flatware makers of the 19th Century. In 1834, Mary Chawner took over the running of the business following the death of her husband in readiness for her son William II to take over. Instead, after completing his apprenticeship in 1838 William opted out of the family business and entered the church instead, leaving Mary to pass the company on to her son-in-law George Adams in 1840.
The company was prolific in their output and always produced the best quality silver flatware available. The spoons and forks were hand forged to ensure balance and durability, and were made from a good gauge of silver to give them a nice hefty weight in the hand. The reputation of Chawner & Company endures to this day and a canteen wrought by them will give maximum satisfaction.
Components
This 111-piece service consists of the following:
| | |
| --- | --- |
| 24 Table/Soup Spoons 22.5cm | 12 Teaspoons 14.5cm |
| 24 Table/dinner Forks 21.3cm | Soup Ladle 34cm |
| 24 Dessert Forks 17.8cm | Pr Basting Spoons 30.5cm |
| 24 Dessert Spoons 18cm | Pr Sauce Ladles 18.6cm |
The total weight of silver is 9280 grams (298.4 troy ounces).
Condition
Stunning original condition throughout with a lovely antique patina. The forks have full length tines and the spoons retain their thick bowl tips. The double struck decoration and engraved crests remains crisp throughout. Considering the great age, the condition is quite remarkable!
Presentation
This canteen is offered in 9 new anti-tarnish cutlery rolls. There are 12 pieces in each roll. The serving items are loose.
As with all the canteens available from our web-site, we are happy to send a sample place setting for approval, on receipt of a fully refundable surety payment, prior to purchasing this canteen.