18 person Princess Pattern Canteen, 1898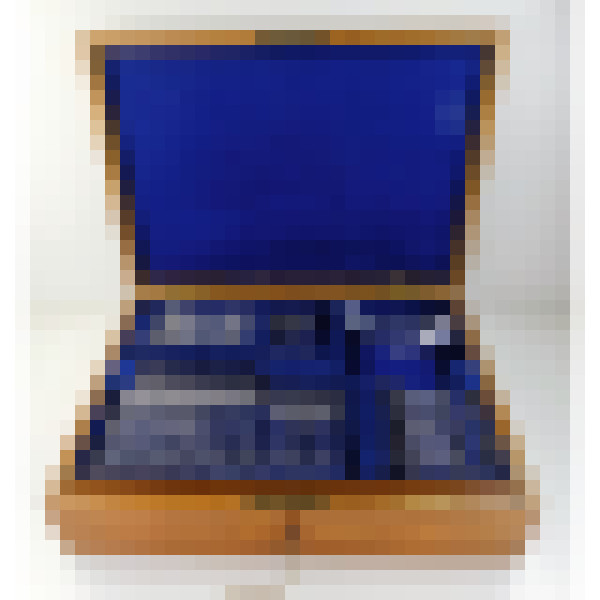 £8,250.00
130 piece Canteen - Princess pattern (18 place settings) - London 1898 by Goldsmiths & Silversmiths Company Limited - Weight: 6305g (202.7oz) - Ref: YT/1521
130-Piece Princess Pattern 18 place settings Canteen of Silver Cutlery, London 1898 by Goldsmiths & Silversmiths Company Ltd
The Service
We are pleased to be offering a beautifully presented Victorian period silver 18 place settings canteen of cutlery in the graceful Princess Pattern with every piece bearing the same engraved crest featuring a lion's head erased.
The service provides for six pieces per 18 place settings with additional teaspoons, egg spoons and serving items.
All the spoons and forks in this service were made by the premier makers, Goldsmiths & Silversmiths Company Limited, bear hallmarks for London 1898 and are engraved with the same crest to the front.
The thirty-six knives and two carving forks have silver handles and stainless steel blades, and although a slightly different design and made in London 1915 by Thomas Bradbury & Son, they are an excellent complement to the set. They are engraved with the same crest as the rest of the service.
The set has 18 of all the main dining pieces and includes the 19th century style oval-bowled soup spoon (ideal also for use as serving spoons). There are twelve teaspoons which if necessary could be matched up with the six egg spoons to make up eighteen.
Officially called Princess Number 1 pattern, this 19th Century pattern has an elegant restrained decoration based on the King's Pattern shape. It is a scarce and highly desirable pattern that is very rarely found as a full service.
The spoons and forks are all housed in a lovely, light oak box with blue baize fitted interior. The knives are kept separately in three burgundy cutlery rolls. The top of the box is fitted with a brass shield stating the name of the original owner and to whom the crest belongs – Sir W. MacGregor. See below for provenance.
Components
This 130-piece service consists of the following:
| | |
| --- | --- |
| 18 Table Spoons (oval bowls)22cm | 18 Dessert Spoons 18.2cm |
| 18 Table/dinner Knives 25.8cm | 12 Teaspoons 14.6cm |
| 18 Table/dinner Forks 22cm | 6 Egg Spoons 12.1cm |
| 18 Dessert Knives 21.5cm | 2 Sauce Ladles 17.5cm |
| 18 Dessert Forks 18cm | 2 Carving Forks 26.5cm |
Total weight of weighable silver 6305 grams (202.7 troy ounces).
Condition
The silver is in excellent polished condition throughout with no personalised engravings and no wear to either the fork tines or the bowl tips. A first class service in a ready-to-use condition.
Presentation
This canteen is beautifully contained within its original light oak box, lined with blue baize and each piece slots nicely in to place. There are two empty slots where an additional pair of sauce ladles could be kept. The knives are supplied in three burgundy cloth cutlery rolls.
Provenance
The top of the box is fitted with a brass shield stating the name of the original owner –
"The Right Honourable
Sir W. MacGregor
P.C, G.C.M.G, C.B"
Sir William MacGregor (1846-1919) was a Lieutenant-Governor of British New Guinea, Governor of Newfoundland and Governor of Queensland in Australia.
MacGregor began his working life as a lowly farm labourer in Aberdeenshire, but was encouraged to go to grammar school and university where he studied medicine. He became a medical officer in the Seychelles, Mauritius and Fiji, where as well as receiving the Albert Medal for saving lives from a shipwreck, he began to be involved in administrative affairs. Having held offices in New Guinea, Lagos Colony, Nigeria and Newfoundland, he became Governor of Queensland in 1909 and assisted in the inauguration of the University of Queensland.
His colonial administrations were informed by his knowledge of languages, botany, ethnology, and by his medical training. His published exploration of New Guinea earned him the Founder's Medal in 1896 from the Royal Geographical Society. His handling of the malaria problem and improvements in community health in Nigeria led him to being given the Mary Kingsley Medal.
The post-nominal letters on the brass shield indicate that he was appointed as a Privy Counsellor (P.C.), and was awarded the Most Distinguished Order of Saint Michael & Saint George (G.C.M.G) and the Companion of the Order of the Bath (C.B).
More information about this interesting and inspirational man can be found on Wikipedia at this link:
https://en.wikipedia.org/wiki/William_MacGregor
As with all the canteens available from our web-site, we are happy to send a sample place setting for approval, on receipt of a fully refundable surety payment, prior to purchasing this canteen.