66 piece King's Pattern Canteen, London 1882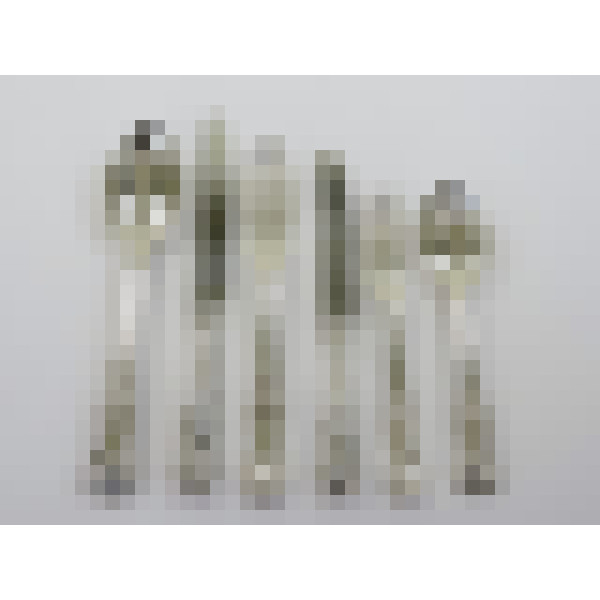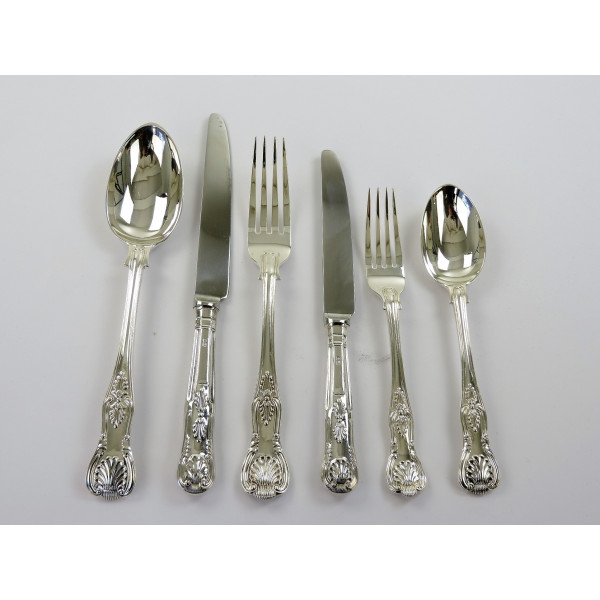 Sold
66 piece Canteen &ndash; King&rsquo;s Pattern (12 place settings) - London 1882 by George Adams; Weight: 3370 grams (108 tr.oz.) - Ref: LS/5950</p>
66 piece King's Pattern Silver Table Service, London 1882 by George Adams
with Knives by Argentum Ltd.
The Service
We are offering for sale a fabulous quality Victorian silver 12 place settings canteen in Kings Pattern. The service caters for all the main dining pieces (two courses) with the addition of 6 table spoons that can either be used as soup spoons or for serving purposes.
All the spoons and forks were hand-wrought in the traditional manner in one of London's premier silversmithing workshops. Each piece has a very hefty weight in the hand and oozes high quality. A major bonus is the high relief double-struck decoration and the fact that there are no personalised engravings (nor any erasures).
A further benefit is that of the 42 spoons and forks, 40 of them carry the identical 1882 London hallmarks for George Adams, one table fork bears an earlier George Adams mark and one dessert fork is stamped with an earlier 19th century London fork (1846) for Joseph & Albert Savory.
The 24 silver handled knives are fitted with best quality Sheffield-made stainless steel blades and were all made by Argentum Limited and are hallmarked for Sheffield 1987.
King's Pattern
King's Pattern is the most well-known and popular decorative pattern. It was based on an 18th century French design and became fashionable amongst the wealthy in the early years of the 19th Century. The design encompasses a shell to both sides of the handle terminal and reverse of the bowl, scrolls down the handle shaft with a honeysuckle motif to the centre. The double-struck nature of the pattern (i.e. pattern on both sides) ensures that a good gauge of silver was used in manufacture and therefore the majority of London-made pieces in this pattern have a hefty feel in the hand. The best quality King's Pattern was made in London, where it was hand-wrought and has a high relief to the decoration.
The Maker
The spoons and forks were all made by the most important silver flatware makers of the 19th century – Chawner & Company.
Chawner & Company was founded in 1815 by William Chawner, on the solid grounding of an apprenticeship and later partnership within the most important line of specialist spoon and forks makers dating back to the mid-18th century.
Chawner & Company became the largest and most important specialist silver flatware makers of the 19th Century. In 1840, George W Adams took over the business from his mother-in-law Mary Chawner and developed the company even further using his "GA" maker's mark. They introduced new flatware patterns and fashioned silver for important private clients and high end retailers. Silver flatware stamped with his mark guarantees the very best quality.
Components
This 66-piece service consists of the following:
| | |
| --- | --- |
| 12 Table Knives 24.8cm | 12 Dessert Knives 21.8cm |
| 12 Table/dinner Forks 21.7cm | 12 Dessert Forks 18.4cm |
| 6 Table/Soup Spoons 22.5cm | 12 Dessert Spoons 18.6cm |
Total weight of weighable silver 3370 grams (108 troy ounces).
Optional Extras
We have a huge range of King's Pattern in stock and will be happy to quote for any additional dining or serving pieces that may be required to suit your needs.
Condition
Fabulous condition. The forks have full and equal length tines and the spoons retain their original thick bowl tips. There are no personalised engraving nor have been any removed.
Presentation
This canteen is offered in six navy blue anti-tarnish cutlery rolls.
As with all the canteens available from our web-site, we are happy to send a sample place setting for approval, on receipt of a fully refundable surety payment, prior to purchasing this canteen