133 piece Boxed Silver King's Pattern Canteen, 1993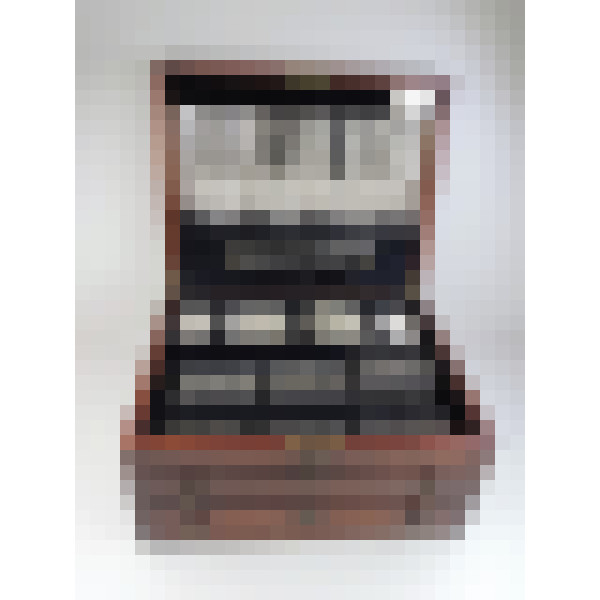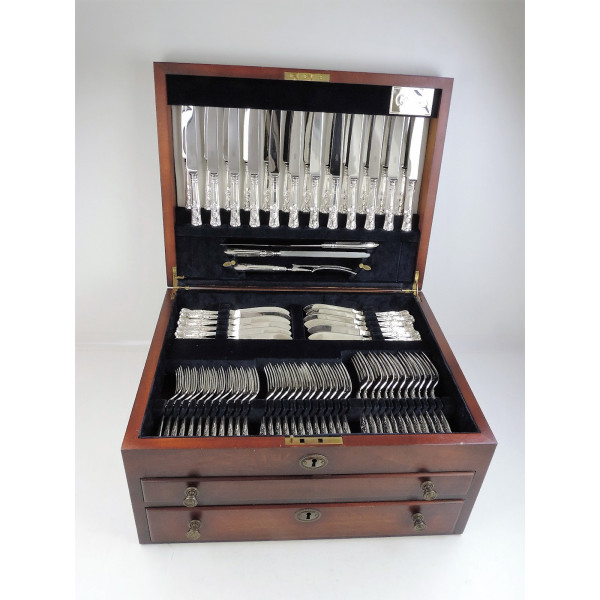 Sold
Boxed 133 piece Canteen &ndash; King&rsquo;s Pattern (12 place settings) - Hallmark: Sheffield 1993 by Carrs.; Weight: 6670 grams (214.5 tr.oz.) - Ref. No.: LP/1729</p>
Boxed 133 piece King's Pattern Canteen of Silver CUTLERY & FLATWARE, SHEFFIELD 1993 by Carrs
We are pleased to be offering a fabulous modern silver 12 place settings canteen in Kings Pattern. This canteen is presented in its original top quality box and is in near mint condition due to very little use.
The service provides all the main requirements for a 4 course meal with provision for after dinner tea/coffee. There are an impressive 10 pieces per place setting, plus additional serving items.
The knives are fitted with stainless steel blades and have hallmarked silver handles, with the blades engraved "Carrs Sheffield England". The 3 piece carving set comprises a carving knife, fork and sharpening steel – all with stainless steel blades. The cheese knife and pie slice are similarly fitted.
Each piece bears a full set of English Sterling standard silver hallmarks for Sheffield 1993 by Carrs of Sheffield.
King's Pattern
King's Pattern is the most well known and popular decorative flatware pattern. It was based on an 18th century French design and became fashionable amongst the wealthy in the early years of the 19th Century. The design encompasses a shell to both sides of the handle terminal and reverse of the bowl, and there are scrolls down the handle shaft with a honeysuckle motif to the centre. The double-struck nature of the pattern (i.e. pattern on both sides) ensures that a good gauge of silver was used in manufacture.
Components
This 133-piece service consists of the following:
| | |
| --- | --- |
| 12 Soup Spoons (17.7cm) | 12 Coffee Spoons (11.9cm) |
| 12 Fish Knives (21cm) | 2 Butter Knives (15.1cm) |
| 12 Fish Forks (17.4cm) | 4 Table/Serving Spoons (22.2cm) |
| 12 Table/dinner Knives (24.7cm) | Soup Ladle (29cm) |
| 12 Table/dinner Forks (21cm) | Sauce Ladle (18.6cm) |
| 12 Dessert Knives (21.7cm) | Cheese Knife (20.1cm) |
| 12 Dessert Forks (18.4cm) | Pie Slice (25.2cm) |
| 12 Dessert Spoons (18.2cm) | 3 Piece Carving Set (28.5 to 37cm) |
| 12 Teaspoons (13.4cm) | |
Total weight of weighable silver is 6670grams (214.5 troy ounces). Additional to this weight are the 24 silver handled knives, 3-piece carving set, cheese knife and pie slice.
Condition
Near mint! Excellent polished condition throughout as though it has barely been used. The spoons have full unworn bowls and the forks tines are full and equal lengths. There are no personalised engravings. The box exterior has a few small knocks (one to the top right edge at the front), but has done a fine job in preserving the silver. The original Carrs information leaflet on how to look after the silver is still present too.
Presentation
This canteen is presented within its original good quality wooden box which was retailed by Carrs of Sheffield. This box is superior to most other modern canteen boxes in that each piece is contained within a slot to prevent scuffing with a neighbour. The box measures 50cm wide x 40cm deep x 26.5cm high.
The knives and carving set are slotted in to the lid with the fish eaters and others forks in the top section. The first pull-out drawer contains 48 spoons and the bottom drawer has the servers plus a useful covered compartment for storing extra pieces or napkins etc. This is a very nice presented service.
Please do not hesitate to contact me with any further questions. Good luck, Gary.
We offer a full money back guarantee, if you are not happy with the item, within fourteen days of receipt.
--------------------------------------------------------------------------------------------------