165 piece Devonshire Pattern Canteen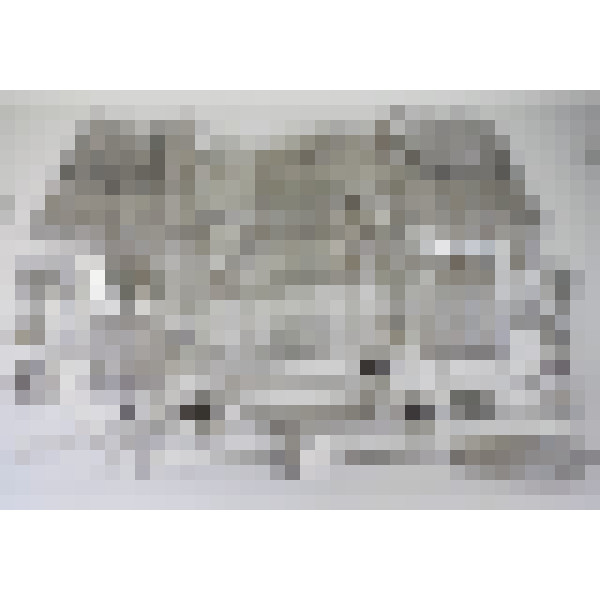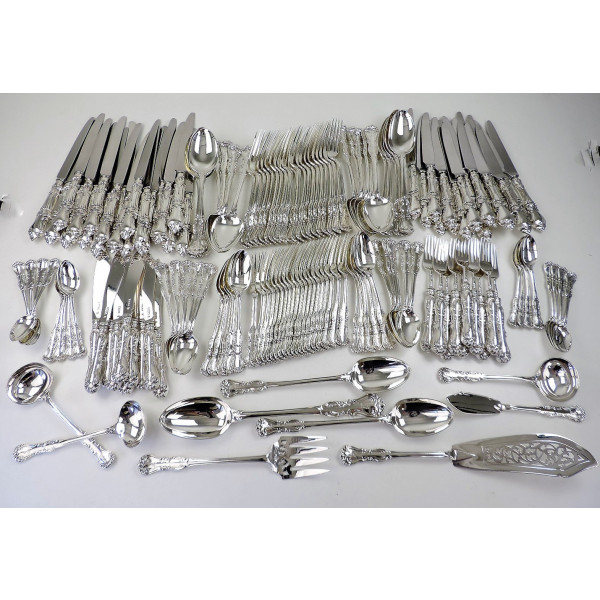 Sold
165 piece Devonshire Pattern Canteen (20 place settings) - Hallmark: London 1850/61 by George Adams &amp; 1899 by Holland, Aldwinckle &amp; Slater &ndash; Weight: 10,280 grams (330 tr.oz.) + 40 knives - Ref. No.: JS/4734</p>
165 piece Devonshire Pattern Silver Canteen of Cutlery, London 1850/61/99
The Service
We are pleased to be offering an outstanding quality extensive dining service in the rare and highly desirable Devonshire Pattern.
This late Victorian silver service will accommodate up to 20 place settings, plus there is a good array of serving items.
All the spoons, forks and servers were hand-wrought in the traditional manner in one of London's premier workshops. Each of these pieces bears an engraved crest depicting a griffin's head to the front terminal (see below for provenance). The large table spoons are the traditional oval-bowled soup spoon, but have the bonus of being ideal for serving purposes too. The teaspoons are a good, large size and nowadays are often used for small portion desserts such as mousse and creme brulee. The fish eaters are an extra bonus as they are extremely rare in Devonshire pattern. All the serving items are just a joy to handle as they have each have a satisfying hefty weight to them.
The knives are in a complementing design with eight table knives dating from 1968 and all other pieces new and made to match in 2018. They have silver handles and are fitted with best quality Sheffield-made stainless steel blades.
This is a superb dinner service with all pieces having a lovely feel in the hand and just exuding the highest quality!
Devonshire Pattern
Devonshire pattern is a rare and beautiful flatware pattern with scrolls along both edges of the double-struck handle. It was designed in the second quarter of the 19th century by Chawner & Company and named in honour of the famous Duke of Devonshire. This peerage title was given to the Cavendish family in 1618. The ancestral seat of the family continues to be Chatsworth House in Derbyshire.
The double-struck nature of the pattern (i.e. pattern on both sides) ensures that a good gauge of silver was used in manufacture and each piece therefore has a hefty feel in the hand.
The Makers
The spoons, forks and servers were all made by the two most important silver flatware makers of the 19th century – Chawner & Company and their follow-on company Holland, Aldwinckle & Slater.
Chawner & Company was founded in 1815 by William Chawner, on the solid grounding of an apprenticeship and later partnership within the most important line of specialist spoon and forks makers dating back to the mid-18th century.
Chawner & Company became the largest and most important specialist silver flatware makers of the 19th Century. In 1840, George W Adams took over the business from his mother-in-law Mary Chawner and developed the company even further using his "GA" maker's mark. They introduced new flatware patterns and fashioned silver for important private clients and high end retailers.
In 1883, Chawner & Company was bought by Holland, Aldwinckle & Slater who then traded from Chawner's Hosier Lane premises and took over their machinery and flatware pattern dies. The dies used for this service are therefore consistent, with all pieces being a direct match.
Both companies were prolific in their output and always produced the best quality silver flatware available. The spoons and forks were hand forged to ensure balance and durability, and were made from a good gauge of silver to give them a nice hefty weight in the hand. The two companies were major suppliers to the retail trade and this included the foremost of these, Hunt & Roskell, who were by appointment to Queen Victoria. A number of the pieces in this service bear their ISH crowned maker's mark, even though they were made in Hosier Lane.
The pieces in this service are hallmarked for London 1850 (GA), 1861 (ISH) and 1899 (TS/WS/HH for Holland, Aldwinckle & Slater). It therefore seems likely that the service was bought from Hunt & Roskell who commissioned the pieces from the manufacturers.
The reputations of Chawner & Company and Holland, Aldwinckle & Slater endures to this day and a canteen wrought by them will give maximum satisfaction.
Provenance
This service bears the griffin's head crest of the McCalmont family. This service reputedly first belonged to Hugh McCalmont who was a joint partner in the merchant bank MacCalmont Brothers. When Hugh McCalmont died in 1887 he was reputed to be one of the richest men to die during the 19th century leaving a fortune of £3.1m to his great nephew Harry MacCalmont (1861 to 1902). Harry was a British army officer, race-horse owner, yachtsman and Conservative party politician. It would have been Harry that added to the service in 1899.
More about this family can be found on Wikipedia: https://en.wikipedia.org/wiki/Harry_McCalmont
Components
This 165-piece service consists of the following:
| | |
| --- | --- |
| 20 Table/Soup Spoons 22.5cm | 10 Fish Forks 19.5cm |
| 20 Table/dinner Forks 21.7cm | 10 Fish Knives 22cm |
| 20 Table/dinner Knives 25.5cm | 3 Sauce Ladles 19cm |
| 20 Dessert Spoons 18.4cm | 2 long handled Serving Spoons 27cm |
| 20 Dessert Forks 17.8cm | Basting Spoon 30.7cm |
| 20 Dessert Knives 23cm | Pair Fish Servers 25.2cm/32.5cm |
| 16 Teaspoons 14.7cm | Butter Knife 19.5cm |
The total weight of weighable silver is 10,280 grams (330 troy ounces). The weight includes the fish knives and forks with filled silver handles and silver blades/tines. Additional to this weight are the 40 silver handled knives.
Optional Extras
There are a number of extra pieces, especially table forks, from the original service available.
Condition
Excellent polished condition. All the fork tines remain full and equal length and the spoon bowl tips are thick and unworn.
Presentation
This canteen is supplied in16 anti-tarnish cutlery rolls with each rolls holding up to 12 items. The servers are supplied loose.
As with all the canteens available from our web-site, we are happy to send a sample place setting for approval, on receipt of a fully refundable surety payment, prior to purchasing this canteen.