John Murch Silver Laceback Trefid Spoon, Plymouth 1693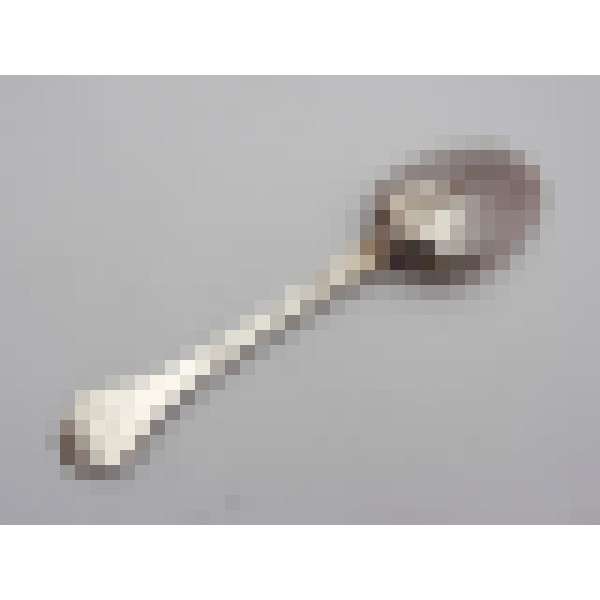 £1,250.00
Spoon - Laceback Trefid - Plymouth circa 1693 by John Murch - 18.8cm long; 45g - LS/3109
This is an excellent example of an English provincial silver laceback trefid spoon that was made in Plymouth by John Murch.
This William III and Mary period spoon is decorated to the reverse of the bowl and front of the handle with a scrolling lace design that was typical of these top-of-the-range spoons dating from the 1680's and 90's. In addition, this spoon is dot-prick engraved to the reverse terminal with an original betrothal inscription - "MG" over "ME" over "1693" - the letters denoting the two sets of initials from the original owners, plus their wedding date. There is some minor wear to the laceback design (most likely caused by an over-used die), but overall the condition is excellent with an unworn bowl and lovely antique patina.
The reverse os the stem, is stamped with an array of marks that include two clear script "JM" marks of the maker. This makers is know to have used a "STER" over "LING" mark and for some reason it has been part stamped twice using the beginning and end of the punch so that the "S" and "L" can be seen once and the "R" and "G" another time. Furthermore, there is an intriguing fifth mark featuring an "R" inside a six-point star.
John Murch was working in Plymouth from the early 1690's and was previously apprenticed to the eminent London spoonmaker Thomas Cory. Murch's spoons are therefore superior in quality to many other provincial silversmiths of the period and this laceback trefid is a fine example of that extra calibre. See Tim Kent "West Country Silver Spoon & Their Makers 1550-1750" page 113-114 and M.94 for an illustration of the maker's mark.