Gerald Benney Table Service of Textured Silver Cutlery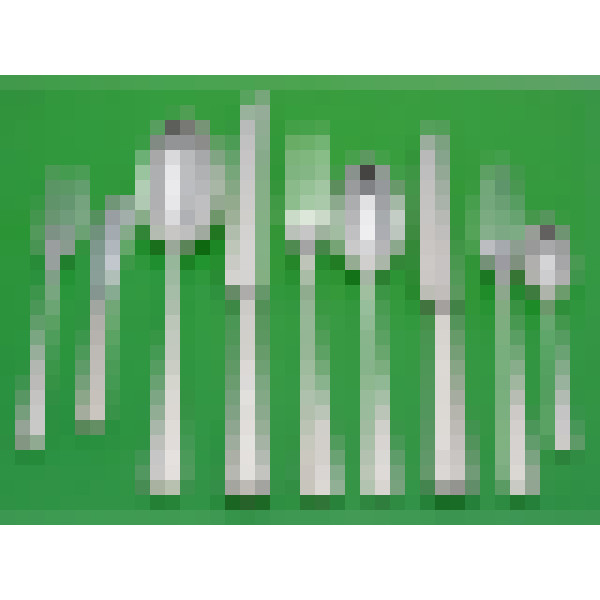 Sold
61 piece Canteen - Textured (6 place settings) - London 1998 by Adrian Gerald Benney - Weight: 4630 grams (149 tr.oz.) + 13 silver handled knives - Ref. No. ZP/2628
61-piece Textured Design Silver Canteen of Cutlery, London 1998 by Gerald Benney
The Service
We are pleased to be offering a wonderful modern 6 person canteen of silver cutlery made by the most important British silversmith of the late 20th century, Gerald Benney. The service provides nine pieces for six sittings and a range of serving items.
All pieces are hand-made and decorated with Benney's trademark textured design that appears on the front and back. The 3-pronged forks are a nod to tradition (this form was used in the early 18th century), whist the presence of salad or starter forks and a side knife ensure the correct utensils are present for modern dining.
Each piece has been made from a thick gauge of silver and consequently has a tremendous hefty weight in the hand. They just ooze the very highest quality – for example a standard silver dinner fork will weigh about 70 grams, a top quality Victorian dinner fork from a fancy pattern about 100 grams, but the dinner forks in this set weigh an amazing 125 grams each!
The table and dessert knives in this set are fitted with stainless steel blades which blend nicely in to the silver handles, and the side knives are solid silver throughout. There is a good range of serving items with two generous large serving spoons and forks, a very useful sauce ladle and cheese knife, plus a tremendously impressive soup ladle (weighing 330 grams!).
Using this set really would be dining in the very finest style!
Gerald Benney
Using the makers mark AGB, Adrian Gerald Benney (1930-2008) is acknowledged as one of, if not the most important British silversmith of the late 20th century.
Benney lead the British modernist design movement in the 1960's that began to move away from the minimalist Scandinavian influence of clean lines, towards an abstract decorative effect. It is said that his trademark textured finish came as a result of using a damaged hammer head whilst raising a piece of silver and liking the resultant effect. His work inspired contemporary silversmiths such as Stuart Devlin and Christopher Lawrence and his legacy will no doubt be equal to those of Ramsden, Storr and other premier silversmiths from history whose names have endured the test of time.
Components
This 61-piece service consists of the following:
| | |
| --- | --- |
| 6 Starter/Salad Forks 16.5cm | 6 Dessert Forks 19cm |
| 6 Side/Butter Knives 14cm | 6 Tea or Coffee spoons 13cm |
| 6 Table/Soup Spoons 21.5cm | 1 Soup Ladle 28cm |
| 6 Table/Dinner Knives 24.8cm | 2 Serving Spoons 22cm |
| 6 Table/Dinner Forks 21cm | 2 Serving Forks 22cm |
| 6 Dessert Spoons 19cm | 1 Sauce Ladle 17cm |
| 6 Dessert Knives 22.4cm | 1 Cheese Knife 19.8cm |
Total weight of weighable silver 4630 grams (149 tr. oz.) plus thirteen silver handled knives.
Condition
Excellent polished condition. Appear to be virtually unused.
Presentation
This canteen is offered within purple anti-tarnish cutlery rolls.
As with all the canteens available from our web-site, we are happy to send a sample place setting for approval, on receipt of a fully refundable surety payment, prior to purchasing this canteen.