Duke of Sutherland Silver-gilt Dessert Service, 1954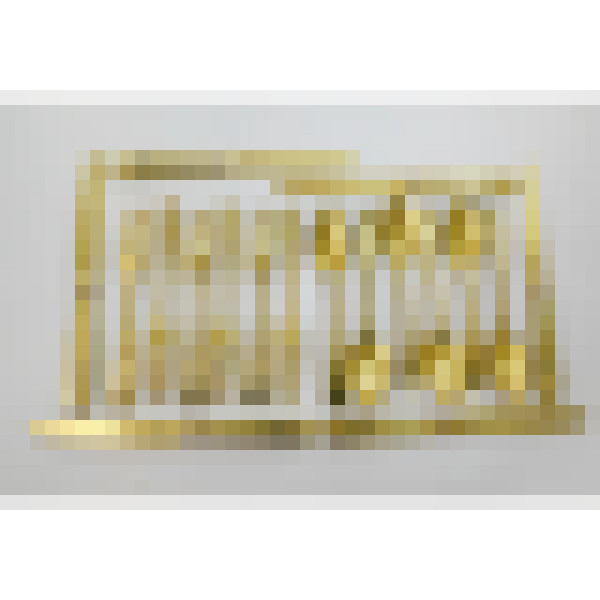 Sold
18 piece Dessert Service - Old English Thread pattern; gilt - London 1954 by Carrington & Co. - Dessert knives: 22cm long; Dessert forks & spoons: 17.2cm long; 975g combined weight - YL/2134
This is a superb quality 18-piece silver-gilt dessert service engraved with the crest and coronet of the Duke of Sutherland.
The engraved crest to the handles of these dessert eaters features a wolf passant, collared and lined for the Leveson-Gower family and is surmounted by the coronet of a duke - the highest rank of nobility below royalty. The crest is within a garter containing "Honi Soit Qui Mal Y Pense" which is the Latin motto of the British chivalric Order of the Garter.
The service consists of six dessert knives, six dessert forks and six dessert spoons all of which are of the very highest quality with the knives having solid (rather than loaded) handles. The pieces were supplied by the prestigious London retailer Carrington & Company in 1954 - an unusual date for silver as it was a time of great austerity with the burdensome Purchase Tax added to the cost of luxury goods much reducing the volumes produced. The Leveson-Gower family were the wealthiest in the UK in the early years of the 19th century.
This dessert service was made for George Sutherland-Leveson-Gower, 5th Duke of Sutherland and was added to an already extensive silver-gilt Old English Thread pattern service originally commissioned in the 18th century by George Granville Leveson-Gower, who became the wealthiest man in the UK and 1st Duke of Sutherland. We have pieces from that original service of 1785 in stock.
George Sutherland-Leveson-Gower, 5th Duke of Sutherland (1888-1963) was styled Earl Gower until 1892, Marquess of Stafford between 1892 and 1913 before assuming the title 5th Duke of Sutherland on the death of his father Cromartie Sutherland-Leveson-Gower. He was a British Conservative MP and sworn of the Privy Council becoming Lord Steward of the Household between 1935-36. He was a patron of the fledgling British film industry and the Sutherland Trophy is named in his honour. He died without issue leaving this dessert service to his niece Elizabeth Sutherland, 24th Countess of Sutherland, who died in December 2019.
Further information is available on Wikipedia at this link:
George Sutherland-Leveson-Gower, 5th Duke of Sutherland
Please note: We have further pieces of an extensive silver-gilt dessert service with the Leveson-Gower crest within a garter dating from 1785 that celebrated the marriage of George Granville Leveson-Gower, 1st Duke of Sutherland and Lady Elizabeth Sutherland.