8-person Dog Nose Canteen of Cutlery, 1911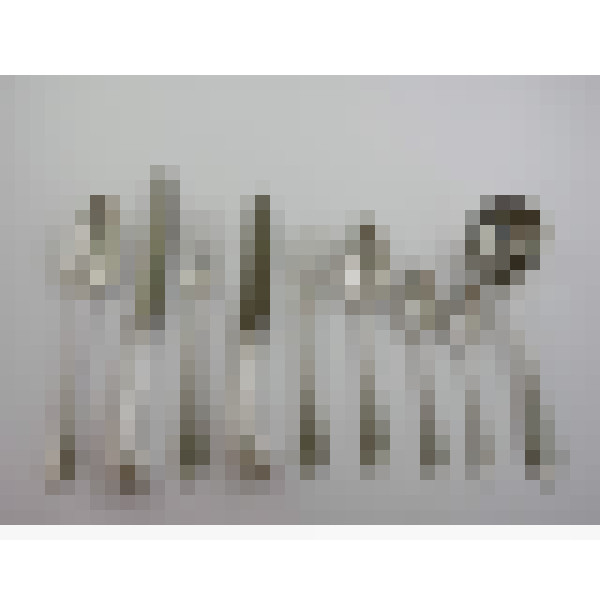 Sold
62-piece Canteen - Dog Nose pattern (8 place settings) - London 1911 by Goldsmiths & Silversmiths Co. Ltd. - Weight: 2480g (79.75 tr.oz.) combined weight of silver + 16 knives - Ref: JQ/2704
62 piece Dog Nose Pattern Canteen, London 1911 by Goldsmiths & Silversmiths Company Limited
The Service
We are pleased to be offering a fabulous quality early 20th century silver table service in Dog Nose Pattern with complementing pistol-handled knives.
Dog Nose pattern is so called because of the distinctive rounded end of the handle terminal. It is known for being the first true English flatware pattern and was first in fashion during the reign of Queen Anne (1702-1714).
This hallmarked silver canteen of cutlery caters for eight people with up to eight pieces per sitting, plus a pair of sauce ladles. There are only 6 each of the tea and coffee spoons, but they can be mixed and match for use as appropriate. The coffee spoons are hallmarked for Garrards, whilst all the other spoons and forks are marked for London 1911 by the prestigious retailers, Goldsmiths & Silversmiths Company Limited.
The three-pronged forks are fabulous and are true to their early 18th century original counterparts. All the spoons bear the distinctive rattail to the underside of their bowls and are faithful to those in use during the reign of Queen Anne. The table spoons are the traditional oval-bowled soup spoons, and are ideal for serving purposes too.
Pistol-handled knives were the knife of choice during the majority of the 18th century and these later 20th century examples are good quality examples with stainless steel blades. The silver handles are hallmarked for Sheffield 1972 by A Haviland-Nye.
Components
This 62-piece canteen of cutlery consists of the following:
| | |
| --- | --- |
| 8 Table/soup Spoons 20.5cm | 8 Dessert Spoons 17cm |
| 8 Table Knives 24.5cm | 6 Tea Spoons 13.8cm |
| 8 Table Forks 19.3cm | 6 Coffee Spoons 12.7cm |
| 8 Dessert Knives 21.5cm | 2 Sauce Ladles 18cm |
| 8 Dessert Forks 17cm | |
The total combined weight of the spoons and forks is 2480g (79.75 tr.oz.). The 16 silver-handled knives are additional to this weight.
Condition
Excellent original antique condition. The fork tines are full and equal length and all spoon bowls retain their original tips.
Presentation
This canteen is offered loose, but anti-tarnish cutlery rolls are available on request.
As with all the canteens available from our web-site, we are happy to send a sample place setting for approval, on receipt of a fully refundable surety payment, prior to purchasing this canteen.