48 piece Queens Pattern Canteen by Chawner & Co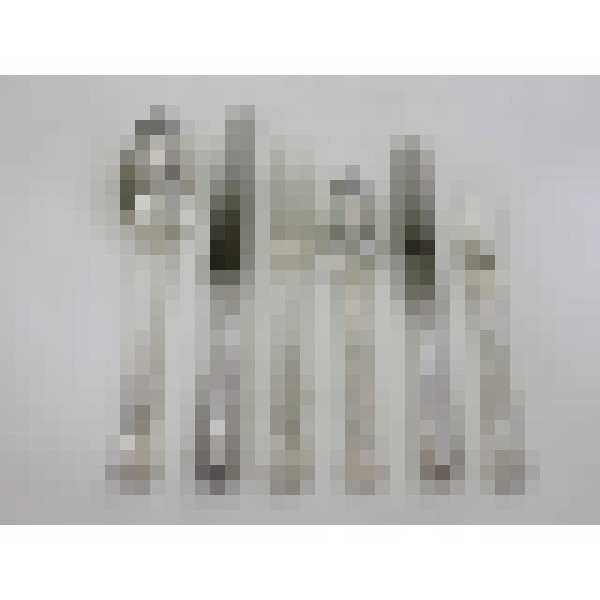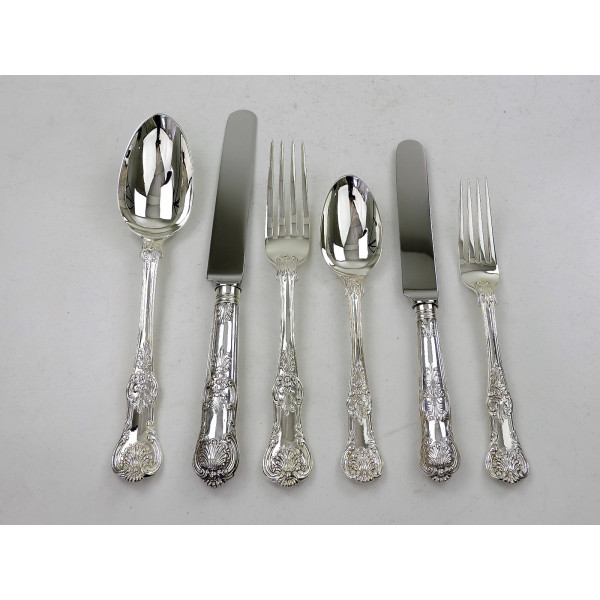 Sold
48 piece Canteen; Queen Pattern (8 place settings) - Hallmark: London 1848/62 by George Adams; Weight: 2610 grams (84 tr.oz.) - Ref. No.: JS/2140
48 Piece QUEEN'S PATTERN CANTEEN SILVER CUTLERY,
London 1848/62 by Chawner & Company (George Adams)
The Service
This is a fantastic silver canteen in the highly sought after Queen's Pattern. The service provides for six pieces per 8 place settings.
All the flatware was hand-wrought in the traditional fashion of the London silversmiths and has double-struck decoration in high relief. This is a straight service with all pieces being made by the most important specialist flatware makers of the Victorian period, Chawner & Company.
The set comprises a straight service of 1848 spoons and forks with engraved crests of a lion to the reverse sides (n.b. one table fork and one dessert fork are not engraved and are dated 1873 by the same maker.
Most unusually, the knives are also made by Chawner & Company and are hallmarked for London 1860/62. The knives benefit from having later added stainless steel blades (as opposed to the original carbon steel blades which will have rusted and been impracticable for use). The knife hafts have the bonus of bearing no engravings and so match in well with the front sides of the spoons and forks.
Queen's Pattern
Queen's Pattern was first in fashion in the 1820's and has similarities in shape to King's Pattern, but with more ornate decoration and an anthemion motif to the reverse of the bowls. It was named in honour of Queen Caroline of Brunswick (King George IV's wife). The highly ornate decoration found on Queen's Pattern demands that each piece is made with a thick gauge of silver and thus makes it one of the most prestigious of all flatware patterns.
The Maker
Chawner & Company was founded in 1815 by William Chawner, on the solid grounding of an apprenticeship and later partnership within the most important line of specialist spoon and forks makers dating back to the mid-18th century.
Chawner & Company became the largest and most important specialist silver flatware makers of the 19th Century. In 1840, George W Adams took over the business from his mother-in-law Mary Chawner and developed the company even further using his "GA" maker's mark. They introduced new flatware patterns and fashioned silver for important private clients and high end retailers.
The company was prolific in their output and always produced the best quality silver flatware available. The spoons and forks were hand forged to ensure balance and durability, and were made from a good gauge of silver to give them a nice hefty weight in the hand. The reputation of Chawner & Company endures to this day and a canteen wrought by them will give maximum satisfaction.
Components
This 48-piece service consists of the following:-
| | |
| --- | --- |
| 8 Table/dinner Knives 25.5cm | 8 Dessert Knives 22.2cm |
| 8 Table/Soup Spoons (oval bowls) 22cm | 8 Dessert Spoons 18cm |
| 8 Table/dinner Forks 21cm | 8 Dessert Forks 17.8cm |
Total weight of weighable silver 2610grams (84 troy ounces).
Optional Extras
We have a huge range of Queen's Pattern in stock and will be happy to quote for any additional pieces that may be required to suit your needs. We can augment the size of the service or supply appropriate serving pieces.
Condition
Excellent polished condition. The bowls are unworn and the tines are full and equal in length. The double struck decoration remains crisp.
Presentation
This canteen is supplied loose. We can supply navy blue anti-tarnish cutlery rolls on requesrt. Each roll has individual pockets to hold up to 12 items per roll and cost £15/roll.
As with all the canteens available from our web-site, we are happy to send a sample place setting for approval, on receipt of a fully refundable surety payment, prior to purchasing this canteen.