122 piece Reed & Ribbon Canteen, 1908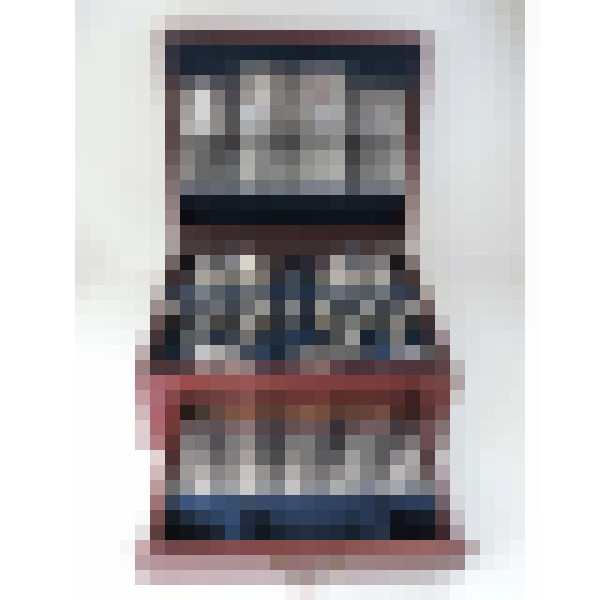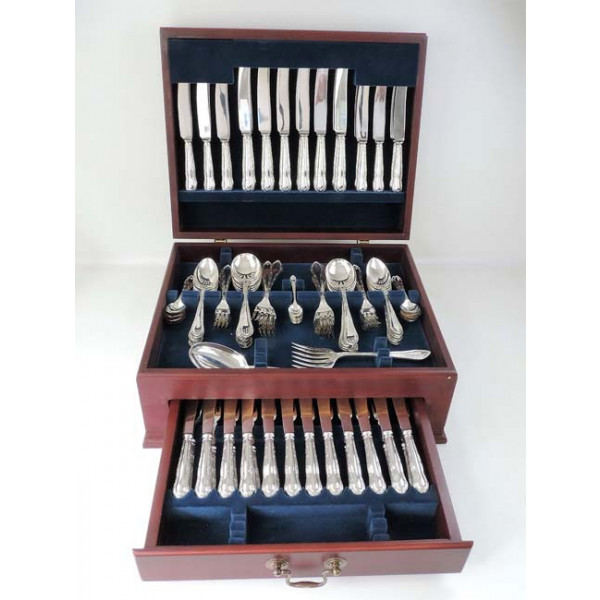 Sold
122 piece Canteen &ndash; Reed &amp; Ribbon Pattern (12 place settings) - Hallmark: Sheffield 1908 by Mappin &amp; Webb - Weight: 5365 grams (172.5 tr.oz.) + 24 knives - Ref. No.: OL/9773</p>
122 Piece Reed & Ribbon Pattern Silver Canteen of Cutlery, Sheffield 1908 by Mappin & Webb
The Service
We are pleased to be offering a great opportunity to own a fabulous boxed antique silver cutlery set in the highly desirable Reed & Ribbon Pattern. This elegant service provides for ten pieces per 12 place settings.
This is a straight and complete Edwardian period service: all the pieces in this canteen were made in Sheffield by the prestigious retailers Mappin & Webb and bear appropriate Sterling silver hallmarks for Sheffield 1908. The pieces have a good hefty weight and benefit from having never been engraved.
The service is in superb polished condition and presented in a modern wooden cutlery chest.
Components
This 122-piece service consists of the following:
| | |
| --- | --- |
| 12 Soup Spoons 19.8cm | 12 Fish Knives 21.9cm |
| 12 Table/dinner Forks 21cm | 12 Fish Forks 19cm |
| 12 Table Knives 24.5cm | 12 Teaspoons 13.5cm |
| 12 Dessert Forks 18.7cm | 12 Coffee Spoons 10.4cm |
| 12 Dessert Knives 21.5cm | Pair Servers 20.5/22.4cm |
| 12 Dessert Spoons 18.9cm | |
Total weight of weighable silver 5365 grams (172.5 troy ounces) plus 24 silver handled knives.
Condition
Excellent polished condition throughout. There is no wear to the fork tines nor spoon bowls. For an antique silver table service, the condition is truly fabulous.
Presentation
This canteen is presented within a modern wooden box with the majority of pieces located in the top section, the knives slotted within the lid and the fish eaters in the pull-out drawer.
As with all the canteens available from our web-site, we are happy to send a sample place setting for approval, on receipt of a fully refundable surety payment, prior to purchasing this canteen.