Boxed 24 place setting King's Pattern Canteen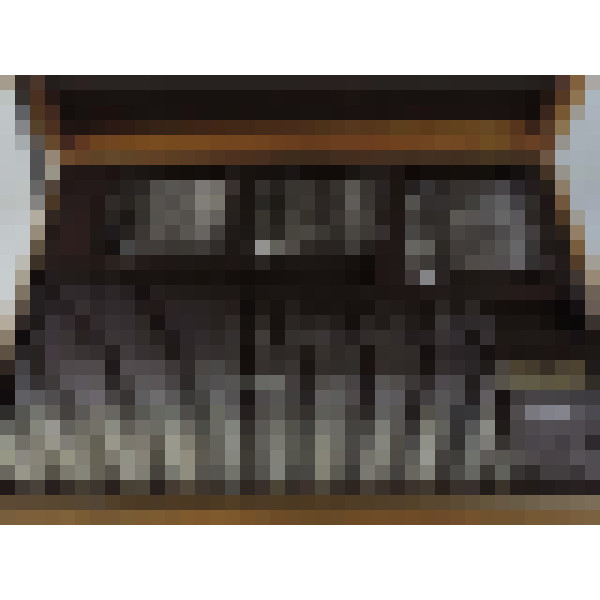 Sold
226 piece Canteen &ndash; King&rsquo;s Pattern (24 place settings) - Hallmark: London 1840/82 by George Adams &ndash; Weight: 9330 grams (300 tr.oz.) + 96 knives, fish and fruit eaters - Ref. No.: JC/8898</p>
226 Piece Silver King's Pattern Canteen, London 1840-82 by George Adams
The Service
We are proud to be offering a superb Victorian silver 24 place settings canteen in Kings Pattern. This extensive service provides for a minimum of seven pieces per 24 place settings with additional complementing pieces to give the service great flexibility to suit every dining need.
All the main dining spoons and forks were hand-wrought in the traditional manner by Chawner & Company between 1840 and 1882. The majority of pieces are free from any engravings, some have crests to the reverse and a few to the fronts as well. All the pieces are well matched with the only differences being the date letter within the hallmarks and where relevant the presence of an engraving.
The table forks and spoons have individual weights of over 100 grams each, so that they have a satisfying hefty feel in the hand. The table spoons are the old style, oval bowled soup spoon which these days also double up as serving spoons. The teaspoons are a good large size and could be used with sorbet, ice cream and other dessert options. The six egg spoons are a rare bonus and have gilt (gold-wash) bowls to protect the silver from the corrosive effects of egg sulphur and salt - they are the ideal size for coffee spoons too.
The complementing knives, fish service and fruit eater or dessert service each have particularly pleasing features to boast.
The 24 table and 24 dessert knives are a very rare asset to the service and are housed separately in 4 new anti-tarnish cutlery rolls. They each have top quality Victorian silver handles made by George Adams that benefit from having replacement stainless steel blades and are the large Victorian size.
There are 12 pairs of fish eaters with bone handles and hallmarked silver blades and tines. Plus, there are 12 beautiful pairs of fruit eaters with mother of pearl handles and silver blades/tines that are hallmarked. These allow flexible dining options with this service, giving the freedom for the 24 dessert knives with stainless steel blades to be used as side or cheese knives and the 24 dessert forks to be used with the starter course if required.
King's Pattern
King's Pattern is the most well known and popular decorative pattern. It was based on an 18th century French design and became fashionable amongst the wealthy in the early years of the 19th Century. The design encompasses a shell to both sides of the handle terminal and reverse of the bowl, scrolls down the handle shaft with a honeysuckle motif to the centre. The double-struck nature of the pattern (i.e. decorated on both sides) ensures that a good gauge of silver was used in manufacture and therefore the majority of London-made pieces in this pattern have a hefty feel in the hand.
The best quality King's Pattern was made in London, where it was hand-wrought and has a high relief to the decoration. Machine made King's Pattern from Sheffield is lower in relief and generally has a less interesting appearance and lighter weight.
The Maker
Chawner & Company was founded in 1815 by William Chawner, on the solid grounding of an apprenticeship and later partnership within the most important line of specialist spoon and forks makers dating back to the mid-18th century.
Chawner & Company became the largest and most important specialist silver flatware makers of the 19th Century. In 1840, George W Adams took over the business from his mother-in-law Mary Chawner and developed the company even further using his "GA" maker's mark. They introduced new flatware patterns and fashioned silver for important private clients and high end retailers.
The company was prolific in their output and always produced the best quality silver flatware available. The spoons and forks were hand forged to ensure balance and durability, and were made from a good gauge of silver to give them a nice hefty weight in the hand. The reputation of Chawner & Company endures to this day and a canteen wrought by them will give maximum satisfaction.
Components
This 226-piece service consists of the following:
| | |
| --- | --- |
| 24 Table Spoons 22.5cm | 6 Egg Spoons 12.4cm |
| 24 Table/dinner Forks 21.4cm | 12 Fish Knives 22.8cm |
| 24 Table Knives 27.5cm | 12 Fish Forks 19.8cm |
| 24 Dessert Forks 17.9cm | 12 Fruit Knives 22.4cm |
| 24 Dessert Knives 23.5cm | 12 Fruit Forks 18.4cm |
| 24 Dessert Spoons 18.5cm | 4 Sauce Ladles 18cm |
| 24 Teaspoons 14.5cm | |
The total weight of silver is 9330 grams (300 troy ounces), plus there are 48 knives with silver handles and 48 fish and fruit eaters with silver blades/tines.
Optional Extras
We have a huge range of King's Pattern by George Adams. We can add further dining pieces to increase the size of the service or supply serving pieces to suit. Furthermore, we can supply smaller 20th century knives as additional or alternative.
Condition
Excellent polished condition throughout. The forks have full length tines and the spoons retain their thick bowl tips. The double struck decoration remains crisp throughout.
Presentation
This finest quality canteen is presented within a large oak box with lift out trays. Each piece has it's own slot to prevent scuffing with neighbours. For some reason there are only enough slots for 23 dessert spoons, so the 24th is loose underneath the others. There is a shrinkage crack across the top of the box and there is also some minor damage to the brown baize inside one of the trays. However these are very minor issues, and more importantly the wooden box has done a wonderful job in preserving these pieces and the runs of 24 and 12 set out in each tray look fantastic!
As with all the canteens available from our web-site, we are happy to send a sample place setting for approval, on receipt of a fully refundable surety payment, prior to purchasing this canteen.