Salisbury Seal Top Spoon, 1633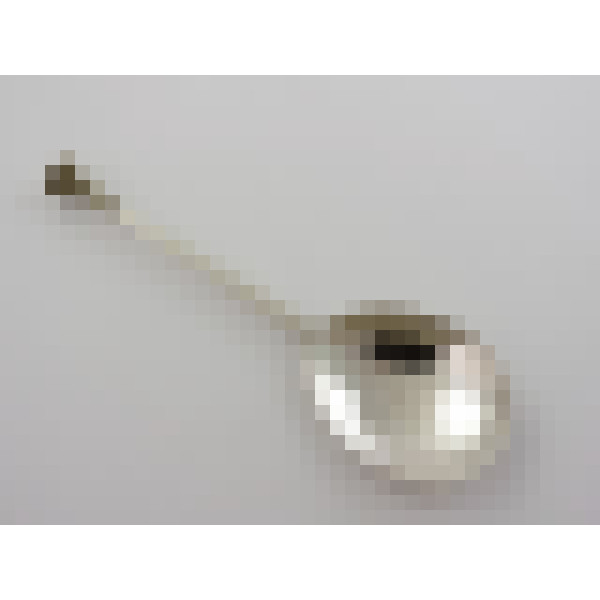 Sold
Spoon - Seal Top - Salisbury circa 1633 by John Greene - 15.4cm long; 30g - CS/9855
This Charles I period silver seal top spoon was made in Salisbury and has a classic example of a gilt Salisbury "Group B" cast seal terminal. Research by Timothy Kent and presented in "Salisbury Silver & Its Makers, 1550-1700" shows that silver spoons made in the Salisbury area generally fit in to two main finial types and the type shown on this spoon was known to have been made, amongst others, by the silversmith John Greene.
According to Kent, John Greene was likely born in 1589 and admitted to the Company of Merchants in 1620. He was a maker of spoons and other small silverware, but nowadays his wares are scarce. This spoon bears a good example of his "IG" above a device maker's mark to the bowl which is illustrated on page 31 of "Salisbury Silver" as mark 2 and on page 95 of "West Country Silver Spoons & Their Makers" as mark 55.
The dated dot-pricked engraving to the flat terminal plate nicely places the spoon to circa 1633 and it was likely given as a betrothal gift to "AW" and "AG". The spoon has the expected hexagonal stem and fig-shaped bowl that you would expect on an early 17th century silver spoon and is in excellent condition throughout with fine detailing to the gilt finial, an unworn bowl and lovely antique patina.
This is an excellent example of an English provincial seal top spoon from the Carolean period.