Large 3-piece Silver Condiment Set by Ramsden & Carr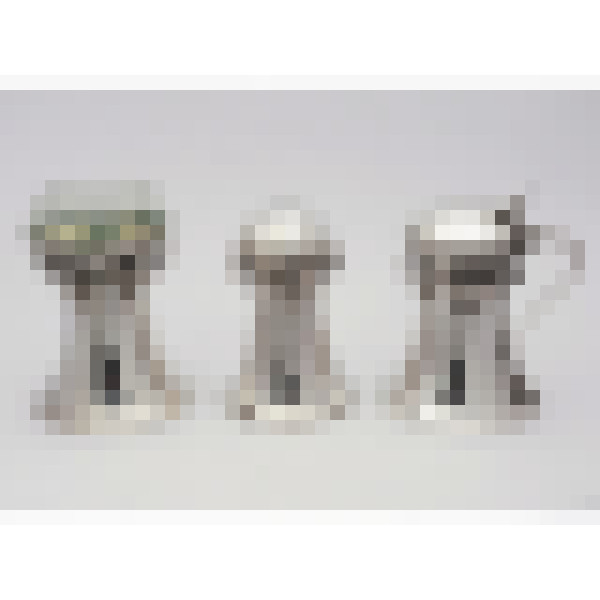 £2,750.00
Condiment Set (3-piece) - Capstan-shape - London 1908-10 by Omar Ramsden & Alwyn Carr - Pepper Pot: 10.6cm high; 146g. Mustard Pot: 11.8cm high; 194g (240g gross weight). Salt Pot: 11.5cm high; 225g gross weight - BV/3407
This is a terrific Art Nouveau three piece silver condiment set of large proportions and made by the important arts & crafts partnership of Ramsden and Carr.
Comprising a salt cellar, pepper caster and mustard pot, this cruet set has been hand-made, with spot hammering from the raising process evident throughout. They are capstan-shaped encircled by ropework bands and sinuous scroll and ball buttresses. The mustard pot and salt cellar retain their original green glass liners with the latter being fixed in position. As can be seen from the scale provided by the soft drinks can in the final photo, these are good-sized pieces that give great presence and additionally have a wonderful feeling of high quality in the hand.
Made during the late Edwardian period, the three pieces bear consecutive year date letters between 1908 and 1910 and so the set was presumably added to each year. Additionally, each piece is engraved 'OMAR RAMSDEN ET ALWYN CARR ME FECERUNT'.
This is a truly stunning set that remains in excellent condition (n.b. there is a tiny chip to the edge of the mustard pot liner).