George I Silver Coffee Pot, 1715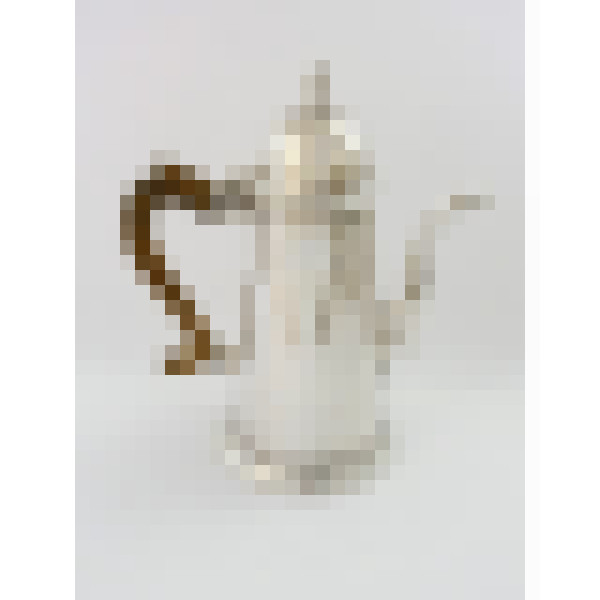 £2,450.00
Coffee Pot - Wooden handle - London 1715 by Richard Bayley - 25cm high; 20.5cm wide (handle to spout); 900mls volume; 735g gross weight - SY/1765
This is a lovely example of an early George I period silver coffee pot with very good Britannia standard hallmarks.
Dating from the second year of the 123-year long Georgian era, this antique silver coffee pot is a very early example of the pearwood handle being opposite the spout, rather than at right angles which was the style prior to 1715. It has a tapering cylindrical form with high domed hinged cover and a beautifully elegant swan-neck spout.
Britannia 958 standard silver is purer than Sterling 925 standard and its use was compulsory between 1697 and 1720. This coffee pot has a good clear set of hallmarks to the underside with corresponding lion's head erased mark inside the cover. The marks include the BA maker's mark of the largeworker Richard Bayley. Additionally, to the underside is the original scratch weight of 22 troy ounces and 10 pennyweights, plus the "M*S" initials of the original owner.
This coffee pot remains in excellent condition with a good antique patina (there are one or two very tiny bruises).
Apprenticed to both Charles Overing and John Gibbons, Richard Bayley became free in 1706 and entered his first mark at Goldsmiths hall in 1708. His work is of high quality and tends to be large pieces of hollowware such as tankards, teapots and coffee pots. His business flourished and he became Prime Warden of Goldsmiths Hall by 1751.