Fiddle & Thread Canteen by George Adams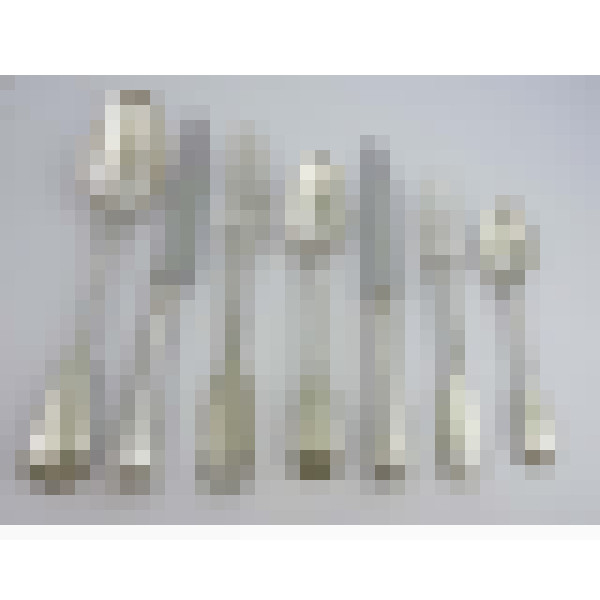 Sold
84 piece Canteen &ndash; Fiddle &amp; Thread Pattern (12 place settings) - Hallmark: London 1840 - 1882 by George Adams &ndash; Weight: 3770 grams (121.2 tr.oz.) + 24 knives - Ref. No.: FTGA/3095</p>
84 piece Fiddle & Thread Pattern Canteen of Silver Cutlery
The Service
We are pleased to be offering a great opportunity to buy a complete Victorian canteen of silver in the favoured Fiddle & Thread Pattern. This service provides for five Victorian pieces per 12 place settings with complementing modern knives taking it up to seven pieces.
All the spoons and forks were hand -forged in London by Chawner & Company under the leadership of George Adams and date from between 1840 and 1882. George Adams was the most important specialist flatware maker of the mid-19th Century and the hand-wrought spoons and forks produced by his workshop are the best quality available. The pieces in this service further benefit from having no engravings to them.
The 24 fiddle & thread silver handled knives are fitted with stainless steel blades and are hallmarked Sheffield 1970-72.These are good quality knives with a nice heavy feel in the hand.
Fiddle & Thread Pattern
Fiddle Pattern was the dominant flatware pattern of 19th Century Britain, however it stemmed from the same shaped French pattern that had a thread design running around the border. In the UK this became known as Fiddle & Thread. It is a very popular pattern as it treads the fine line between a completely plain design and an ornate design.
Components
This 84-piece service consists of the following:
| | |
| --- | --- |
| 12 Table/dinner Knives 23.6cm | 12 Dessert Forks 17.5cm |
| 12 Table/dinner Forks 20.6cm | 12 Dessert Spoons 18.3cm |
| 12 Table/soup Spoons 22.5cm | 12 Teaspoons 14.5cm |
| 12 Dessert Knives 21.5cm | |
Total weight of weighable silver 3770 grams 121.2 troy ounces).
Optional Extras
We have several serving items in stock in the same pattern by George Adams and can increase the size of the canteen, in terms of place settings, on request.
Condition
Excellent polished condition with unworn bowl and full length fork tines.
Presentation
This canteen is offered loose. We can supply anti-tarnish cutlery rolls on request. These navy blue rolls have individual pockets to hold 12 items per roll and are available for £15 each.
As with all the canteens available from our web-site, we are happy to send a sample place setting for approval, on receipt of a fully refundable surety payment, prior to purchasing this canteen.