Boxed 55 piece Sandringham Canteen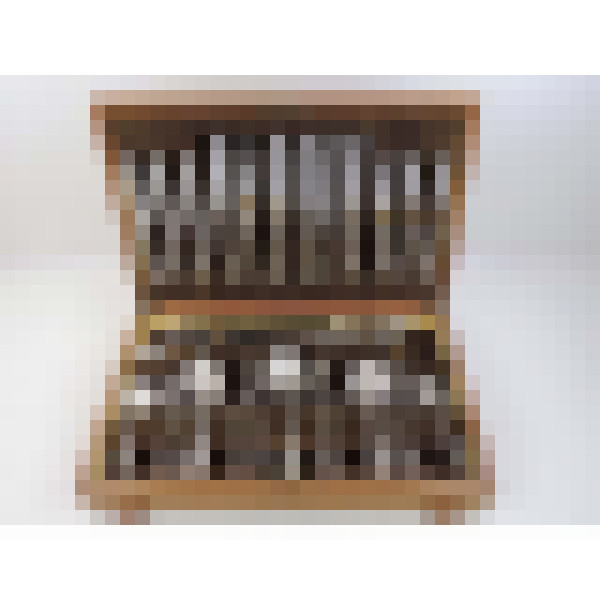 Sold
55 piece Canteen &ndash; Sandringham Pattern (6 place settings) - Hallmark: Sheffield 1940-47 by E Viner - Weight: 2015 grams (64.8 tr.oz.) - Ref. No.: BS/9898</p>
Boxed 55 piece SILVER SANDRINGHAM PATTERN SILVER CANTEEN CUTLERY,
Sheffield 1940-47 by E Viner
The Service
We are pleased to be offering a lovely Art Deco boxed silver canteen of cutlery in the sylish Sandringham Pattern. This service provides for eight pieces per 6 place settings with additional serving and carving items.
All pieces benefits from being in excellent polished condition with no personalised engravings. The knives are fitted with silver handles and stainless steel blades.
Sandringham Pattern
Sandringham Pattern was designed by Viners in the early 1930's and its streamlined form was inspired by the Art Deco movement. It was Viners most successful cutlery pattern and production continued for several decades. Sandringham is the most prevalent and popular of all English Art Deco flatware patterns.
Components
This 55-piece service consists of the following:
| | |
| --- | --- |
| 6 Soup Spoons (round bowls) 17.5cm | 6 Dessert Spoons 18.3cm |
| 6 Table Forks 19.7cm | 6 Teaspoons 13.5cm |
| 6 Table Knives 24.4cm | 6 Fruit Spoons 13.9cm |
| 6 Dessert Forks 17.4cm | 2 Table/serving Spoons 21.2cm |
| 6 Dessert/Side Knives 21.8cm | 3 piece Carving Set, Jam Spade & Mustard Spoon |
Total weight of weighable silver 2015 grams (64.8 troy ounces).
Condition
Excellent polished condition throughout with full length fork tines and unworn spoon bowls.
Presentation
This canteen is presented within its original Art Deco wooden box with brown baize interior. There are some minor scratches to the top surface and the original key is present.
As with all the canteens available from our web-site, we are happy to send a sample place setting for approval, on receipt of a fully refundable surety payment, prior to purchasing this canteen.