Sandringham Pattern 46 piece Canteen 1936/9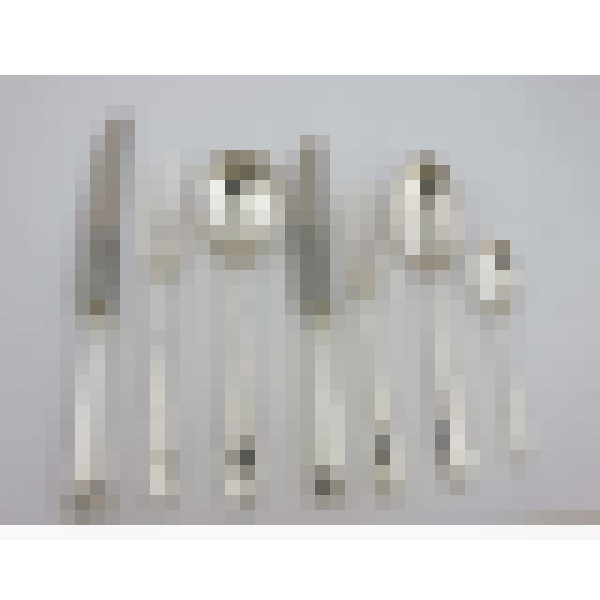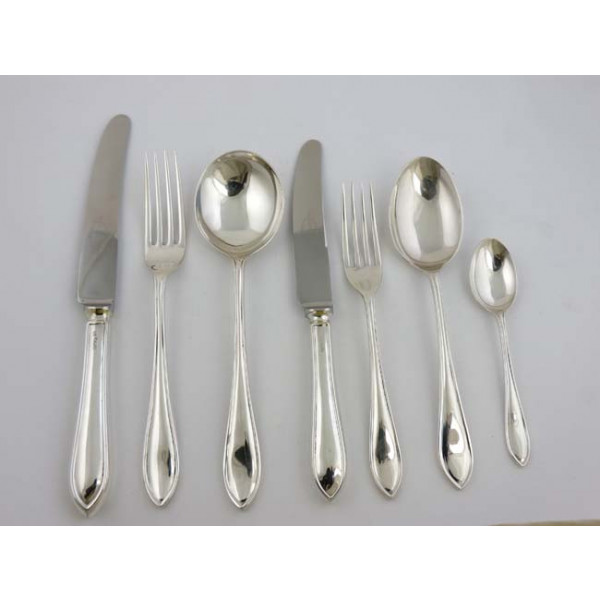 Sold
46 piece Canteen &ndash; Sandringham Pattern (6 place settings) - Hallmark: Sheffield 1936-63 by E Viner &ndash; Weight: 2090grams (67.2 tr.oz.) + 12 knives - Ref. No.: SD/3174</p>
46 Piece Sandringham Pattern Silver Canteen, Sheffield 1936-39
The Service
We are pleased to be offering an excellent 6 place settings canteen of silver in the popular Art Deco pattern Sandringham. The service provides for seven pieces per 6 place settings with 2 serving spoons and 2 sauce ladles.
The majority of pieces were made in Sheffield by Emile Viner between 1936 and 1939, however the knives date from the late fifties/early sixties. Viners were one of the UK's major producers of silver cutlery during the 20th century and were particularly admired for some of their innovative designs – Sandringham was the most popular.
Each piece benefits from having no personalised engravings.
Sandringham Pattern
Sandringham Pattern was designed by Viners in the early 1930's and its streamlined form was inspired by the Art Deco movement. It was Viners most successful cutlery pattern and production continued for several decades. Sandringham is the most prevalent and popular of all English Art Deco flatware patterns.
Components
This 46-piece service consists of the following:
| | | |
| --- | --- | --- |
| 6 Table Knives | 6 Dessert Knives | 6 Teaspoons |
| 6 Table/dinner Forks | 6 Dessert Forks | 2 Table/Serving Spoons |
| 6 Soup Spoons (round bowls) | 6 Dessert Spoons | 2 Sauce Ladles |
Total weight of weighable silver 2090 grams (67.2 troy ounces). Plus 12 silver handled knives.
Optional Extras
We have a selection of Sandringham Pattern fish eaters and serving items in stock and will be happy to quote for any additional pieces that may be required to suit your needs.
Condition
Excellent polished condition throughout.
Presentation
This canteen is offered loose. We can supply anti-tarnish cutlery rolls on request. These navy blue rolls have individual pockets to hold 12 items per roll and are available for £15 each.
As with all the canteens available from our web-site, we are happy to send a sample place setting for approval, on receipt of a fully refundable surety payment, prior to purchasing this canteen.