Boxed Grecian 124 piece Silver Canteen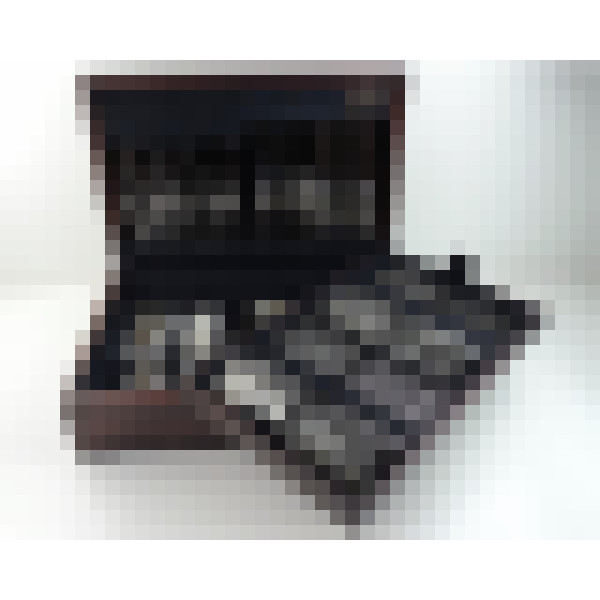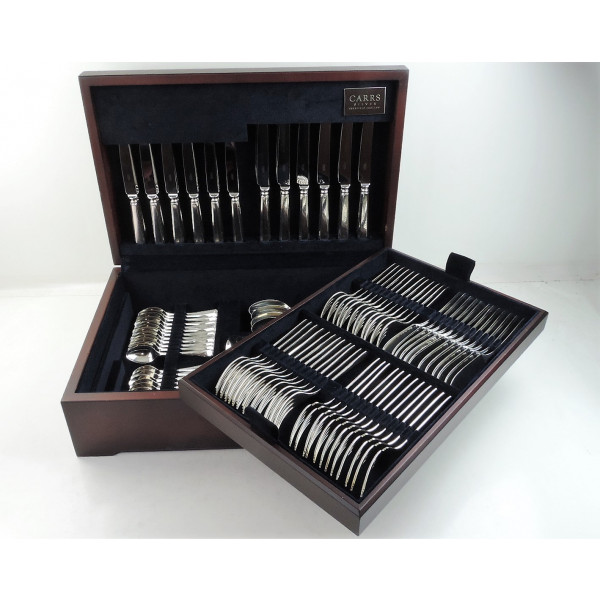 Sold
124 piece Canteen; Grecian Pattern (12 place settings) - Sheffield 2005 by Carrs - Weight: 5160 grams (166 tr.oz.) + 24 silver handled knives - Ref. No.: FE/5961
Boxed 124 piece GRECIAN PATTERN SILVER CANTEEN CUTLERY,
Sheffield 2005 by Carrs
The Service
We are pleased to be offering this superb silver canteen of cutlery in the elegant Grecian Pattern. This complete formal dining service provides for ten pieces per 12 place settings with additional serving spoons.
This is a straight (same date & maker) service that is presented within its original wooden box. Each piece benefits from being in excellent condition with no personalised engravings.
All the pieces in this canteen were made by the largest English flatware maker of the late 20th and early 21st centuries – Carrs of Sheffield and bear full sets of appropriate Sterling silver hallmarks for 2005.
Grecian pattern is a very stylish flatware design with squared off ends in the Art Deco manner. The service is in fine condition and appears to have seen little use.
The knives in the service are fitted with Sheffield made stainless steel blades.
Components
This 124-piece service consists of the following:
| | |
| --- | --- |
| 12 Table Forks 21.5cm | 12 Fish Knives 21.3cm |
| 12 Table Knives 24.8cm | 12 Fish Forks 18cm |
| 12 Dessert Forks 18cm | 12 Teaspoons 14cm |
| 12 Dessert Knives 21.5cm | 12 Coffee Spoons 11.8cm |
| 12 Dessert Spoons 18.2cm | 4 Table/serving Spoons 22cm |
| 12 Soup Spoons (round bowls) 17.4cm | |
Total weight of weighable silver (100 pieces) 5180 grams (166.5 troy ounces) + 24 silver handled knives.
Condition
Excellent condition with minimal scratching through use. All fork tines and spoon bowls are unworn.
Presentation
This canteen is presented within a good quality wooden box. There is a single pull-out tray and each piece has its own slot to prevent scuffing. The box is in good order with minimal scratching to the exterior.
As with all the canteens available from our web-site, we are happy to send a sample place setting for approval, on receipt of a fully refundable surety payment, prior to purchasing this canteen.