Boxed Pyramid Pattern Canteen, Georg Jensen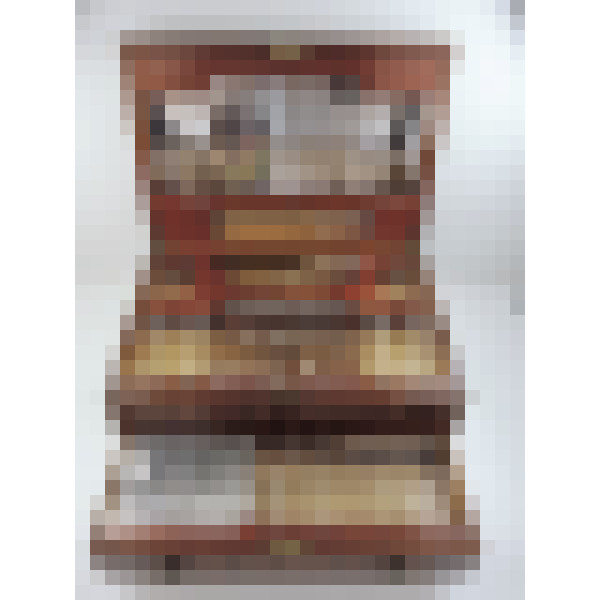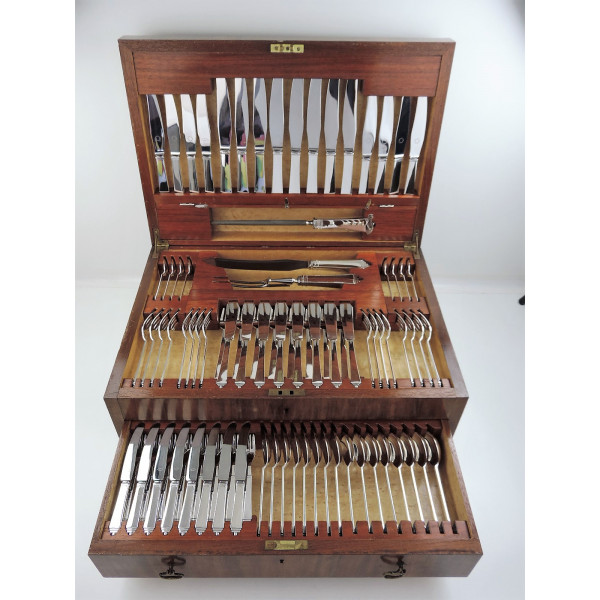 Sold
99 piece Canteen (boxed) - Pyramid Pattern (8 place settings) - Post 1945 by Georg Jensen; Weight: 3070 grams ( 98.7 troy ounces) + 19 knives - Ref. No.: HE/6591</p>
99 Piece Sterling Silver Pyramid Pattern Dining Service by Georg Jensen
The Service
This is an outstanding quality boxed 99 piece dining service of silver flatware and cutlery in probably the most sought after of all the Art Deco patterns. It is presented in an outstanding quality wooden box that is probably one of the most pleasing designs that we have encountered (see below for further details).
The service provides for twelve pieces suitable for use with up to five courses and enough settings for eight people. All pieces were made by the famous Danish silversmith Georg Jensen and bear his Sterling silver workshop marks.
The number of different pieces within this canteen allows for greater flexibility in choosing how to use the service. For example, there are four types of knife: the fish knives have silver blades and the table, cheese/dessert and tea/side knives have silver handles with stainless steel blades to enable good cutting.
The service appears to have been little used with the silver appearing near mint and just a little staining to the exterior of the box. The price represents extremely good value for money with an average cost per piece being less than £100, making it several times less expensive than an equivalent quality new Georg Jensen flatware service.
Georg Jensen
Georg Jensen was a Danish silversmith who opened his first silver workshop in 1904 in Copenhagen. He was to become the most renown maker of silverware in the World with shops in London, Paris, New York, Berlin and Stockholm. His company embraced the Art Deco movement of the 1920's and 30's and some of his most important patterns were designed during this period. Many of the Jensen flatware patterns have endured the test of time and remain highly popular today.
Pyramid Pattern
This pattern was designed for Georg Jensen by Harald Nielsen in 1926 and has a stepped terminal and streamlined shape typical of the Art Deco period. The pattern has continued to be manufactured by Georg Jensen and pieces fit well with the originals of the Art Deco period allowing further expansion of the service should it be necessary.
Components
This 99-piece service consists of the following:
| | |
| --- | --- |
| 8 Soup Spoons 16cm | 8 Dessert Spoons 16.7cm |
| 8 Fish Knives 19.7cm | 8 Tea/side Knives 16.6cm |
| 8 Fish Forks 15.9cm | 8 Fruit/pastry Forks 14.6cm |
| 8 Table Knives 23cm | 8 Teaspoons 12cm |
| 8 Table/dinner Forks 18.2cm | 8 Coffee Spoons 9.5cm |
| 8 Dessert Knives 19.8cm | 3 piece Carving Set |
| 8 Dessert Forks 16.2cm | |
Total weight of weighable silver 3070grams (98.7 troy ounces) plus 27 silver handled knives/carvers with stainless steel blades.
Condition
Excellent polished condition. The set has hardly been used and benefits from having no personalised engravings to the pieces.
Presentation
This canteen is supplied in its original wooden box. The box is superbly made with each piece individually fitted – see close-up photo showing how the wood has been cut to match the shape of the stepped terminals (never seen that before!), plus the knife holders in the cover are far superior than the standard way this was done - the drop-down flap that releases the knives is both wooden and hinged. The box is a work of art in itself.
As with all the canteens available from our web-site, we are happy to send a sample place setting for approval, on receipt of a fully refundable surety payment, prior to purchasing this canteen.