82 piece Bernadotte Canteen by Jensen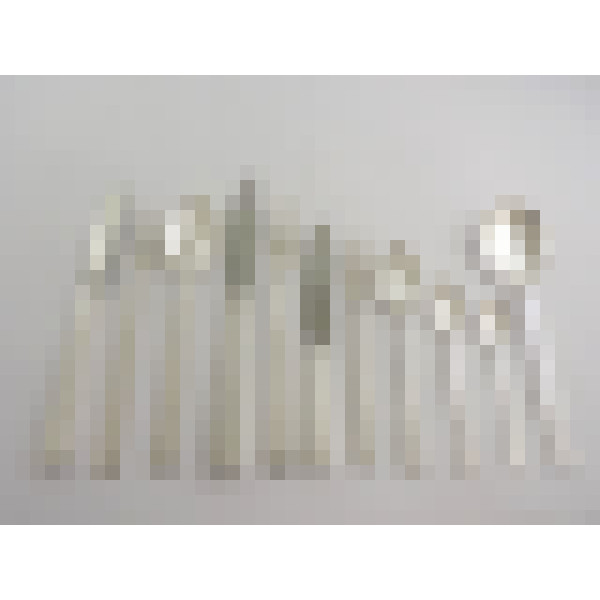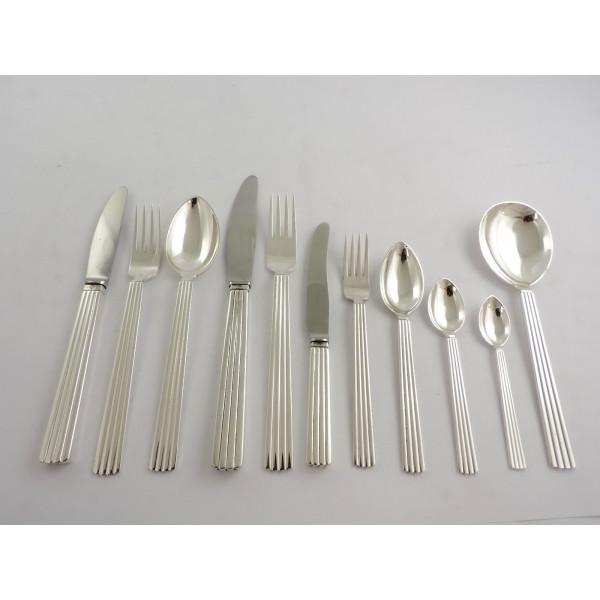 Sold
82 piece Canteen - Bernadotte Pattern (8 place settings) - Hallmark: Post-1945 by Georg Jensen; Weight: 2470 grams (79.4 troy ounces) plus 24 knives - Ref. No.: CT/6589</p>
82 Piece Bernadotte Pattern Canteen, Post-1945 by Georg Jensen
The Service
This is a fabulous quality Sterling silver canteen of flatware and cutlery by one of the most important silversmith of the 20th century.
The service provides for ten pieces per 8 place settings with a pair of serving spoons. The components can be used in whichever way works best (for example the starter knife could be used as a butter knife in combination with a soup spoon); there are ample pieces for three courses and after dinner tea/coffee.
All the pieces were made by Georg Jensen and bear the post 1945 Jensen workshop Sterling mark.
Bernadotte Pattern
This stylish flatware pattern was designed for Georg Jensen in 1939 by Sigvaard Bernadotte and although Art Deco in date has a leaning towards the approaching changes in style in favour of a Modernistic taste. The pattern proved especially popular during the 1960's.
Georg Jensen
Georg Jensen was a Danish silversmith who opened his first silver workshop in 1904 in Copenhagen. He was to become the most renown maker of silverware in the World with shops in London, Paris, New York, Berlin and Stockholm. His company embraced the Art Deco movement of the 1920's, 30's & 40's and some of his most important patterns were designed during this period. Many of the Jensen flatware patterns have endured the test of time and remain highly popular today.
Components
This 82-piece service consists of the following:
8 Starter/lunch Knives 19.6cm

8 Dessert Forks 15.5cm

8 Starter/lunch Forks 17.8cm

8 Dessert Spoons 15cm

(n.b. 2 spoons are 16cm long)

8 Soup Spoons (oval bowl) 18.5cm

8 Teaspoons 12.5cm

8 Table Knives 21.7cm

8 Coffee Spoons 11cm

8 Table/dinner Forks 19.2cm

2 Table/serving Spoons 18.2cm

8 Dessert Knives 17cm
Total weight of weighable silver 2470 grams (79.4 troy ounces) plus 24 silver handled knives.
Optional Extras
We have a large stock of Bernadotte pattern and will be happy to supply additional pieces on request to augment the service.
Condition
The service is in beautiful polished condition and benefits from having no personalised engravings to the pieces.
Presentation
This canteen is supplied in new navy blue anti-tarnish cutlery rolls.
As with all the canteens available from our web-site, we are happy to send a sample place setting for approval, on receipt of a fully refundable surety payment, prior to purchasing this canteen.