Boxed 124 piece Dubarry Canteen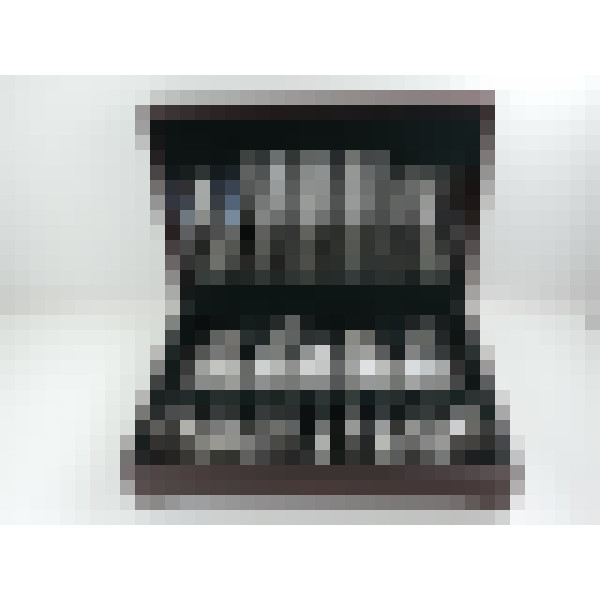 Sold
124 piece Canteen &ndash; Du Barry Pattern (12 place settings) - Hallmark: Sheffield 1995/99 by JO; Weight: 5930 grams (190.7 troy ounces) - Ref. No.: LR/2990</p>
124 piece Silver Dubarry Pattern 12 place Canteen, Sheffield 1995-99
The Service
This is an excellent 124 piece canteen of silver in a very sought after 20th Century Pattern. The service provides for ten pieces for each of the 12 place settings with additional serving items.
Every piece is hallmarked for Sheffield between 1995 and 1999 by JO (almost certainly a retailer using their own sponsor's mark on a canteen made by William Turner of Sheffield - the table and dessert knives are fitted with stainless steel blades that are engraved "William Turner Master Cutlers Sheffield".
The service benefits from being in near mint polished condition with no personalised engravings to the pieces.
Du Barry Pattern
This pattern was first produced in the early 20th century for use in the first class dining rooms aboard the Titanic. Its inspiration comes from the designs of the most important furniture maker of the 18th century – Thomas Chippendale. It has a simple elegance that successfully treads the line between stylish and plain.
Components
This 124-piece service consists of the following:
| | |
| --- | --- |
| 12 Fish Knives 20.6cm | 12 Dessert Forks 18.3cm |
| 12 Fish Forks 17.2cm | 12 Dessert Spoons 18.5cm |
| 12 Soup Spoons (round bowls) 18cm | 12 Teaspoons 14cm |
| 12 Table Knives 24cm | 12 Coffee Spoons 11.6cm |
| 12 Table/dinner Forks 20.5cm | 4 Table Spoons (for serving) 21.5cm |
| 12 Dessert Knives 21.7cm | |
Total weight of weighable silver 5930 grams (190.7 troy ounces) plus 24 knives.
Optional Extras
The service also has a matching sauce ladle and a 3 piece carving set that sit outside the box. These are priced at £70 and £150 respectively.
Condition
Excellent polished condition. Mint and probably never used.
Presentation
This canteen is offered within its original wooden box.
As with all the canteens available from our web-site, we are happy to send a sample place setting for approval, on receipt of a fully refundable surety payment, prior to purchasing this canteen.