Art Deco Canteen, 1928 M. Daurat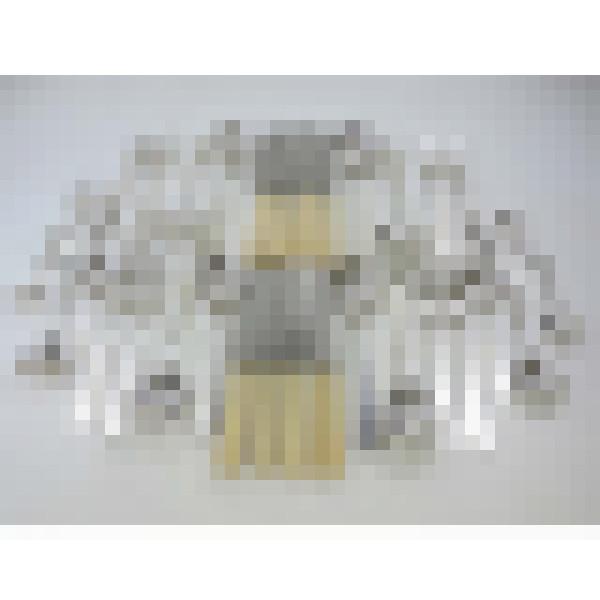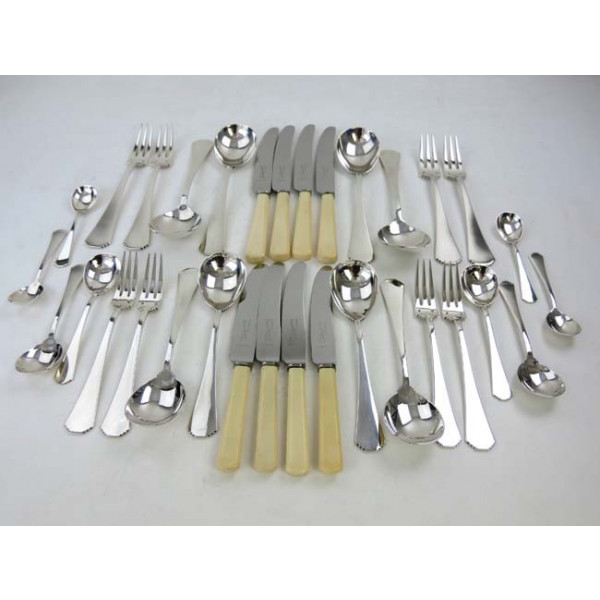 Sold
32 piece Canteen – Art Deco Pattern (4 place settings) - Hallmark: Paris c.1928 by Maurice Daurat (with London import marks for 1928 by Waring & Gillow) – Weight: 1220 grams (39.2 tr. oz.) plus 8 bone handled knives - Ref. No.: CA/4696
32 piece Art Deco Pattern Silver Canteen, Paris c.1928 by Maurice Daurat (with London import marks for 1928 by Waring & Gillow)
The Service
We are pleased to be offering a very rare Art Deco silver 4 place settings flatware service made by the important French silversmith Maurice Daurat. The service provides for eight pieces per 4 place settings.
The spoons and forks were all hand-made and are very Art Deco in their streamlined design. The front of the handle terminals and junctions of the handle with bowl or tines have cut-outs, which reveal themselves on the reverse side as graduated steps (reminiscent of Georg Jensen's Pyramid Pattern). The forks have three prongs and the spoons have pear-shaped bowls. It is a very distinctive design that is different to anything we have previously encountered.
Each of the spoons and forks bears French 950 standard marks to the front tines/bowls with the M*D maker's mark for Daurat within a lozenge. The lower front stems are also discreetly engraved with his name "M.DAURAT". To the reverse side are English import marks for London 1928 with the retailers mark of Waring & Gillow.
The "bone" handled knives are a later addition and were made by Charles Clements. They have shaped handle terminals with a bevelled edge and are fitted with best quality stainless steel blades.
Maurice Daurat
The French silversmith Maurice Daurat (1880-1969) is widely acclaimed for his influential Art Deco designs in a mixed assortment of metalwork and sculpture. His work was first acknowledged when he won a prestigious Grand Prix at the Art Deco exhibition in Paris, 1925. In 1927 with the aid of a wealthy patron, Daurat set up workshop in the luxurious Avenue Friedland in Paris. This period only lasted three years, but produced some of his most spectacular work – including this flatware service.
Components
This 32-piece service consists of the following:
| | |
| --- | --- |
| 4 Table/soup Spoons 19.8cm | 4 Dessert Forks 17cm |
| 4 Table/Dinner Forks 19.5cm | 4 Dessert Knives with bone handles 20.5cm |
| 4 Table/Dinner Knives with bone handles 23.5cm | 4 Sorbet Spoons 13.2cm |
| 4 Dessert Spoons 17cm | 4 Tea or Coffee spoons 11cm |
Total weight of weighable silver 1220 grams (39.2 tr. oz.) plus bone handled knives.
Condition
Excellent polished condition with no personalised engravings. No wear to spoon bowls and all fork tines are full length.
Presentation
This canteen is offered loose, but anti-tarnish cutlery rolls are available on request.
As with all the canteens available from our web-site, we are happy to send a sample place setting for approval, on receipt of a fully refundable surety payment, prior to purchasing this canteen.