Old English Canteen for 12 by David Fullerton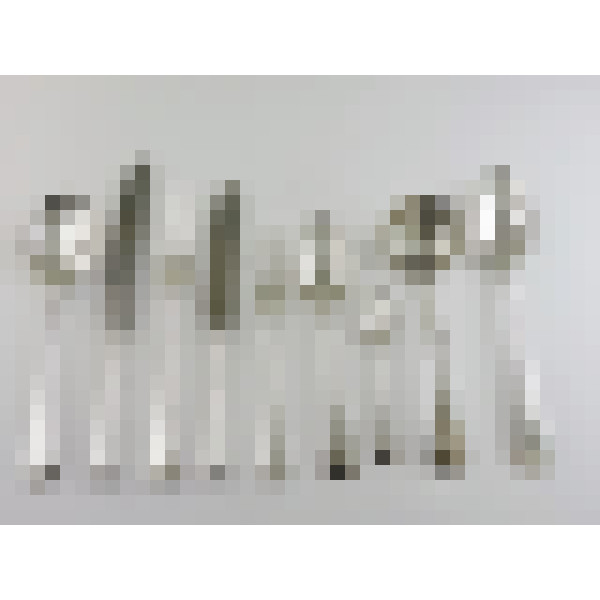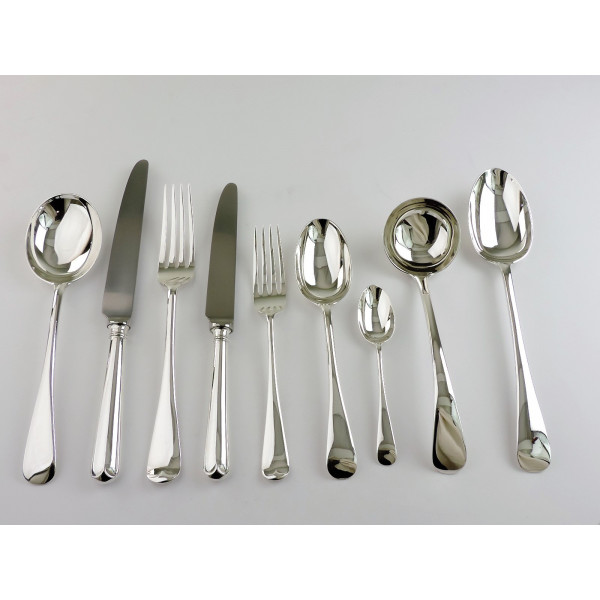 Sold
90 piece Canteen – Old English Pattern (12 place settings) - Hallmark: London 1917-34 by David Fullerton (with modern knives) – Weight: 3485 grams (112 tr.oz.) - Ref. No.: DF/5488
90-piece Silver Old English Pattern Canteen, London 1917/34 by David Fullerton
The Service
We are pleased to be offering a fabulous, early 20th century, 12 place settings cutlery service in Old English Pattern, which considering its quality, completeness and condition is being offered at a very competitive price.
The service includes the standard seven pieces per place setting, plus some basic serving pieces. All the spoons, forks and servers were hand-wrought in London by the premier flatware specialist David Fullerton between 1917 and 1934. The runs of spoons and forks are all the same length and have the exact same appearance, so that even when there are different years this is only noticeable from the hallmarks. A further bonus is that none of the pieces bear any personalised engravings.
This is a high quality service, with each piece having a great feel in the hand. The presence of the round bowled soup makes the set perfectly adapted to modern dining and the teaspoons are equally suited for use with coffee. The serving pieces include a pair of useful sauce ladles and four good-sized table spoons.
This beautifully elegant service is complemented with late 20th century silver handled knives. There are twelve table and twelve dessert sized that are fitted with top quality stainless steel blades. All pieces are discreetly hallmarked around the rings on the handles for Sheffield 1985 by John Biggin.
Old English Pattern
Old English Pattern was first introduced circa 1770 and has always been a very favoured pattern due to its elegant and simple form. It has been produced continually to the present day with a resurgence of popularity in the late 19th & early 20th Centuries. The plain, but stylish appearance make it one of the most popular choices of flatware patterns.
Components
This 90-piece service consists of the following:
| | |
| --- | --- |
| 12 Soup Spoons 19.8cm | 12 Dessert Spoons 17.5cm |
| 12 Table/dinner Knives 24cm | 12 Tea/coffee spoons 11.8cm |
| 12 Table/dinner Forks 20cm | 4 Table/serving spoons 21.5cm |
| 12 Dessert Knives 21.8cm | 2 Sauce Ladles 17.5cm |
| 12 Dessert Forks 17cm | |
Total weight of weighable silver 3485 grams (112 troy ounces).
Optional Extras
We have a large range of Old English Pattern by David Fullerton in stock and can add extra pieces to the above service as required.
Condition
Excellent polished condition with full length tines and unworn spoon bowls.
Presentation
This canteen is offered in eight new anti-tarnish cutlery rolls.
As with all the canteens available from our web-site, we are happy to send a sample place setting for approval, on receipt of a fully refundable surety payment, prior to purchasing this canteen.