Boxed 58 piece Modernistic Canteen, 1982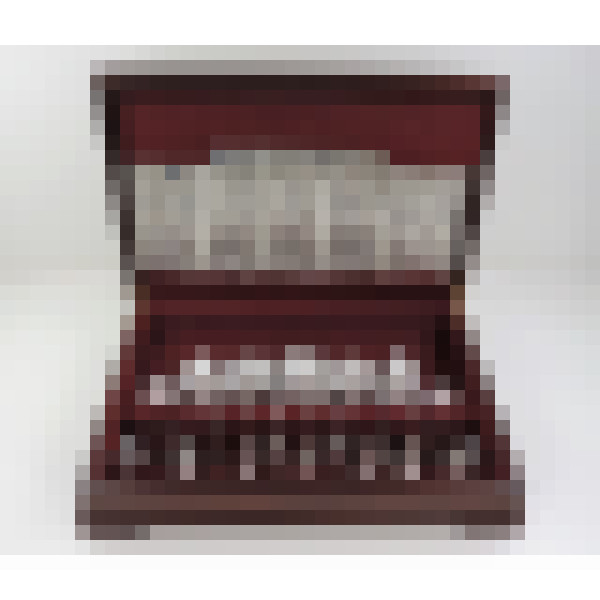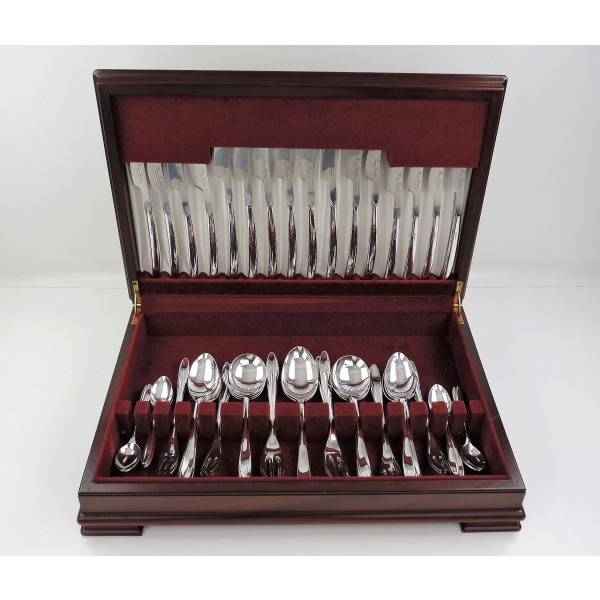 Sold
58 piece Canteen (boxed) – Modernistic (8 place settings) - Hallmark: Sheffield 1982 by Roberts & Belk (designer: A. Robinson) – Weight: 2430 grams (78.1 tr.oz.) - Ref. No.: SP/6457
58 piece Modernistic Silver Canteen,
Sheffield 1982 by Roberts & Belk (designed by A. Robinson)
The Service
We are pleased to be offering a fabulous modernistic silver canteen comprising seven pieces for 8 place settings and contained within its original box.
This is a straight service with all pieces made by Roberts & Belk in 1982 and bearing the name of the designer "A. Robinson". This is not a name we have encountered before and the style of the service has similarities and presumably inspiration taken from the Pride and Embassy patterns produced by David Mellor. The set was part of the "Cutlery of the Eighties" series designed by silversmiths of the day, produced by Roberts & Belk and retailed by The Cutlery Shop.
Each piece in this service has a long, elegant handle and the forks are three-pronged. The knives have a particularly stylish appearance and have ergonomically designed curved handles and stainless steel blades. The knife blades are engraved with the brand name "Thomas Bradbury & Sons". This famous name in English silver was bought out by the CJ Vander group in the 1940's, with Roberts & Belk being bought during the 1960's.
All the pieces have a lovely streamlined appearance and are in fabulous condition.
Components
This 58-piece service consists of the following:
| | |
| --- | --- |
| 8 Soup Spoons 19.4cm | 8 Dessert/Luncheon Forks 20cm |
| 8 Table Knives 22.3cm | 8 Dessert Spoons 20.8cm |
| 8 Table/Dinner Forks 22.2cm | 8 Teaspoons 13.8cm |
| 8 Dessert Knives 20.8cm | 2 Table/serving Spoons 22cm |
Total weight of weighable silver 2430 grams (78.1 troy ounces).
Condition
Excellent. All the fork tines are full length and spoon bowls retain their thick tips. The set appears to have had little use.
Presentation
This canteen is offered within its original wooden box, complete with plush red cushion for inserting over the silver. An unusual attention to detail is the inlay to the centre and corners of the box lid.
As with all the canteens available from our web-site, we are happy to send a sample place setting for approval, on receipt of a fully refundable surety payment, prior to purchasing this canteen.