181 piece Acorn Pattern Canteen, Georg Jensen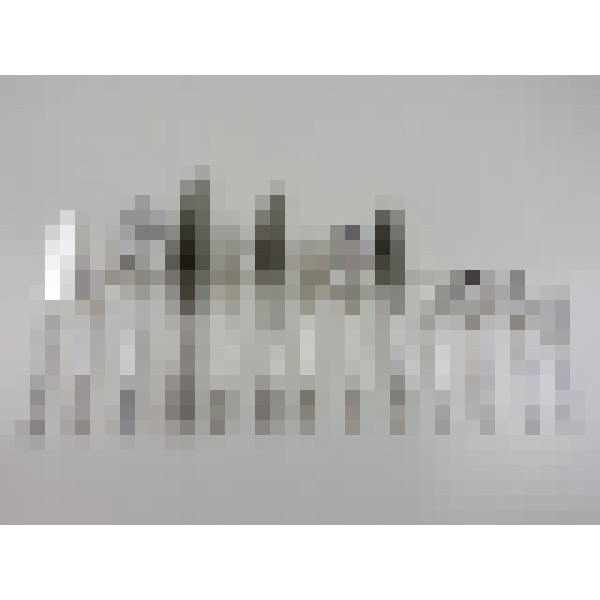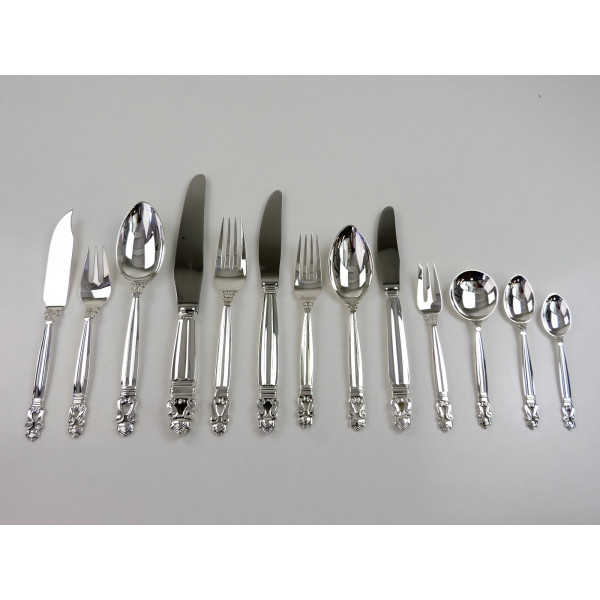 Sold
181 piece Canteen - Acorn Pattern (12 place settings) - Hallmark: Post 1945 by Georg Jensen &ndash; Weight: 6000 grams (193 troy ounces) plus 36 knives &amp; 6 servers - Ref. No.: FY/7339</p>
181 Piece Acorn Pattern Sterling Silver Canteen of Cutlery, Post 1945 by Georg Jensen
The Service
This extensive 181 piece canteen of silver flatware and cutlery is in one of the most sought after patterns of the 20th century, Georg Jensen's Acorn Pattern. The service provides for up to 13 pieces for 12 place settings with a large array of serving items and optional extras.
The service includes 12 of each of all the standard pieces for a formal table setting for a five course meal with the bonus of both tea and coffee spoons. All the pieces were made by Georg Jensen and most bear the post 1945 Jensen workshop Sterling mark.
There are four types of knife. The fish knives are the superior one piece type with flat silver blades. The others come in three sizes and are fitted with stainless steel blades to allow cutting. The starter and dessert knife could be interchanged as appropriate and used as side knives, cheese knives, starter knives or for dessert as required.
The four types of fork include the standard table, dessert, 3-pronged fish and the extra addition of a dozen pastry or cake forks with a wider cutting tine. The five spoons types are mostly oval bowled, (except the round bowled bouillon/fruit spoon), and from largest to smallest are for soup, dessert, tea and coffee.
The serving items include a useful set of 6 table spoons, a pair of salad servers, and a large and heavy serving spoon with generous sized bowl. Together with sauce and cream ladles, an assortment of forks, butter knives and smaller spoons, there is something for every occasion.
Acorn Pattern
This pattern was designed by Johan Rohde in 1917 and is also known by its Danish name of Konge. It has a stylized acorn motif surmounting two scrolls to the terminal of the ridged stem. It has a lovely elegant feel that has inevitably lead to it become one of the most popular and highly sought after of all Jensen flatware patterns.
Georg Jensen
Georg Jensen was a Danish silversmith who opened his first silver workshop in 1904 in Copenhagen. He was to become the most renown maker of silverware in the World with shops in London, Paris, New York, Berlin and Stockholm. His company embraced the Art Deco movement of the 1920's and 30's and some of his most important patterns were designed during this period. Many of the Jensen flatware patterns have endured the test of time and remain highly popular today.
Components
This 181-piece service consists of the following:
| | |
| --- | --- |
| 12 Fish Knives 20.7cm | Pair Salad Servers 20.2cm |
| 12 Fish Forks 16.4cm | 6 Table Spoons 20.4cm |
| 12 Soup Spoons 19.2cm | Serving Spoon 22.7cm |
| 12 Table Knives 25cm | Sauce Ladle (with s/steel bowl) 19cm |
| 12 Table/dinner Forks 19cm | Serving Knife 26.6cm |
| 12 Dessert Knives 22.7cm | Pie Server (with s/steel bowl) 20.2cm |
| 12 Dessert Forks 16.6cm | Cake Server (with s/steel bowl) 16.2cm |
| 12 Dessert Spoons 17.3cm | Serving Fork 20cm |
| 12 Side/starter Knives 20.5cm | 2 Butter Knives 15cm |
| 12 Pastry/Cake Forks 14.2cm | 2 Cold Meat Forks 16.6cm |
| 12 Fruit/bouillon Spoons 13.3cm | 2 Pickle Forks 11.6cm |
| 12 Teaspoons 12.8cm | 2 Jam Spoons 14cm |
| 12 Coffee Spoons 11.1cm | 2 Pickle Servers (with s/steel blade)15.7cm |
| | Cream/Sauce Ladle 14cm |
Total weight of weighable silver 6000 grams (193 troy ounces) plus 36 silver handled knives and 6 silver handled servers.
Optional Extras
We have an extensive stock of Acorn pattern and can add direct matches to the service:-
Further serving items
Additional dining pieces to increase from 12 to 18, 24 or more
Condition
Excellent polished condition. The service has been professionally polished and benefits from having no personalised engravings to the pieces.
Presentation
This canteen is supplied in 15 new anti-tarnish cutlery rolls. These navy blue rolls have individual pockets to hold 12 items per roll. The 25 serving items are supplied within two rolls.
As with all the canteens available from our web-site, we are happy to send a sample place setting for approval, on receipt of a fully refundable surety payment, prior to purchasing this canteen.