We are keen to buy gold and our gold prices are very competitive to the prices offered by other bullion dealers. We are always happy to accept gold independently or as part of a consignment of silver.
Our gold prices are based on the current market spot price and twice daily London fixes. We pay according to weight and carat for hallmarked gold. We especially seek large pieces such as goblets, cigarette and vesta cases.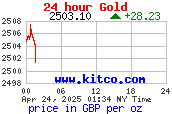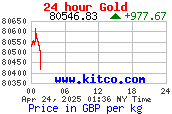 Services
We offer the same services for gold as we do for silver: metal accounts, prompt payment and XRF testing for unmarked gold. One of our most important services is our Melt & Assay facility.
Melt & Assay
For consignments of gold with contaminants, rolled gold and gold plate, we offer a Melt & Assay service. Each batch will be independently refined to reveal the exact quantity of fine gold. This service is available for gross batch weights of 2kg and above. Batches below this weight will be XRF tested and an offer made.
Platinum Group Metals
In addition to silver and gold, we buy all other precious metals including platinum, palladium, rhodium etc. Please contact us for further information.