Virgin and Child Spoon, Salisbury 1627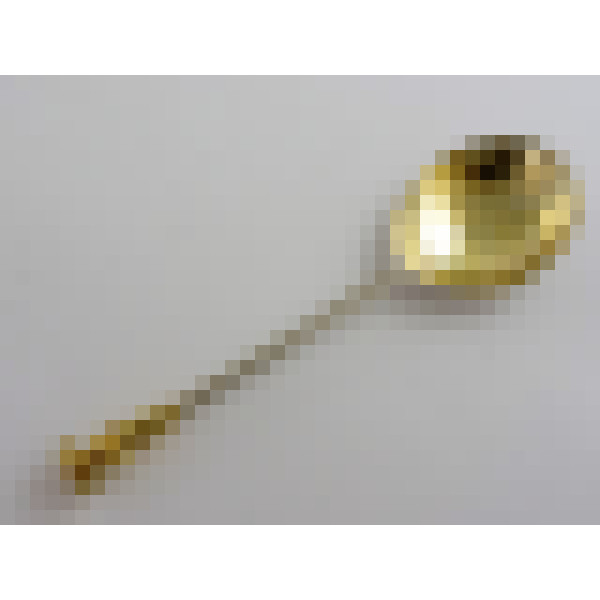 Sold
Spoon - Virgin and Child - Salisbury circa 1627 by Robert Tyte - 17.8cm long; 48.5g - TY/6897</p>
The cast gilt terminal of this extremely rare spoon is in the form of the Virgin Mary holding the baby Jesus in her arms. It was made in Salisbury by Robert Tyte and bears a good example of his conjoined "RT" maker's mark in a pelleted circle to the bowl. The reverse stem is indistinctly marked with an "animal" and cinquefoil marks. Considering his working period (circa 1590 to 1636), the dot pricked dated initials ("SD" over "SD" over "1627") to the flat plate, or nimbus on an apostle, are likely to be contemporary to manufacture and therefore accurately dating the spoon to the latter half of the 1620's.
In line with other Tyte spoons where apostles are identified, this spoon is engraved to the reverse of the stem "the Virgine Mary and Christ", leaving little doubt as to the intended subject of the casting. The interior of the bowl also bears a late 18th century engraved stag crest that probably dates from the same time as the gilding to both bowl interior and cast terminal. The spoon is in fine condition with a generous, unworn bowl, although there is very minor wear to the gilding inside the bowl.
This important, documented spoon is illustrated in volume II, page 170, plate 61 of "English Silver & Scottish Spoons" by GEP & JP How (erroneously attributed to Truro). It is also illustrated and discussed as Plate A, page 146/7 of "West Country Silver Spoons and Their makers 1550-1750" and on page 20, figure 21 of "Salisbury Silver & Its Makers 1550 - 1700" both books by Tim Kent.