Silver Fiddle Pattern Canteen for 12 by Wm Eaton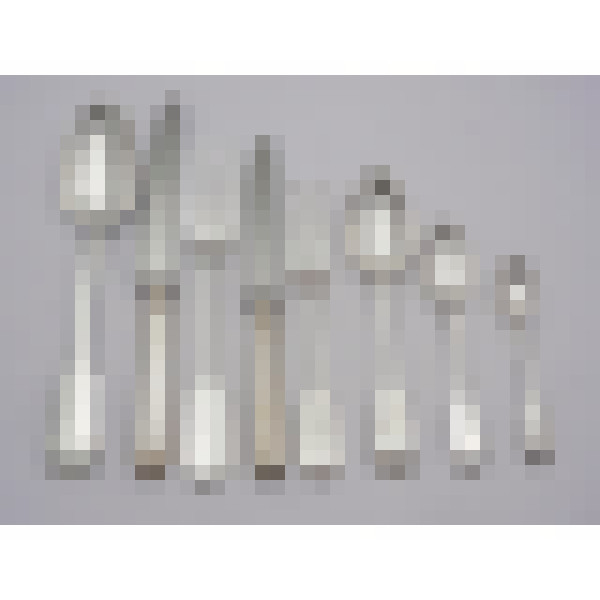 Sold
97-piece Canteen – Fiddle Pattern (12 place settings) - Hallmark: London 1829 - 45 by William Eaton – Weight: 4230grams (136 tr.oz.) + 24 knives - Ref. No.: WE/2809
97-Piece Silver Fiddle Pattern Canteen, London 1829-44 by William Eaton
The Service
We are pleased to be offering a superb same maker Fiddle pattern canteen with 12 place settings. This silver service provides for seven pieces to all twelve place settings and a useful array of serving items.
All the spoons, forks and servers were hand wrought in London by William Eaton in the late Georgian and early Victorian periods (between 1829 and 1845). William Eaton was one of the premier specialist spoonmakers and his wares were always of the very best quality.
The dining items include traditional 9" long, oval-bowled table spoons that were the 19th century soup spoon and can double up as serving spoons, whilst the 5.75" long teaspoons are perfectly adequate for small portion desserts, such as mousse and crème brulee. With their heavy weight, the 8" dinner forks just ooze quality, whereas the smaller forks can be employed for either starter or dessert course. The set of six small spoons with shield-shaped bowls would originally have been used for egg, but are practicable as coffee spoons too.
Due to the condition issues associated with antique knives (blades rust and handles split), we are offering modern silver handled knives with stainless steel blades to accompany this service. They are top quality Sheffield-made pieces that have the same thread handles as original 19th century knives, that complemented the fiddle pattern, would have had.
There is a good selection of serving items with this service; the pair of 12" long basting spoons are especially pleasing and have all manner of serving uses. The 9.5" long serving slice is a particularly rare piece and would originally have been used as an ice cream server, but once again can be put to other good uses too. The beautifully pierced fish slice has a hefty and satisfying feel in the hand, whilst the three sauce ladles will be put to good use for serving sauces or gravy.
Fiddle Pattern
Fiddle Pattern was the dominant flatware pattern of 19th Century Britain. It was by far the most popular pattern from 1810 until 1880. Production was largely discontinued in 1914, as the original dies for hand wrought fiddle pattern were destroyed during the First World War. As the pattern has rarely been made since, the design is distinctively 19th Century and is extremely popular today for people wishing to own antique cutlery.
Components
This 97-piece service consists of the following:
| | |
| --- | --- |
| 12 Table/soup Spoons 23cm | 6 Egg/coffee Spoons 12cm |
| 12 Table/dinner Knives 24.5cm | Pair Basting Spoons 31.5cm |
| 12 Table/dinner Forks 20.6cm | Pair Sauce Ladles 18.8cm |
| 12 Dessert Knives 21.5cm | Small Sauce Ladle 15.5cm |
| 12 Dessert Forks 17.6cm | Fish Slice 33.5cm |
| 12 Dessert Spoons 18cm | Serving Slice 24cm |
| 12 Teaspoons 14.7cm | |
Total weight of weighable silver 4230 grams (136 troy ounces) + 24 silver handled knives.
Condition
Excellent polished condition with no engravings.
Presentation
This canteen is offered in 8 new anti-tarnish cutlery rolls. These navy blue rolls have individual pockets to hold 12 items per roll. The four largest serving items are supplied in two matching blue pouches.
All of our canteens are offered with a full money-back guarantee. We are also happy to send a sample place setting for approval, on receipt of a fully refundable surety payment - just phone or email your preferences. Alternatively, in-person viewings are welcome by appointment or via Zoom.